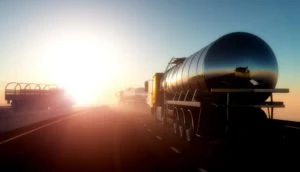 Car accidents always run the risk of serious injuries, so when a fuel truck is involved, the damage is likely to be catastrophic. A fuel truck is a big commercial truck that carries liquified loads on the road, usually gasoline or fuel. Their flammable contents, as well as their large size, means that if a fuel truck is involved in an accident, it can result in severe injury and death for not only the vehicles involved but also any nearby. In some cases, the force can lead to an explosion, which could involve many vehicles and makes it very difficult to collect evidence and assess fault.
The complexity of these accidents and the high number of damages that they cause can make it very difficult to receive sufficient compensation. If you or a loved one has been the victim of an accident with a fuel truck driver, we have a personal injury lawyer to help you. Truck accidents are serious, and you should not have to face the aftermath alone.
Contact The Law Place on (941) 444-4444 for a free consultation with an accident attorney in Tampa, FL, committed to fighting for justice and helping you on your journey to recovery.
Causes of Fuel Truck Accidents in Florida
Just like a car accident, tanker trucks can be involved in major and multi-vehicle accidents that lead to life-long injuries. Injuries are often more severe in an accident involving a truck because of the sheer size and weight of them when you add an explosive substance into the mix. It becomes a recipe for disaster.
Any large vehicle is susceptible to big blind spots, and tanker trucks are no exception. This can be especially dangerous on Florida highways, where cars are moving between lanes. Furthermore, because of their large size, if a smaller vehicle was to suddenly serve or brake, it is difficult for them to stop quickly. Cars often misjudge how much space they really need to leave around trucks, which means that the smallest mistake could be devastating.
Fuel truck accidents happen in the same way that any truck accident can happen. Common examples are blind spots and unexpected maneuvers from vehicles in front. However, sometimes a truck driver is driving recklessly or even driving under the influence.
Common causes include:
Tiredness, sometimes drivers are expected to work long hours.
Improper training.
Unexpected maneuvers from vehicles in front, it takes large trucks a long time to break,
Overloading.
Blind spots.
Speeding.
Blown out tires.
Failures of their equipment.
Whatever the cause of the truck accident might be, the damage felt by you and your loved ones cannot be compensated for. You may have suffered spinal cord injury, brain damage, or the wrongful death of a loved one, consequently leaving you with a dramatic reduction in your quality of life.
The fault could lie with the driver of the truck, the driver of another vehicle, or the trucking company if the truck was overloaded or the expected drivers to work long hours. You should not have to suffer because of things out of your control. While we cannot take away your suffering, we can help you to claim the compensation that you deserve. Truck accidents in Florida happen all too frequently, and we are determined to make the roads a safer place dor all. Contact us today, and an accident lawyer can evaluate your case.
Liability in a Fuel Truck Accident in Florida
Fuel truck drivers have the responsibility of moving large amounts of potentially dangerous substances such as gasoline and other industrial chemicals. The nature of these liquids means that if an accident occurs, there is a risk of devastating injuries and loss of life for anyone nearby. That is why the drivers of trucks and trucking companies should take extra care.
It could be that the driver of the truck acted recklessly, perhaps they were speeding or driving under the influence of drugs or alcohol. However, often the fault lies with the trucking company who may have failed to adequately train their drivers, maintain their vehicles, monitor working hours, or the weight of loads. Improper processes can put countless lives at risk, and it is essential that when this happens, trucking companies are held to account. It should not be profitable for them to cut corners in this way; by holding them liable for their carelessness, you are encouraging them to take greater care in the future.
Because fuel trucks carry harmful substances, in Tampa and Florida, they must adhere to specific regulations set out by the Federal Motor Carrier Safety Administration (FMCSA). Because these regulations are unique to this type of truck, the laws around your accident might be difficult to navigate. But you can trust that when you put your faith in The Law Place, our personal injury lawyers will do everything they can to fight for fair compensation. We are not afraid to take on a large trucking or insurance company and have the experience in Florida law necessary to secure you what you deserve.
Compensation for Fuel Truck Accidents in Florida
If you or a loved one has been the victim of a truck accident in Florida, you could be facing a huge amount of financial loss. The injuries you may be left with could be seriously rehabilitating, leaving you unable to return to your previous employment. Once a personal injury lawyer at The Law Place establishes who was at fault for your accident, they will begin to investigate what damages you might be able to claim for and what they are worth.
Common damages include:
Medical bills.
Loss of future employment.
Lost wages.
Future medical costs.
Pain and suffering.
Permanent damage or disability.
No amount of money will ever make up for what you have suffered following a truck accident. But a truck accident attorney at The Law Place will do their best to get you the compensation you deserve and take away some of the stress of dealing with the aftermath of the accident. It just isn't right that innocent people should have to suffer after being in a truck accident that wasn't their fault. Get in touch with our law firm for a free consultation in Florida today.
Dealing With Insurance Companies in Florida
Following a truck accident in Florida, it can be difficult to claim compensation from your insurance company. Because Florida is a no-fault state, you initially have to claim compensation from your own insurance company following an accident. However, damages from a truck accident are likely to supersede your policy limit, in which case, you have to claim compensation from somewhere else.
One thing to keep in mind is that insurance companies are big businesses, and their top goal is to make a profit. They will have claims adjusters fighting to devalue your claim or reject it entirely. It is essential that you are not taken advantage of in this way. When you hire The Law Place, out accident lawyers will support you every step of the way, including dealing with insurance companies.
Following an accident in Tampa, it is essential that you inform your insurance provider quickly, your policy will tell you how long to have to do this, but sometimes you have as little as 25 hours. Be clear and concise; give basic details about your case without assuming fault or detailing your injuries. Better yet, speak to The Law Place first, and we can offer some free advice or speak to the insurance company on your behalf.
What Will a Truck Accident Attorney in Tampa Do for You?
It has been found that over 90% of people who have help from a lawyer following a road traffic accident receive a payout. Furthermore, that payout is, on average, 60% more.
After an accident in Tampa, contact The Law Place for a free consultation. The sooner, the better, as the better we will be able to advise you and begin gathering evidence. Evidence can disappear fast, especially where trucking companies are involved. They will be quick to have their vehicles fixed and limit the amount of evidence that can be brought against them.
In your first phone call with The Law Place, we will tell you if we think you have a valid claim. Following this, we can arrange an in-depth meeting where we will cover the details of what we can do for you and how our fee structure works. At which point, you can make a decision as to whether you would like to continue to receive compensation from us.
If you do decide to have representation from us, then our law firm will be by your side every step of the way. We will gather evidence, deal with insurance companies, investigate the trucking company and put a value on your damages, and fight for your right to compensation. Your case may result in a settlement, which saves you the stress of needing to go to court. However, we will not accept less than what you deserve, and if your case does go to court, we will be ready. We will have already gathered evidence and spoken to insurance companies and will come in ready to fight.
Talk to a Tampa Lawyer Today
Call The Law Place if you or a loved one has been left with injuries after a truck accident in Florida, then contact The Law Place today. The damage caused by fuel trucks is often catastrophic, and you need a lawyer by your side who is willing to fight through the complex legal system and get you what you deserve.
With over 75 years of combined experience and a team who will work together to ensure that nothing is missed in your case, we are ready to support you every step of the way.
We are available 24 hours a day, seven days a week. Contact us today on (941) 444-4444 for a free case review.