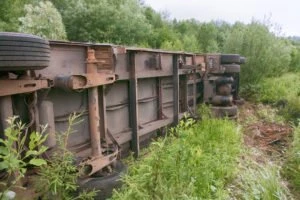 With many commercial vehicles weighing upwards of 15 times the weight of a normal car, it is no wonder that crashes involving such vehicles have a higher injury rate and cause larger amounts of damage on average.
The results of accidents at speed involving a commercial truck can vary from case to case, but many victims suffer from lifelong disabilities and injuries, sometimes even death, as well as suffering from mental trauma and post-traumatic stress disorder as a result of the incident.
As well as the injuries, victims can face huge financial difficulties as a result of an accident involving a large truck. It isn't fair that the victim should have to find that money by themselves, and that is where a Clearwater truck accident lawyer could really help your case.
Here at The Law Place, we have dealt with truck accident cases and other cases just like yours for over 75 years collectively in Clearwater and across the whole state of Florida. These types of cases may involve some large legal teams, especially if the driver is employed by a large-scale trucking company, and this can make the fight a tough one to go alone. We offer a free consultation service, and our phone lines are open 24 hours a day, seven days a week. Get in touch on (941) 444-4444.
Truck Accident Statistics
Every single year the Federal Motor Carrier Safety Administration (FMSCA) releases a motor carrier safety progress report. This report shows that from 2017 to 2018, there was an increase from 171,337 crashes involving large trucks and busses to 182,008. That's an increase of over 10,000 crashes in a single year.
Injuries also rose from 93,475 to 97,272, which is an increase of over 3,500 injuries as a result of these accidents. Although we are unsure of the final numbers for 2019 and 2020, due to length of time after an accident that it takes to register (22 months) on the report, over the last ten years, we have seen a massive increase in the number of truck accidents that happens every single year.
Clearwater and the entire state of Florida, in general, hold claim to an unusually high number of motoring accidents. In fact, the state is one of the most dangerous places to be either a driver, pedestrian, cyclist, or motorcyclist in the country.
There are 400,000 motoring accidents in the state of Florida every single year, and truck accidents alone account for one in every ten highway fatalities. Just this year, three people died in a truck accident involving a cement mixer on the i-75 highway in Florida. This is why it is so important to hire a skilled truck accident lawyer.
What Should I Do After a Clearwater Truck Accident?
We hope that you are reading this information and never get into an accident, or at least that you manage to read this information beforehand. Here are the things you should do if you find yourself in a Clearwater truck accident.
First and foremost, in any situation, you should always prioritize your own health and safety. Get to a safe location if possible, and help others to do so if you are able. However, you should never move an injured party; leave that to the emergency services.
As soon as you are at the side of the road, call the emergency services. In accordance with Florida Statute 316.062, an accident involving property damage or injuries will require you to inform the police by law, and you should always call an ambulance out to any crash, just to be safe. First responders should be able to keep everyone safe, and the police will help create a safe area and provide a truck accident report that you can use later.
Once everyone is safe, and the emergency services have been called, you should now try and collect as much evidence as possible. That means taking pictures, sketching the crash, getting witness details and documenting as much as you can about the truck driver and their vehicle. Get the details for any emergency services on the scene, like badge numbers or contact details.
As soon as you have collected as much evidence as possible, if you have not been seriously injured or dealt with by the first responders or ambulance, you should make sure you get yourself to a hospital as soon as physically possible for a check-over. Even if you do not see or feel any injury, lots of injuries can stay un-noticed and surface weeks later. By this point, the injury might be more severe.
When you have been checked over by a health care professional, and as soon as you are in a stable state of mind after your truck accident, you should contact a Clearwater truck accident lawyer. The sooner they can take over your truck accident case, the less stress you will have to deal with. They will liaise with insurance companies, the trucking company, and will do all the necessary paperwork, freeing you up to focus on your physical and mental wellbeing.
Call Your Insurance Company and File a Claim
In accordance with Florida Statute 627.7407, the entire state of Florida is dictated by the state's no-fault insurance laws. Furthermore, Florida Statute 627.736 states that all drivers are required to purchase a degree of Personal Injury Protection (PIP) insurance alongside their auto insurance policy.
As a result of Florida's no-fault laws, in the first instance, after a truck accident, you will have to claim off your own PIP insurance up to the policy limit. This allows you to get instant medical care and should corer you enough until you can seek legal aid and seek compensation.
Under the terms and conditions of most of these insurance policies, you will have a certain period of time after the accident to get in touch with your insurance company and inform them of the accident. If you have decided to hire a Clearwater truck accident lawyer, they will do this for you if you contact them early enough.
PIP insurance should pay for any minor injuries and a certain amount of compensation (the exact amount will depend on your policy) and will also help cover the following early expenses:
Medical bills.
Hospitalization fees.
Lost wages due to the inability to work.
Under no-fault laws, you are entitled to seek compensation or sue another party if the damages or injuries exceed your level of PIP insurance, which at a minimum, must be able to cover you for 80% of your medical expenses up to 10,000 dollars.
What Will a Clearwater Truck Accident Lawyer Do for Me?
After being involved in an accident with a truck driver who is working for a company, also known as a commercial truck driver, will most likely get in touch with their company, which in turn, will send out their own investigator.
At first glance, they may look like they are just studying the accident, but in likelihood, they will be looking for ways to reduce the liability or shift fault from their truck driver, thus allowing them to avoid paying out as much.
This is what makes getting in touch with a skilled Clearwater truck accident lawyer so important. The sooner you get in touch, the sooner we can launch our own investigation before any evidence is tainted or removed.
When you get in touch with us, we will most likely, send our own investigator out as soon as possible. Here are some of the steps we might take:
Quick response – As soon as physically possible, we will send out our own investigator. Whilst it is rare that we can get to the scene in the immediate aftermath, we should still be able to document the scene of the truck accident and take all of the photos and measurements that you might need to later rely on.
Inspect the vehicles – If we are informed quickly enough, we can get to the other vehicle and inspect it for evidence before the truck is repaired. This means we can see the damage which could be incriminating. We can also get the data from the trucks on-board black box, which should store crash information after an accident.
Reconstruction – The accounts of the people involved in a truck accident can often differ massively. When there are no other witnesses or CCTV, it can be hard to place the blame in such a scenario. In these situations, we may turn to a specialist accident reconstruction expert, who will be able to deduce how the truck accident happened from the evidence given.
Where Does the Fault Lie?
Usually, with less experienced Clearwater truck accident personal injury lawyers, they may focus on placing blame instead of getting a true indication of where the fault lies. Truck accidents are notoriously complex, though, and as a result, there are lots of different parties that could be held responsible and thus liable for their part in an accident. Such as:
Truck drivers – Sometimes, the fault ends with the truck driver. Who, like any other driver on the road, may have been driving distracted or driving under the influence.
The trucking company – To lower their liability, lots of the bigger trucking companies have started using contracted truck drivers instead of employed ones. This means that if the accident happens due to an operator error, the blame can be placed on them. However, the upkeep of the vehicles and maintaining driver standards still falls to the truck company.
Mechanics – If a truck accident has happened due to a mechanical fault. The workers responsible for fixing and repairing the truck could be held liable. These mechanics are often hired on the same contractor basis as the truck drivers and are not employed by the truck companies themselves. This means they can also face liability.
Cargo loaders – Some trucks can carry up to 40 tonnes in weight. If this has not been loaded correctly and evenly and the weight shifts mid-journey, this can cause a loss of control. When this happens, the loaders can be held responsible liable.
Common Injuries of Commercial Truck Accidents
With a higher weight and size compared to your average personal vehicle, the injuries a truck can cause when they crash are usually more severe than those you would find after a normal car accident. Common injuries include:
Traumatic brain injury.
Spinal cord injury.
Quadriplegia.
Crushed or broken bones.
Neck and back traumatic injury.
Herniated discs.
Internal bleeding and organ damage.
Severe burns.
It doesn't take long for the medical costs to stack up for the above injuries, and very quickly, they can become more than the average person can afford to pay. Pair this with the fact that most of these accidents result in loss of earnings and potential loss of future earnings, and it can leave victims in a really unfair spot.
If potential future earnings have been affected through a long term injury or disability following a truck accident in Clearwater, the damages awarded will have to be enough to cover the lifetime suffering of the victim.
Contact The Law Place Today
Here at the law place, we have seen all manner of truck accident cases come through our doors. We know how hard fighting the trucking company and their legal team can be, and we know how to navigate through the complex liability laws that surround truck accident cases.
Contact us today on (941) 444-4444 for a free consultation.