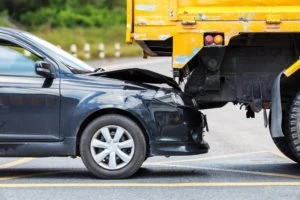 Drivers on the roads of Florida have a duty of care to drive responsibly while operating their vehicles. When a truck driver decides to drive under the influence of drugs and/or alcohol, they put their lives as well as the lives of other road users at risk. The consequences of driving under the influence are often devastating and can lead to life-long injuries and, in some cases, even death.
All accidents involving motor vehicles can be very serious. However, when they involve the large trucks that are common in St. Petersburg and across Florida, the aftermath can be even more devastating. This is because trucks are usually much larger than the average car and carry heavy cargo loads. Driving these large vehicles under the influence increases the chances of a crash as an intoxicated truck driver is unable to maneuver the vehicle correctly and brake quickly when necessary.
If you have been involved in a St. Petersburg truck accident, you should call The Law Place today. Seeking compensation can not only alleviate financial stresses that usually follow truck accidents, but it also holds the driver operating their vehicle under the influence responsible for their negligence. Our accident attorneys have a combined experience of 75 years working in the Florida legal system and have won countless personal injury cases. At our law firm, we know how stressful filing a personal injury claim can seem, which is why we promise to assist and support you from the day you get in contact with us and throughout the legal process.
Contact The Law Place today! We know our clients are often busy and have difficulty finding time to call us. Therefore, we make sure our phone lines are open 24/7 so that you can get in touch with us whenever it best suits you. Call us today at (941) 444-4444 to schedule a free consultation and find out how much compensation you may be owed.
What Is a DUI?
Drinking alcohol and driving is only a crime in Florida if the amount of alcohol impairs the driver's ability to drive correctly and the driver is over the limit. Under Florida's laws, a person is considered unable to drive with a blood or breath alcohol content of 0.08% or higher. In other words, if a driver is found to be driving with an alcohol content under this percentage and shows no sign of impairment, they are technically not committing an offense.
Driving under the influence can have terrible consequences for drivers as well as pedestrians. When truck drivers work intoxicated, they are unable to operate their vehicles properly. A person driving under the influence may experience the following:
Slow reaction times.

Lack of concentration.

Fatigue.

Becoming easily distracted.

Inhibited judgment.

Impaired vision.

Lack of coordination.

Becoming impatient or frustrated with other drivers easily.
Truck drivers should be aware of and respect the rules of the road and refrain from drinking alcohol or taking drugs while driving. However, this does not always happen. If you have been involved in a St. Petersburg truck accident, we highly recommend seeking legal representation. Truck drivers who act negligently must be held accountable for their reckless actions, and you may be eligible for compensation for their recklessness.
Common Injuries Sustained From a St. Petersburg Truck Accident
Due to the sheer size and weight of trucks, injuries sustained from accidents involving these vehicles can be devastating. Many victims of these accidents sustain serious injuries that can change a person's life forever. Some people are left unable to do the activities they once did and experience a loss of independence after truck accidents.
Some of the most common injuries sustained after truck accidents include:
Cuts, burns, and bruises.

Broken bones and fractures.

Spinal cord injuries.

Traumatic brain injuries.

Internal bleeding.

Whiplash.
If you have been injured as a result of a truck accident, you could be entitled to compensation. Our accident lawyers will review your medical records and gather evidence of all injuries you have sustained after the accident in order to strengthen your case moving forward. Here at The Law Place, we recognize how expensive hospital bills can be, and we believe that you should not have to suffer financially because of the reckless driving of another individual.
Comparative Fault Laws in St. Petersburg, FL.
Under Florida Statute 768.81, the State of Florida uses a comparative fault law when determining how much a settlement should be for those involved. Depending on the circumstances of the accident, a person may be assigned a percentage of the fault. Even if it is found that another party was mostly responsible for the collision, it is still possible that you may also have to assume some fault.
For example, if it is determined that you were speeding at the time of the accident, it may be decided by a court that you were 30% responsible for the crash. If the court decides that you were less than 50% responsible for the accident, you still have the right to file a personal injury claim. However, the final settlement that you receive will be reduced according to how much fault you had in the crash. For example, in the case that you were speeding, your final settlement could be reduced by 30% as this was how much responsibility the court determined that you had in the crash.
Navigating and understanding the complexities of the Florida law system can be difficult and confusing. For this reason, we urge victims of St. Petersburg truck accidents to contact our law firm. Our accident attorneys are equipped with a wealth of knowledge regarding Florida's laws and regulations and have ample experience in dealing with personal injury claims. Call The Law Place for a free case evaluation with one of our accident lawyers and find out why so many clients have recommended us.
Damages That a St. Petersburg Truck Accident Lawyer Can Help You Claim
Recovery after being injured in a truck accident can be a long and painful process. If you or a loved one has sustained injuries after a truck accident, you could be eligible to claim compensation.
Damages that a St. Petersburg accident attorney can help you claim for include:
Medical bills – It is no secret that medical care in the US can be very expensive. Injuries that can be sustained after a truck accident can be devastating and require medical treatment that is often very costly. Having to cover medical expenses, including surgery, medication, and round-the-clock care, can leave victims with crippling debts to worry about. A St. Petersburg truck accident lawyer will examine your hospital bills and calculate how much compensation you may be owed.
Lost wages – Truck accidents can render those involved unable to work, sometimes for a long period of time. A truck accident lawyer will be able to determine how much income you may have lost due to the accident and fight so that you can recover your lost wages.

Property damage – It is common for individuals involved in motor vehicle accidents to have their property damaged, including their car and cell phone. Repairing and replacing your belongings can be incredibly costly and leave big holes in your pockets. At The Law Place, we believe that you should not have to pay for these costs if you have been involved in an accident that was not your fault. An accident attorney will help you gather evidence of your damaged property and work to ensure you are compensated.

Pain and suffering

– You may be entitled to compensation if you have experienced mental trauma or a reduction in quality of life after the crash. You may find great difficulty in carrying out daily tasks such as shopping, bathing, and cleaning. Our attorneys understand how challenging life can be after an auto crash, which is why we strive to get our clients as much compensation as possible for their accidents.

Wrongful death – Losing a loved one due to the negligence of another individual is devastating. Under

Florida Statute 768.21

, you have the right to claim compensation for funeral costs, loss of income, and

loss of consortium

. This means that you can receive compensation if you have lost a source of support, guidance, and companionship due to an accident.
No amount of money can undo the pain and suffering one has to deal with after a serious accident. However, clients tell us that receiving compensation can help rid of some financial stresses and gives victims and their families a chance to recover or mourn peacefully. Contact our law office to speak to a highly experienced truck accident lawyer. We offer all our prospective clients a free case evaluation so that you can discuss your case freely without worrying about any hidden charges.
What The Law Place Can Do for You
If you have been involved in a St. Petersburg truck accident, you have four years from the day of the accident to file a personal injury claim as per Florida Statute 713.23. It's also important to note that you only have two years from the time of the accident to file a wrongful death lawsuit. For this reason, we urge clients to get in touch with us as soon as possible so that we can start gathering essential evidence that can be used to strengthen your case. A truck accident lawyer will collect any photographic evidence, medical records, and eyewitness statements in order to make sure that you have the strongest case possible going forward.
Trucking companies are experts in avoiding having to pay out large sums of money as they have ample experience in dealing with these cases. They rely on their insurance companies to devalue claims made against them so as to avoid being found liable for an accident. Fortunately, our attorneys also have ample experience in dealing with these insurance companies and know how to hold a trucking company or truck driver liable for an accident. In the case that multiple parties can be held liable for the crash, an accident attorney at our law firm will ensure that they are held accountable for their negligence.
After truck accidents, those involved are often reluctant to seek legal representation for fear of losing even more money on costly legal fees. At The Law Place, we work on a no-win-no-fee basis as monitored by The State Bar Association. As we operate on a contingency basis, you won't have to pay anything if we are unsuccessful in your case. If we are, we take a small percentage of the settlement to cover our costs. You can phone us whenever you want to schedule a free consultation with one of our top accident lawyers, so don't hesitate to call our office today.
Contact The Law Place Today
If you or a loved one has been involved in a truck accident in St. Petersburg, FL., call our law office as soon as possible. You may be entitled to compensation for the injuries and trauma you have suffered from your accident. Our lawyers have all the expertise and knowledge necessary to ensure that you get the outcome from your case that you deserve.
A St. Petersburg truck accident can leave those involved with life-changing injuries, which is why driving under the influence is completely unacceptable. The sooner you get in touch with us, the faster we can get to work on your case and hold those negligent drivers responsible for their actions.
Our phone lines are always open, so someone will always be available to take your call. Contact The Law Place at (941) 444-4444 for a free consultation and speak with a St. Petersburg truck accident attorney.