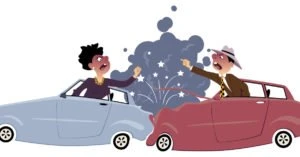 According to The Federal Motor Carrier Safety Administration, tailgating is one of the most common causes of truck accidents, as it accounts for roughly 5% of truck accidents in the United States. Because of the large size of trucks, they require more time to slow down and/or come to a complete stop, meaning that truck drivers must be careful to leave plenty of distance between them and the driver in front. This is because if the truck driver is tailgating and the driver in front has to stop quickly, the truck will likely collide with the vehicle and cause a devastating truck accident.
If you have been involved in a tailgating truck accident in St. Petersburg, Florida, then you should contact The Law Place immediately. The accident likely wasn't your fault, and so you could be entitled to thousands in compensation, and our team will fight tirelessly to ensure you receive everything you're owed. With over 75 years of collective experience in helping clients just like you, you can trust that our accident lawyers have the knowledge and skill required to support you.
So call us today and schedule your free consultation at (941) 444-4444!
What Is Tailgating?
Under Florida Statute 316.0895, tailgating is described as following a vehicle at a closer distance than what is reasonable or prudent based on the density and speed of the traffic. Drivers are expected to be aware of the dangers of tailgating and understand how their actions may cause an accident.
It's crucial for trucks and other large vehicles to give plenty of room to the vehicles in front of them. If they fail to do this, they are putting the driver and passengers in front in danger. Because trucks are so large, they can't brake quickly, and so if the car in front brakes, a tailgating truck driver won't have sufficient time to react and slow down or stop their vehicle quickly enough.
How to Avoid Tailgating
In order to avoid tailgating, drivers should ensure that they obey the following guidelines:
For every 10 mph of speed, drivers should maintain a distance of at least one car length.
If driving in poor weather conditions, such as rain, fog, or snow, then this distance should double.
There must be a distance of at least 300 feet maintained between trucks and other large vehicles.
It can sometimes be difficult to judge what a safe distance is. To do this, drivers should take into account the following:
The type and size of their vehicle.
The type and size of the vehicles in front of and behind them.
The weather conditions.
Their speed and the speed of the drivers in front of and behind them.
The type of road that they're driving on.
Common Causes of Truck Accidents in St. Petersburg, FL.
Truck accidents are usually caused by the negligent and reckless behavior of the truck driver. Listed below are some of the most common causes of truck accidents in St Petersburg, Florida:
Negligent, aggressive, or careless driving.
Distracted driving, such as using their cellphone.
Driving

under the influence

of alcohol or drugs.
Driving while fatigued.
Inadequate training.
Poor weather conditions.
Regardless of why the truck was tailgating you, if you've been involved in a tailgating truck accident, you could be entitled to compensation. Our team of St. Petersburg truck accident lawyers will work hard on your behalf to hold the at-fault party responsible for the damages and injuries you had to endure. Don't risk facing the big insurance companies on your own; call The Law Place today and schedule a free consultation with a St. Petersburg car accident attorney!
Common Injuries That Are Sustained in Truck Accidents
Every type of car accident can result in victims suffering from catastrophic injuries, and in extreme cases, even fatalities. However, because trucks are so much larger and heavier than other motor vehicles, truck accidents are much more likely to cause severe destruction and devastation.
Listed below are some of the common injuries sustained in truck accidents:
Soreness, bruises, lacerations, and burns.
Fractured and broken bones.
Traumatic brain and head injuries.
Neck injuries.
Back and spinal cord injuries.

Internal bleeding

and organ damage.

Wrongful death.
If you sustained any injuries because of a tailgating truck accident, regardless of how minor or major they may have been, you should get in touch with The Law Place and arrange a free case evaluation with one of our proficient accident attorneys. Our legal team is ready to fight for the justice that you deserve.
What Personal Injury Compensation am I Entitled to After a Truck Accident?
The first thing that many of our clients ask us is if they're entitled to compensation or not. As every case is different and there are many options available to victims of truck accidents, we recommend that you schedule a free consultation with one of our personal injury attorneys at The Law Place. This is so we will be able to thoroughly look through your case before giving you an answer and can offer you advice specific to your circumstances.
Your Own Driver's Insurance Cover
Under Florida Statute 627.7407, Florida is a no-fault state. This means that victims of any auto accident can receive compensation from their own insurance company, regardless of whether they were at fault for the crash.
Drivers in the State of Florida are required to carry personal injury protection (PIP) worth $10,000, and property damage liability (PDL) insurance also worth $10,000. This should cover:
60% of lost wages up to $10,000.
80% of medical bills for serious injuries.
Up to $2,500 for non-serious injuries.
Up to $5,000 for funeral and burial costs if the victim passes away.
Any property damage that you may have caused to roadways and other vehicles.
Non-economic damages, including pain and suffering.
Compensation From a Personal Injury Claim
In serious truck accident cases, victims may suffer from extreme injuries, and the costs can exceed what they're entitled to through their PIP and PDL coverage. If this is the case for you, then we may recommend that you file a claim against the at-fault driver.
Your truck accident lawyer will establish how much compensation you could be entitled to based on the circumstances of your case. They will then negotiate with the negligent driver's insurance company or legal representation to try to agree on a settlement. If a fair and appropriate settlement is reached, you'll be able to receive your money without having to sue.
Compensation From a Personal Injury Lawsuit
If your accident attorney believes you deserve more compensation than what is being offered in the settlement agreement, then they may suggest that you file a personal injury lawsuit. This would involve going to court, where a jury will determine the total amount of damages you sustained and how much compensation you therefore deserve.
Who Can Be Liable for Tailgating Truck Accidents?
The truck driver themself is usually held liable in the majority of tailgating truck accidents. This is because all drivers have a duty of care to everyone else on the road, and so they must act safely, carefully, and lawfully when operating a vehicle. When a motorist tailgates another driver, they are acting negligently and breaching this duty of care. Therefore, they will likely be liable to pay for any injuries or damages sustained by the victim.
However, listed below are the other parties that may share liability for a tailgating truck accident:
Trucking company – Your accident lawyers may be able to prove that the trucking company did not provide adequate training for the driver, did not properly maintain their vehicle, or allowed the truck driver to be on the road for longer than what's lawful. If this is the case for you, then the trucking company may be somewhat to blame.
The mechanic – If any mechanical problems caused the collisions, or worsened the impact, then the truck's mechanic could be responsible for failing to appropriately repair or maintain the vehicle to the regulation standard.
A third-party driver – The roads in St. Petersburg are often very busy, meaning that it's common for an accident to involve more than two vehicles. If this happened to you, then you may have been the victim of a third-party's negligence.
The above list isn't comprehensive – while it shows the parties that are commonly found liable for truck accidents, there is still a chance that the party responsible for the accident you were involved in is a completely different individual or organization. It's also possible that more than one party is at fault for the accident.
Once you have discussed your case with one of our St. Petersburg car accident lawyers, they will be able to inform you of who can be held liable and what your next steps are. Our team at The Law Place has the knowledge and experience required to support you through the complex legal process and ensure that you don't make any mistakes that could potentially damage your case. So to give yourself the best chance at receiving the compensation you deserve, contact our law firm today and schedule a free case evaluation.
What Damages Can I Claim for a Tailgating Truck Accident Case in Florida?
Once your personal injury lawyer has established who is liable for your injuries and losses, they will be able to assess the number of damages you sustained and calculate how much compensation you deserve. Victims of truck accidents can often claim for the following:
Medical bills, including any expected expenses.
Repairs for any damaged property.
Lost wages and reduced earning capability.
Pain and suffering, covering emotional distress.
While we know that no amount of compensation can heal the injuries or trauma that you're suffering from, it can help you manage any financial burdens that you're struggling with and serve as proof that some justice has been served.
If you wish to receive the compensation that you deserve, it's vital that you get in touch with The Law Place for guidance. Our legal team will fight tirelessly on your behalf so that you don't have to worry and can instead focus on healing. So to ensure that your case is being left in the hands of an experienced and reliable personal injury attorney, contact The Law Place today.
Florida's Comparative Fault Rule
As is explained in Florida Statute 768.81, Florida is a comparative fault state. This means that the state acknowledges that more than one individual can often be responsible for causing a truck accident. For example, while a tailgating driver may have rear-ended the driver in front of them, the driver in front may have been distracted by looking at their cellphone, which led to them having to brake so abruptly as they didn't notice a red light.
Any individuals involved in an accident can be deemed to be a certain percentage at fault, and the amount of compensation they receive is impacted by their share of fault. In the previous example, if a jury decided that the tailgating driver was 80% at fault and the distracted driver was 20% responsible, the distracted driver's final settlement would be reduced by 20%.
This rule applies even if an individual was injured in the accident – if they still shared some of the liability for the accident, the amount of compensation they receive will be reduced based on their share of fault.
How a St. Petersburg Truck Accident Lawyer Could Help You
If you want to file a claim, it's crucial that you consider hiring a personal injury lawyer who has plenty of experience in working on cases similar to yours. At The Law Place, our team of attorneys has the skill and knowledge required to build a strong, solid case on your behalf.
Some of the ways that our St. Petersburg lawyers can help you include the following:
Answer any questions you may have about Florida law or your case and provide you with reliable and valuable legal advice.
Thoroughly investigate your case.
Gather any evidence, such as witness statements and police reports, which will strengthen your argument.
Calculate the value of your case and how much compensation you're entitled to.
Negotiate with the defense team and insurance companies to work out a fair, appropriate settlement.
If the settlement offered to you is too low, we will represent you and fight on your behalf in court.
The State of Florida allows victims of car accidents to hold the at-fault drivers liable for the injuries and losses that they sustained because of the driver's negligence. Our team of skilled St. Petersburg attorneys will fight on your behalf to ensure you receive the justice that you deserve, so don't delay. Call us today to book a free case evaluation.
How Much Will My Accident Lawyer Cost?
Victims of car accidents may at first be reluctant to hire a personal injury lawyer and file a claim because they're concerned that they can't afford legal representation and don't want to risk facing any unexpected costs on top of the financial burdens they're already struggling with.
However, you can hire our team at The Law Place with full confidence. Our truck accident lawyers work on a contingency basis, also known as a no-win-no-fee basis. This means that we won't earn a single cent unless your case is successful. Even if we do win your case, you won't be required to pay our law firm anything from your pocket directly – instead, we'll subtract our legal fees from the final settlement.
And as our law firm works alongside the State Bar Association, you can trust that our team and our legal fees will be completely transparent, so you don't have to be concerned about any hidden costs.
Contact The Law Place Today for a Free Consultation
If you or a loved one have been involved in a tailgating truck accident in St. Petersburg, then you need a truck accident lawyer that you can trust. The Florida legal system can be very complicated, and the stress of recovering from an accident can make it even more difficult.
If you hire an experienced law firm, they will be able to take the stress off you and your family and allow you to focus on healing and getting your life back on track. The attorneys at The Law Place will investigate your case, file all relevant paperwork on your behalf, and handle the communications and negotiations with all involved insurance companies.
But don't risk delaying getting in touch with us! Under Florida Statute 95.11, victims of truck accidents have only four years after the date of the incident to file a claim, regardless of how severe your injuries were. So contact The Law Place today to give our team plenty of time to prepare your case and give you the best chance at recovering the compensation that you deserve.
Call us today at (941) 444-4444 and schedule a free consultation with a member of our team!