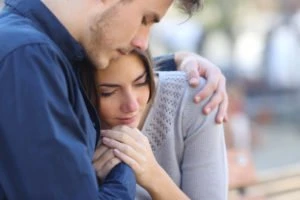 No matter the cause of death, losing a loved one is incredibly painful. It can be especially difficult to deal with when another person's negligence caused the death. In addition to losing one of their nearest and dearest, families are often faced with a loss of income as well as numerous debts to pay off, including large medical bills and funeral expenses.
Large debts can be incredibly daunting and overwhelming, particularly when mourning the death of someone you love. Therefore, receiving the compensation you could be entitled to is extremely important. With over 75 years of combined experience, our wrongful death attorneys at The Law Place are equipped with all the expertise necessary to get the compensation you may be eligible for. We work tirelessly to get the justice that our clients deserve so that they can mourn peacefully without having to worry about expensive bills and other financial burdens.
If you have experienced the wrongful death of a loved one in St. Petersburg, our team of experienced lawyers is here to help you. We can help you file a wrongful death claim and guide you through every step of the legal process. Call us today at (941)-444-4444 for a free consultation, no strings attached.
Do I Have a Wrongful Death Case in St. Petersburg, FL.?
Before proceeding with a wrongful death case, it is important to know what exactly constitutes a wrongful death in St. Petersburg. Wrongful death is defined as death caused by negligent or wrongful acts, which can be either accidental or intentional. Common causes of wrongful death include:
Assault and battery.
Accidental death resulting from another crime (e.g., robbery).
Vehicular manslaughter.
Manslaughter.
Murder.
If one of your family members has died due to one of these causes, you may be able to sue the person responsible for the act. The deceased family member's executor of estate and the decedent's family members are eligible to file a wrongful death claim.
We understand that wrongful death cases and their technicalities can be confusing for our clients. That's where we come in. Our attorneys at The Law Place are experts in wrongful death claims and have all the knowledge necessary to deal with the complexities of the Florida legal system so that you don't have to. Contact us today for a free case evaluation in addition to legal guidance from one of our top lawyers. The faster you start the legal process, the better chance you have of receiving the compensation you deserve.
Examples of Wrongful Death Cases in Florida
In 2014, a Florida woman received $6 million after her mother died of lung cancer caused by excessive smoking. After her mother's death, the woman claimed that she had lost the support of a loved one, which negatively affected her mental well-being. An experienced lawyer can help you receive compensation by claiming for loss of companionship under Florida law.
In Florida, compensation for wrongful death cases can be decreased if the deceased party was partially liable for their death. In this particular case, the court decided that the initial $6 million compensation that was awarded to the woman was to be reduced to $4.5 million as the claimant's mother continued smoking with the knowledge that it negatively affected her health.
Wrongful death claims can lead to large sums of compensation for the claimant, which can ease financial burdens for the family of the decedent. This gives mourning families one less thing to worry about while processing the death of a loved one. Call The Law Place today and see how much compensation you could receive.
How Does Florida's Wrongful Death Statute Work?
Under the Florida 768.21, a family member of the deceased person can seek damages for wrongful death. The statute states that family members are eligible to receive monetary compensation equal to the value of support from the day of the deceased's injury up to their death. What's more, this law also allows the victim's loved ones to claim for future damages caused by the accident.
In order to file a St. Petersburg wrongful death claim, you must have one of the following relationships with the decedent:
A person suing for emotional or financial support due to loss as a spouse.
A minor receiving compensation for loss of parent or guardian.
Adult children suing in the case that the deceased person has no spouse or younger children.
Parents of the deceased suing for mental suffering due to the loss of a minor.
Parents of the deceased suing for mental anguish due to the loss of a minor. This can only be done if the adult child has no other family, including a spouse or children.
If the deceased failed to make a will before their death and has no close family relatives, then the decision of naming another representative for the decedent falls on the family. An attorney at The Law Place can offer support and guidance during this sometimes grueling decision process and prevent any potential conflicts from arising within the family. Contact our law firm today for a free consultation as well as legal advice to help you get the compensation you deserve.
What Can a Wrongful Death Lawyer Help You Claim For?
Dealing with a wrongful death can be not only incredibly stressful but also very expensive. Receiving the maximum amount of compensation you are entitled to is extremely important. However, you shouldn't have to worry about covering large bills and other costly expenses resulting from the wrongful death case.
You could be able to claim for:
Loss of companionship – family members, can claim compensation due to a reduced quality of life resulting from a loved one's death. After a wrongful death, the deceased's loved ones are often left with mental pain and suffering as well as lost guidance and support.
Funeral expenses – funerals can be extremely expensive and can leave family members of the deceased with unexpectedly large debts to pay. We understand how important a proper burial is for the victim's family. That's why our wrongful death lawyers are determined to get families the compensation they deserve so that they can mourn in peace.
Lost wages – losing a major source of household income can be financially devastating for any family. Many surviving family members do not realize that lost wages can be recovered from the time of death of the loved one up until their expected retirement age. Our St. Petersburg wrongful death attorneys can also determine the likelihood of the decedent receiving future pay rises and bonuses, which can also be claimed for.
At The Law Place, we recognize that no amount of money can undo the horrific consequences of wrongful death. Trying to navigate life after the death of someone you love can be very challenging, especially after losing their financial support. However, we know that lessening financial burdens can make the grieving process a little easier. If you have been affected by a wrongful death of a loved one, then we highly recommend that you seek legal advice from one of our experienced attorneys.
What to Do After a Fatal Car Accident Involving a Family Member in St. Petersburg
Reckless driving is one of the main causes of fatal car accidents in Florida. Driving under the influence, faulty vehicle parts, and distractions on the road can all cause a car accident, resulting in wrongful death. Over 30,000 fatal car accidents occurred in the US in 2018 alone, leading to a staggeringly large amount of personal injury lawsuits being filed.
After the death of a loved one, receiving financial compensation may not be a top priority of yours. However, it is essential that you seek legal support for your wrongful death case in order to ensure that you have a representative of the decedent's estate. In the case that the deceased person did not leave a will, it is extremely important that you seek legal representation. Without a will, the case will be sent to the probate court, where the decedent's assets will be divided according to the law. However, it is important to remember that the deceased person's spouse and children still have some rights to claim these assets.
Under Florida Statute 95.11, a wrongful death claim must be filed within two years of the accident occurring. Any claims filed after this period will not be honored under Florida law. Therefore, if you have lost a loved one in an accident, it is important to seek legal representation as soon as possible. At The Law Place, we work on a no-win-no-fee basis. This means that if you aren't successful in your wrongful death case, you won't be charged for our services, so you don't have to worry about hidden fees or spending obscene amounts of money on legal representation before even filing a claim.
Contact The Law Place
You could be entitled to compensation if a beloved family member has died due to a wrongful act. Our professionals at The Law Place know how devastating a loss of a loved one can be for a family. That's why our law firm is committed to making sure that our clients receive the justice they deserve. Our lawyers are experts in Florida law and have ample experience with wrongful death cases in St. Petersburg and across Florida. After evaluating your case, a wrongful death attorney at The Law Place will guide you through the state's complex laws and ensure that you feel confident in moving forward with your case.
A wrongful death lawsuit can be an extremely taxing and lengthy process which is why we deal with your case swiftly and compassionately. Our lines are always open, so you can call us any day at any time at no obligation. Contact The Law Place now at (941) 444-4444 for a free consultation and take the first step towards getting the compensation you deserve.