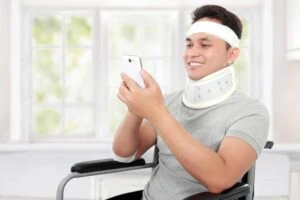 Some of the busiest roads in the U.S. are found in the State of Florida, with thousands of residents, tourists, and commercial vehicles using them each day. This inevitably increases the chance of road accidents, where the Florida Department of Highway Safety and Motor Vehicles (FHSMV) estimates that around 400,000 traffic accidents occur on roads in Florida every year.
Accidents involving tractor-trailers can be particularly dangerous due to their size and weight and the amount of cargo that these types of vehicles usually carry. Tractor-trailer trucks are often loaded with potentially hazardous cargo, and accidents can occur when they are overloaded or if the freight has not been secured properly.
If you or someone you know has been in an accident involving a tractor-trailer in St. Petersburg, FL., that wasn't your fault, then the best thing you can do is to seek representation from a reputable personal injury lawyer. Our attorneys at The Law Place have dealt with many accident cases just like yours, and our team has helped many clients in the past to receive the compensation that they deserved for the pain caused by their motor accidents. Our team has over 75 years of combined experience, and we offer a free case consultation to help you figure out what the best next steps for you to take are. So call us today for free impartial legal advice specific to your case before you decide if you want to pursue a personal injury claim.
Call today at (941) 444-4444. Phone lines are open 24/7.
Common Causes of Florida Truck Accidents
Truck accidents happen every day in St. Petersburg, and they can occur for many different reasons. These accidents can often be catastrophic due to the size difference between this type of vehicle and other smaller vehicles on the road. Tractor-trailers with long trailers are particularly susceptible to blind spots, such that the truck driver will often fail to see a smaller vehicle driving or maneuvering close to it. The result of this can be the other driver's vehicle being sideswiped or pinned against guardrails.
Some of the most common other reasons for accidents involving tractor-trailers include:
Distracted Driving
Because truck drivers are required to work to strict deadlines and drive long hours without taking breaks, they are often forced to eat, drink and perform other tasks at the same time as driving in order to stick to their schedule. Due to boredom, drivers might also be distracted by talking on the phone, checking their social media, or watching videos. Drivers of such large vehicles have a duty to maintain 100% of their attention on the road. However, this type of multitasking can make that impossible. Taking your eye off the road for a second or two can be enough to miss a hazard and cause an accident.
Impaired Driving
It is common for truck drivers to work long hours without many breaks, which can lead to tiredness. Federal laws have been put in place that requires truck drivers to stop and take regular breaks. However, many will choose not to take these breaks if the companies pay a premium for faster deliveries or so that they can finish work earlier. Tiredness can have seriously detrimental effects on a drivers' attention and reaction times. If it takes a driver longer to notice a potential hazard and react to it, they are more likely to inadvertently cause a collision. Many drivers take stimulants to combat tiredness, and others may use prescription medicine for injuries; both of these could also impair their driving. Unfortunately, it could also be the case that a truck driver had impaired driving abilities because they were under the influence of drugs or alcohol (DUI).
Reckless Driving
A truck driver may feel the need to make reckless decisions on the road, such as running red lights if, for example, they are struggling to meet a deadline or are trying to combat heavy traffic. Reckless driving could also be the result of the stress caused by trying to stick to strict deadlines, causing them to be angry at other drivers and make dangerous maneuvers such as tailgating, failing to yield, or switching lanes without signaling. Reckless driving could also be the result of Driving Under the Influence (DUI) of drugs or alcohol, which can impair a driver's perception of danger and decision-making capacities.
Poor Truck Maintenance
It is the responsibility of the truck company to ensure that their vehicles are properly maintained for the safety of the truck drivers they employ and other drivers on the road. They should ensure that the vehicles undergo routine vigorous safety inspections by a registered FDACS entity and that their rigs are fully functioning before every journey. Despite the strict regulations in place that require this, many truck companies will fail to maintain their vehicles adequately in order to cut costs, and so allow their trailer trucks to drive with faults such as inadequate brakes or poor electrical systems, which can lead to sudden failure and cause truck accidents.
Overloaded Trailers
Sometimes trucking companies will overload their tractor-trailers with more cargo than can be considered safe, despite the strict regulations put in place. This is to save them money by requiring fewer trips to be made. Overloading trailers in this way greatly affects the balance of the truck and can make it difficult for a driver to turn or stop suddenly if needed, leading to truck accidents.
Regardless of the cause, if you have been involved in a truck accident in St. Petersburg, Florida, that wasn't your fault, then you deserve compensation for the pain and suffering that it will have caused you. Contact The Law Place today for a free case evaluation with one of our truck accident attorneys, who can go through the details of the accident with you to help determine who could have been to blame.
Our team of dedicated attorneys fight and win for Floridians.
Establishing Negligence in a St. Petersburg Tractor-Trailer Personal Injury Case
For every St. Petersburg truck accident personal injury case, it must be determined who was to blame for the crash. If it can be proved that the trucking company was negligent, for example, for not keeping the commercial truck maintained to the correct safety standards, then they could be found liable for the auto accident. All trucking companies have the legal duty to ensure the safety of their drivers and other drivers on the road, and if they do not, they should be held responsible for the repercussions of a tractor-trailer accident.
Under Florida Statute 768.81, Florida is a comparative fault state. This means that more than one party can be found liable for damages in a personal injury case, and this is calculated as a percentage. This percentage will then be deducted from the final court settlement.
In these trucking accident cases, determining who was at fault can be complicated, and it is likely that the trucking company or the truck driver will have their own truck accident lawyers or insurance company fighting to prove that they were not to blame for the accident, perhaps by trying to place the blame on you. That's why it's important that you contact a reputable law firm such as The Law Place. Our personal injury lawyers aren't afraid to stand up to big trucking companies and insurance companies on your behalf and have helped accident victims to get the compensation they deserved following a car accident with this type of motor vehicle.
Different parties could be found responsible for the accident, depending on your specific case. The following could be liable for your injuries and damages:
The tractor-trailer driver – If the driver was negligent in any way, for example, driving under the influence or recklessly or falsifying maintenance records, then a personal injury lawyer can help gather the necessary evidence to prove this.
The trucking company – In St. Petersburg, trucking companies are responsible for their trucks, employees, and their actions. They are responsible for ensuring that their drivers are properly trained and not overworked and that the vehicles are properly maintained to a safe level. Failure to do these could leave them liable for damages.
Third parties – Another entity could also be responsible in some way, for example, if the truck was overloaded by a supplier or if a truck manufacturer provided a faulty part. A personal injury lawyer can help to gather evidence to investigate these possibilities.
We're here to serve you. Our phones are open 24 hours a day.
How Much Can a Personal Injury Lawyer Help Me to Claim?
If you have been in a St. Petersburg truck accident, then we understand that no amount of money can make up for the pain and suffering it must have caused you. But we also acknowledge that if you were seriously injured, then you will no doubt be facing mounting medical bills that will likely not be covered by your regular insurance. A St. Petersburg truck accident lawyer will be able to help you calculate how much compensation you could be owed for damages, injuries, lost wages, and suffering that resulted from the tractor-trailer accident. If you call our law firm today, you can arrange a free consultation with a truck accident lawyer who will go through the details of your accident with you and help to estimate this amount. Different damages that a personal injury attorney could help you to claim include:
Property damage – This could include damage caused to your car or personal items such as your mobile phone, or clothes for example.
Medical expenses – Accidents involving tractor-trailers can often lead to serious injuries due to the size and weight of these vehicles. The cost of these injuries can be huge, particularly if you require surgery, medication, or long-term recovery treatment. We will fight for your right to compensation for these costs. We encourage you to keep all of your hospital bills and prescriptions to help your personal injury lawyer to calculate these expenses.
Lost wages – If your injuries have forced you to take time off work, or if it will impact your ability to earn in the future, then you deserve compensation for this as well.
Pain and suffering – A lawyer can help you to calculate less obvious but equally important suffering caused, such as emotional distress, insomnia, PTSD, etc.
Wrongful death – If you have lost a loved one in a truck accident, we can help you to recuperate costs such as funeral expenses.
If you work with one of our experienced personal injury attorneys, they will seek the maximum compensation available to you by gathering all of the relevant evidence and documentation of the extent of your injuries and medical care, damage, pain and suffering. They will also collect evidence from the scene of the accident to help support your case, including witness reports, CCTV footage, photographs, etc. We will handle all communication with third parties, insurance companies, etc., and use our relevant experience to negotiate a fair settlement on your behalf. Failing this, one of our lawyers will be there to defend you in the event that your case reaches court.
We're Florida's top litigation team with over 75 years of combined experience
Call The Law Place Today
If you or someone you love has been in a St. Petersburg truck accident, it is highly advisable to seek representation from a personal injury lawyer. Contact The Law Place today for a free consultation and no-obligation legal advice.
Call today at (941) 444-4444. Phone lines are open 24/7.