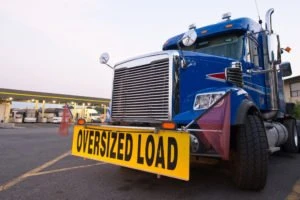 Commercial truck accidents can be some of the worst accidents in Sarasota, especially when the truck is carrying an oversized load. Even with the stringent regulations placed upon large commercial trucks, big truck accidents still occur more often than anyone would like.
If you have been a victim of an oversized truck accident and think you are entitled to compensation, contact us today on (941) 444-4444. At The Law Place, our Sarasota personal injury lawyers will offer you a free consultation to see if you have a valid case.
What Is an Oversized Load Truck?
An oversized load truck is exactly what it sounds like. All roads and highways throughout Florida have a size and weight limit on trucks. Any truck that exceeds these limits is classed as an oversized load truck. Restrictions are also placed upon the weight each axle must bear. If the load has not reached the maximum weight but exceeds the weight per axle, the load is deemed oversized.
Oversized load restrictions in place all across Florida, including Sarasota. Trucking companies are required to have a permit to allow their truck drivers to drive oversized loads legally. In the state of Florida, the hours you can transport oversized loads are restricted, depending upon the physical size. Overweight loads, as long as they have a permit, may travel at all hours. This is done in hopes of minimizing accidents, but it does not always work.
What does an Oversized Load Truck Usually Carry?
Big trucks, such as these, can carry a myriad of things. Although they do cause congestion and delays on our roadways, they serve a very important purpose. Some of the most common oversized loads are:
Boats.
Pre-built homes.
Construction elements.
Factory equipment.
Containers.
Storage tanks.
As you can imagine, an accident involving trucks with loads this large is often far worse than a car accident. With personal injury at such a high risk in these accidents, we have Sarasota truck accident lawyers on hand. They are ready to take the reigns of your case, so you can recover in peace.
What Causes Big Truck Accidents in Sarasota?
Big truck accidents can be caused by an untold number of things. Here are a few of the most common causes of commercial truck accidents in Sarasota:
Distracted truck drivers.
Fatigued truck drivers.
Speeding trucks.
Untrained or inexperienced truck drivers.
Overloaded trucks.
How Is a Sarasota Big Truck Accident Investigated?
To start an investigation into a big truck accident, we advise that you contact a personal injury attorney as soon as possible. Here, at The Law Place, our experienced truck accident lawyers are prepared and ready to perform a stringent investigation into your claim. Every lawyer we have has a wealth of experience when it comes to piecing together evidence and getting you the compensation you deserve. Evidence that may not be present in any other car accident.
By law, all large commercial trucks are required to have an Event Data Recorder (EDR) or black box installed. The evidence gathered from an EDR can be integral when Fighting your case. Black boxes record data about the driving of the truck driver, such as the driver's speed, the application of brakes, and other such information. It is important for your truck accident attorney to act fast to recover the information on the Black Box, as they are often tampered with or even destroyed. It is fairly common for this to happen to the driver's logbook, maintenance records, employment records, and other information about the truck driver or trucking company.
Contact us today, at The Law Place, and speak to a truck accident attorney you can rely on. We will not waste a second in recovering all the evidence required to get you the compensation you deserve.
As with all Road Traffic accidents, including big truck accidents, your Sarasota accident attorney will conduct an onsite investigation of where the crash occurred. They will interview eyewitnesses, check the surrounding area for skidmarks, look for obstructed stop signs, and anything else you may have missed at the time of your accident.
How do We Determine Who Is Liable in a Sarasota Big Truck Accident?
Determining liability in a Truck accident can become quite tricky. These accidents tend to be some of the worst on the road, due to the large weight and oversized cargo involved. They often cause catastrophic injuries to both drivers.
Most of the large trucks you see on the road are commercial vehicles, so the liability often goes a lot further than just the truck driver. When you look at the common causes of truck accidents in Sarasota, it becomes apparent that allocating liability is rarely simple. Here are a few of the parties that may be held liable:
The Driver.
The Employer.
The Trucking company.
The truck manufacturer.
The insurance company.
For somebody without a Sarasota truck accident Lawyer, figuring out who is liable could become an insurmountable task. At The Law Place, we will take that off your hands and ensure that the liability rests with the guilty party. We will do everything in our power to ensure you get the compensation you deserve.
What Damages Can I Claim for After a Big Truck Accident in Sarasota?
Damages that you can claim are very similar across the board when it comes to road traffic accidents. Here are a few of the most common:
Loss of earnings.
Medical bills.
Property damage.
Loss of loved ones.
If you have been in an accident involving an oversized load truck, contact us at The Law Firm, an experienced truck accident lawyer is waiting to take your call.
What Can a Sarasota Truck Accident Lawyer Do for You?
When you call us, at The Law Place, you will be offered a free consultation, during which we will assess the validity of your claim. You will be asked a series of simple questions so one of our accident lawyers can determine whether or not you should proceed. You will be offered some no-obligation advice so you can make an informed decision on whether or not you wish to continue. If you do not choose us to represent you, that is fine, but if you do wish us to represent you, we will arrange a free case review. In which we will explain our fee structure and outline what we can do to help you through this difficult time.
Upon hearing about your accident, it is likely that you will be contacted by the other parties insurance company. They will attempt to convince you to settle the case quickly and offer you a settlement that is much lower than the one you are due. They will attempt to devalue your claim and even disregard it completely. It is imperative that you do not agree to anything over the phone, without consulting a personal injury lawyer. They will ensure that you are not taken advantage of in this stressful time.
Research has shown that you are 90% more likely to receive a payout if you are represented by an accident lawyer. This varies on a case by case basis but is generally true. Payouts also tend to be 60% higher on average than those that opt to go it alone. If your case ends up going to court, one of our truck accident lawyers will be with you every step of the way the ensure you get the compensation you deserve.
How Much does a Sarasota Truck Accident Lawyer Cost Me?
At The Law Place, all of our attorneys work on a contingency basis. This means that you will not be charged a penny upfront, all fees will be deducted from your settlement upon winning the case. If we are unsuccessful, then you will not be charged anything
All contingency work is monitored by the State Bar Associations. We adhere to the guidelines they set stringently. These guidelines are put in place to ensure all clients are treated fairly. All fees will be explained to you in your free consultation so that you will not receive any surprise bills.
Speak to One of Our Personal Injury Lawyers at The Law Place Today
Have you been involved in a trucking accident that was not your fault? Do you think you may be entitled to compensation? Contact one of our Sarasota personal injury lawyers today on (941) 444-4444 to book in a free consultation. At The Law Place, representation possible, so you will benefit from all of those years of practice. Do not waste a second following your accident; our personal injury lawyers are waiting to take your case.