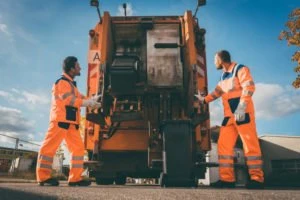 Trucks are a common sight to see on Florida roads and can be the reason behind multiple accidents across the state. According to the Insurance Institute for Highway Safety, roughly 4,000 traffic accidents involve a truck each year. The size of a truck can greatly influence the degree of danger following an accident. As trucks are bigger and heavier than a car, truck drivers account for 17% of fatalities, 60% of which are car drivers. Despite garbage trucks providing an essential service, because of their size, it is difficult for them to navigate small residential areas or heavily populated urban areas. Therefore, making them a potential danger on the road of Fort Myers, FL.
If you or a loved one have been involved in a garbage truck accident in Fort Myers or the surrounding area, then contact The Law Place today. Our lawyers understand how life-changing a truck accident, and the following injuries and damages can be. We will be there for you every step of the way to ensure you get the justice you deserve. Phone our office today to organize a free consultation with an experienced personal injury lawyer from our team on (941) 444-4444, our phone lines are open 24/7.
Common Causes Behind a Garbage Truck Accident in Fort Myers
Garbage truck accidents in Fort Myers can have many causes. Responsible parties include the truck driver, the trucking company, the manufacturer, or somebody else on the road. Possible causes behind a truck accident in Fort Myers, FL, include:
Driver performance – If the driver understeers, oversteers, drives aggressively or recklessly, then this can all lead to a collision.
Loss of control – Adverse weather conditions or malfunctions with the truck itself can cause the driver to lose control and potentially cause an accident.
Size of the garbage truck – A garbage truck has a legal payload set at around nine tonnes. These trucks are, therefore, very large, leading to more blind spots or difficulties when maneuvering.
Recognition issues – If the truck driver doesn't identify a hazard or road sign in time, then this could cause an accident. For example, not stopping at a stop sign.
Fatigue or illness – Drivers falling asleep or being incapacitated by illness can all lead to a potential collision.
Location – As these trucks can operate in residential areas, this can lead to difficulty in maneuvering around such narrow roads, increasing the likelihood of accidents with pedestrians or bikes.
Who is Responsible for a Garbage Truck Accident?
Once the cause of the truck accident has been established, then your personal injury lawyer will still have to establish which party can be held liable for your accident. This can become complicated, so it is important to have an attorney experienced in Florida civil law on your side to ensure your case is successful. Examples of possible liable parties include:
The truck driver – Each driver owes others on the road a duty of care to act as a reasonable person would and not to behave negligently. If the driver causes a collision and injuries because of negligence, they will be found liable. For example, if they are speeding, on their phone, ignoring a stop sign, etc.
A private waste management company – Companies that own the truck have responsibilities to maintain the trucks and ensure the safety of their drivers as well as others. For example, they must ensure their truck drivers are working manageable hours to prevent fatigue.
Truck manufacturer – If the truck was manufactured or repaired with already defective parts, that consequently led to the collision, the manufacturer could be found liable for the negligent selling of parts.
Government entity – If something under government jurisdiction, e.g. the road conditions or road signs, played a part in any truck accidents, then the appropriate government entity could be found liable.
Third-party driver – Truck accidents can be caused by another driver on the road. In these cases, they will be found liable.
Truck accidents can be caused by a range of negligent parties, and in many scenarios, the liability can be shared between multiple parties. Because of the potential complexity when determining liability, it is always best to have a personal injury attorney available to analyze your case and accurately build up a claim for compensation against the correct party.
Comparative Negligence Laws in Florida
Florida operates under comparative negligence laws, meaning multiple parties can be found liable. If you demonstrate fault, as long as it was below 50%, you could still be owed a settlement. For example, if you were 20% at fault, then your settlement will be reduced by this percentage. A personal injury attorney will be able to prove your percentage and ensure you receive the correct and suitable settlement.
What Injuries can Occur Following Garbage Truck Accidents?
Truck accidents can, unfortunately, cause a range of injuries due to the weight and size of garbage trucks. Examples of possible injuries include:
Whiplash or other neck injuries.
Head injury.
Paralysis.
Cuts, bruises, and scrapes.
Broken or fractured bones.
No matter what exact injury you sustain after a truck accident, if it was not wholly your fault, you could be owed compensation. Get in contact with a personal injury attorney today.
What Damages Can Be Claimed for Following an Accident in Fort Myers
Following a truck accident there are an array of damages you can claim for:
Medical costs – For any medical costs you encounter, as long as you have proof of costs, you will be able to claim these back.
Lost wages – For any time off work you will be able to claim back any lost wages.
Property damage – Truck accidents can cause immense damage, so any repair or replacement costs may be claimable.
Pain and suffering – This covers any mental or physical injuries. However, this can be hard to prove, so it is best to have an attorney with you.
Wrongful death – Florida Statute 768.21 allows for a wrongful death lawsuit to be filed, which will cover funeral expenses and loss of consortium.
Contact The Law Place today to organize a free consultation where we can discuss your case and possible damages owed to you.
Contact The Law Place Today!
If you have been involved in a garbage truck accident, then contact The Law Place today! Our team possesses over 75 years of experience, and many are AVVO 10.0 rated, so you can ensure your accident case will be in the best of hands. We understand how truck accidents can uproot your life, so we are here to ensure you receive the justice you deserve.
Get in contact with us today to organize a free consultation with an accident lawyer at our firm. Truck accidents can create complex legal cases. Our phone lines are open 24/7 to help you get the compensation you deserve, so call us today on (941) 444-4444.