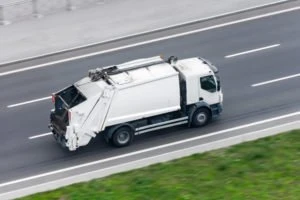 All kinds of trucks are common to see on the roads and highways of Florida, and sadly they can also be a common cause of accidents across the state. According to reports from The Insurance Institute for Highway Safety, trucks are involved in almost 4,000 motor accidents each year on average. Due to the sheer size and weight of trucks, truck drivers account for 17% of fatalities in comparison to 60% of fatalities being that of people driving standard cars. Because of these statistics, it is important to realize how dangerous garbage truck accidents can truly be. Whilst garbage trucks do provide an essential service; they can be dangerous. This is because it is often difficult to navigate small residential areas and densely populated cities because of their size.
If you have been involved in a truck accident in Port Charlotte, Florida, that was not your fault, then contact The Law Place today. Here at our law firm, our personal injury lawyers possess 75 years of combined experience in dealing with cases such as your own. Call us today to schedule a free consultation from (941) 444-4444. Phone lines are open 24/7!
What Can Cause a Garbage Truck Accident in Port Charlotte?
Here are some of the most common causes behind garbage truck accidents in Florida:
Recognition issues – Drivers failing to identify hazards or stop signs can all increase the likelihood of an accident.
Loss of control – Poor weather conditions, understeering, oversteering, or issues with the truck can both cause the truck driver to lose control.
Driving under the influence – Being drunk or under the influence of drugs will significantly a driver's ability to react and drive safely, thus increasing the risk of a crash.
Driver fatigue – Drivers working long hours can impair their driving ability, similar to alcohol, therefore making them a danger.
Size of the trucks – The sheer size and weight make garbage trucks very dangerous if they are to crash. It also makes them more difficult to drive and control.
Location – The likelihood of an accident increases in residential areas with narrow roads and heavily populated areas when there are more pedestrians.
Are There Any Regulations for Florida Garbage Truck Drivers?
Due to the potentially severe damage that a truck accident can cause, there is a range of regulations garbage truck drivers and commercial truck companies must abide by. These are laid out in the Federal Motor Carrier Safety Administration regulations and training standards.
As well as this, garbage trucks are included in the large weight category, so all drivers must have a Class A or Class B license before driving one. If they do not possess this or breach any of the regulations, they could be held liable for any resulting accidents.
Common Causes of Garbage Truck Accidents.
Some common causes behind truck accidents include, but are by no means limited to:
Poor weather – Florida experiences extreme weather. These conditions (such as rain or high winds) can make it very dangerous to drive.
Garbage truck driver error – If a driver acts negligently (e.g., impaired or distracted driving, violating traffic laws, not checking blind spots, etc.), this can greatly increase the likelihood of a crash.
Defective truck parts – Sometimes, a manufacturer may provide faulty parts that then lead to a malfunction on the road and then a crash. Parts that commonly contribute to accidents include brakes, tires, steering wheels, steering columns, etc.
Dangerous roads – It is possible for a government entity to not have taken sufficient care of its roads. This can easily lead to a collision. Issues include potholes, poor road design, dangerous curves in the road, inadequate road signs, improperly time traffic signals, etc.
No matter what specifically caused your accident, if it was not your fault, then you could be entitled to compensation. Call us today to organize a free consultation.
Who Is Liable in a Garbage Truck Accident?
Once it has been established what caused the crash, it is a lot easier to determine who exactly was responsible. It is best to have a personal injury lawyer on your side to ensure this is done correctly.
Some examples of who could be found liable include:
Garbage truck driver – If the driver of the truck involved has failed to act as a reasonable person and has thus behaved negligently, they could be found liable. This includes being under the influence, speeding, or being on their phone.
Private waste management company – Companies that own garbage trucks have a responsibility to maintain their vehicle and ensure their drivers are not acting negligently. For example, if they are forcing their drivers to work unmanageable hours and they are becoming fatigued, this could lead to them being liable.
Government entity – If the road conditions (i.e., something maintained by the government) were the leading cause of the car accident, then the government could be held liable.
Truck manufacturer – Under product liability law, a company cannot supply defective parts. If this defective part causes an accident, the company could be at fault for the crash.
Maintenance crew – If the maintenance crew fails to notice and amend an obvious fault which then causes an accident, they could be at fault.
What Damages Can Be Claimed After a Garbage Truck Accident?
Truck accident victims may be able to claim a number of damages after a collision to try and compensate for their financial and physical suffering. Examples include:
Medical bills – If you have been injured and have had to seek medical attention, then any medical expenses you face can be included in your final compensation value.
Pain and suffering – For any physical or mental injuries caused by your accident, as well as any loss of enjoyment in life, the courts may award you with a value to compensate for this specific suffering. It is hard to prove, so it is best to hire a Florida personal injury attorney to help you with this.
Lost wages – If your injuries mean that you have had to have time off from work, then you could be owed these lost earnings. Similarly, if you cannot return to work, you could claim a loss of earning potential.
Property damage – If your vehicle has been damaged because of a collision, then any repair or replacement costs could be included in your final settlement.
Wrongful death – If you have sadly lost a loved one in a crash that wasn't their fault, you will be able to file a Florida wrongful death lawsuit under the grounds of Florida Statute 768.21. This should cover all funeral expenses and loss of consortium.
How Much Will a Personal Injury Lawyer Cost?
At our law firm, our attorneys operate on a strict contingency basis. You will not be charged any surprise upfront costs if you choose us as your representation, and all of the necessary fees will instead be deducted from your settlement once your claim has succeeded. In the unlikely scenario that your claim isn't successful, then you will not be charged a single cent!
Our contingency work is monitored by the State Bar Association of Florida. The Law Place adheres to all of the guidelines set by The Bar as these are rules in place to ensure the fair treatment of our clients. To better understand our fee system organize a free consultation with a lawyer on our team today!
Contact a Truck Accident Lawyer at The Law Place Today!
If you or a family member have been a victim of a garbage truck accident in Port Charlotte that was not your fault, then contact The Law Place today! Many of our lawyers are AVVO 10.0 rated and can guarantee a dedicated attorney-client relationship whereby your case and getting you the justice you deserve will be their top priority.
Here at our law firm, we realize no amount of money will reverse what have you have been through, but we believe it is a step in the right direction on your recovery. Call our office today to schedule a free case evaluation with a lawyer on our team, using our toll-free number (941) 444-4444. Phone lines are open 24/7.