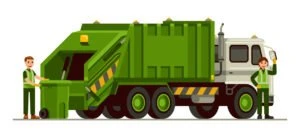 Accidents that involve a garbage truck can be disastrous; accidents involving large vehicles are likely to involve more than one car or pedestrians. Accidents involving a garbage truck are much more common than most people realize, large blind spots and heavy trucks can be a recipe for disaster.
While garbage trucks in the city of Tampa provide an essential service, drivers are expected to navigate tight spaces and busy streets, putting the risk of accidents up.
If you have been involved in a garbage truck accident, then you need the help of a personal injury lawyer. At The Law Place, we offer a free consultation. Our experienced accident lawyers will evaluate your claim and fight for the compensation you deserve. Just call us on (941) 444-4444 for a free consultation.
What Causes Garbage Truck Accidents in Florida?
Accidents in Tampa may be the result of a truck driver, the trucking company, or someone else on the road. The first task in any personal injury claim is to find out who is liable so that they can be held accountable for their actions. Some common causes of truck accidents in Tampa, Florida, are:
Loss of control.
Leaving the lane of travel.
Striking another vehicle in the rear.
Non-performance – Drivers falling asleep or being incapacitated by illness.
Recognition – Drivers fail to identify hazards in time because they are distracted; for example, they may be on their phone or talking with other workers.
Performance – Drivers oversteer or understeer and, as a consequence, fail to maintain control.
What Requirements Must Florida Garbage Truck Drivers Meet?
Luckily, truck accidents are not nearly as common as car accidents in Florida. However, the injuries that result are often much more severe. One of the reasons these types of accidents happen less is because commercial truck drivers in Tampa must adhere to the Federal Motor Carrier Safety Administration (FMCSA) training standards. Furthermore, garbage trucks fall into a large weight category, and therefore drivers must obtain a Class A or B license.
Who Is Liable in Garbage Truck Accidents?
Determining liability in a garbage truck accident in Tampa can become a little complicated. It depends on several factors. Some of the possible liable parties are as follows:
The truck driver – The driver may have failed to act as a reasonable person would have; for example, they might have been driving under the influence or driving distracted.
Truck manufacturer – If the truck had defective parts, which led to the incident.
Private waste management company – The company that owns the truck has certain responsibilities to maintain their vehicles and ensure the safety of its drivers. For example, if a signal light such as backup lights were not working, this could be the fault of the truck company.
Government entity – If the road conditions are a leading cause of the incident.
Third-party driver – A truck accident may have been caused by another driver on the road.
This list is not extensive, and in many situations, the liability is shared. Florida runs under comparative negligence laws, which means that different parties can be found to be at fault. If you had some fault in the accident, so long as it was below 50%, you could still be compensated to the degree that you were not at fault. For example, if you were found to be 20% at fault for the accident, then your settlement would be reduced by this amount. At The Law Place, an Experienced attorney will help you to determine who was at fault and will ensure that blame is not unfairly placed on you.
What Damages Can I Claim After an Accident in Tampa, FL?
In a crash in Tampa, there are many damages you can claim for
Loss of earnings.
Medical bills.
Property damages.
Wrongful death lawsuit. You may be able to file for a wrongful death lawsuit if you have lost a loved one in an accident in Florida.
The Law Place
If you have been in an accident in the city of Tampa or have suffered the wrongful death of a loved one, then you may be entitled to compensation. At the very least, contact The Law Place on (941) 444-4444 for a free consultation with an attorney and see if you are eligible for a claim.
We have over 75 years of combined experience and are unafraid to take on large insurance or trucking companies. We are committed to making Florida's roads a safer place to drive and fighting for the compensation that you deserve.