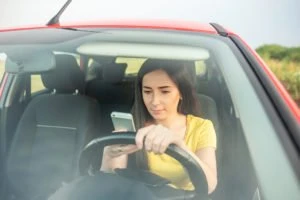 Nowadays, technology brings something new to our lives almost every day. When owning a cell phone, you can not only stay in touch with your family and friends, but you have access to a variety of possibilities, as navigating, watching videos, accessing your bank account, and other aspects of your life are enclosed in the applications on your cell phone. Rapid technological development is causing us to spend more and more time on our phones, and reports show that this trend is expected to continue in the coming years.
This has impacted the number of driving accidents caused by distracted driving in the U.S. Plenty of people think they can handle texting and driving at the same time, but it only leads to distracted driving and may cause a car accident, damages, and personal injury.
If you or your loved one has suffered from a car accident in North Port, Florida, as a result of a distracted driver being careless, you may need help from a personal injury lawyer. At The Law Place, our team of dedicated accident lawyers will do their best when working on your case evaluation. We are a reputable law firm with over 75 years of combined experience in car accident cases and other practice areas. The phone lines at our North Port office are available 24 hours a day, every day. Contact us today at (941) 444-4444 and schedule a free consultation with a car accident lawyer.
Florida Ban on Texting While Driving
According to Florida Statute 316.305, texting while driving behind the wheel is illegal and distracted drivers will be issued a fine. Starting January 1, 2020, Florida made laws on texting while driving even stricter than before and classified simultaneous texting and driving as a primary offense.
Since distracted driving with texting is categorized as a primary offense, North Port and Florida authorities can stop a person who is texting while driving. In such a situation, they can issue the driver a fine. When a person has been caught for the first time, the fine is only $30. This may seem unfair when considering the consequences that may be caused due to a distracted driving accident. Furthermore, any additional points will not be added to a driver's license for this violation. A second-time offender, if the offense occurred within 5 years of the first offense, will be issued a $60 fine, and 3 points will be put on their driver's license.
However, there are a few cases in which this ban on texting and driving does not apply, and they are allowed by Florida law without resulting in fines. The most critical case is receiving any safety-related information connected to emergency traffic, road conditions, or weather alerts. Florida Statue 316.305 also allows using a cell phone while driving to report suspicious activity, criminal actions, or emergencies, like an auto accident. If you are using the device for navigation purposes, this will not be considered a texting and driving case. Although Florida law does not prohibit making phone calls, you have to remember that you cannot talk on your cell phone when driving close to a school or in a construction zone.
Duty of Care Violation When Texting and Driving
Texting and driving is a common problem, which puts traffic safety at risk and may cause driving accidents resulting in personal injury, property damage, or even death. Accidents caused by distracted drivers should be avoidable. Every person who is driving should keep in mind that once they access a road, they are responsible not only for themselves but also for other traffic users.
When they get behind the wheel of a motor vehicle, drivers on Florida's roads have the duty of care to other road users, including other vehicle operators and their passengers, pedestrians, and cyclists. A driver who is using their cellphone and texting while driving is violating this duty of care. If distracted driving has resulted in a car or other motor vehicle accident in North Port, Florida, the driver who caused the accident should be held accountable for any personal injuries incurred.
If distracted driving caused pain and suffering to you or your loved one, we highly recommend seeking legal advice from an experienced accident attorney. Even if it may seem obvious that texting and driving was the reason for the car accident, you should seek professional help. Call our law firm today and get a free case consultation from a personal injury lawyer who can help strengthen your claim and approach the insurance company for a fair compensation settlement.
How Distracted Driving Impacts Driving Accidents
A distracted driver is a person who is not entirely focused on the road, in this case, because they are using their cell phone. According to the Florida Department of Highway Safety and Motor Vehicles (FHSMV), distracted driving has different categories:
Visual – When you are taking your eyes off the road.
Manual – When you are taking your hands off the wheel.
Cognitive – When you are thinking about anything other than driving.
When texting, all three types of distraction are required, making it one of the most dangerous among distracted driving behaviors. Unfortunately, data confirms how distracted driving strongly impacts the number of car accidents in the United States. Approximately 8 people in the U.S. are killed every day in car accidents involving distracted drivers. In 2018, more than 2,800 were killed, and about 400,000 were injured.
Distracted driving threatens the lives of both drivers and their passengers, as well as putting other road users at risk. About 1 in 5 of the people who lost their lives in crashes involving a distracted driver in 2018 were not in the vehicle.
If you have been a victim of such a car accident, seek legal advice from a lawyer specializing in injuries and accident cases. Our lawyers will help you file a claim for compensation from your insurance company. Call us today and get a free consultation.
Contact a North Port Accident Lawyer Today!
When you are suffering from an accident caused by a person who was texting instead of focusing on the road, it is not fair for you to be out of pocket, as it wasn't your fault. Contact us and get a free consultation from an attorney experienced in Florida personal injury attorney. Many of our lawyers are AVVO rated 10.0, which is the highest possible rating, so you can be assured that your case will be in experienced and competent hands.
Our law firm helps people who are innocent victims of accidents caused by distracted drivers and will fight for them to get a fair amount of compensation from insurance companies. You do not deserve the pain and suffering from damage and personal injuries caused by your car accident. Contact The Law Place and let us be the one who supports you through the case. We are open 24 hours a day, 7 days a week. Call us at (941) 444-4444.