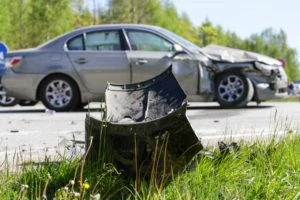 Although accidents on the road are often caused by dangerous driving, adverse weather conditions, or unsafe roads, our car accident lawyers have dealt with cases where defects of the vehicle have been the primary cause. In these situations, the fault may lie on the vehicle manufacturer, a mechanic who has carried out work on your car, or a manufacturer of car-parts. If liability can be established for defective car parts, your compensation claim will be impacted.
When taking a personal injury case against mechanics or vehicle manufacturers, it is important that you have the guidance and support of an experienced personal injury lawyer. Here at The Law Place, we have over 75 years of experience in dealing with personal injury cases, including car accidents in North Port. Our team of personal injury lawyers is here to help you stand up for your right to claim compensation.
Contact The Law Place today on (941) 444-4444 if compensation is owed to you as a result of a car accident in North Port. Our phone is open 24 hours a day, 7 days a week, so call today to get a free consultation from a car accident lawyer.
Causes of Defects in Vehicles in North Port, FL.
Although there are numerous situations where a vehicle may be defective, many drivers remain unaware of these faults. The reason for this is that the majority of defects have happened during the manufacturing process or when a mechanic may have incorrectly repaired your car or used faulty parts. The majority of defects result from:
Parts being installed incorrectly.
A badly designed vehicle.
Careless action during the manufacture of a motor vehicle.
The use of flawed parts in manufacturing.
The use of lower quality materials in car repair.
Damage caused to existing vehicle parts during repair.
When a car accident has occurred because of one of these defects, you may be entitled to file a claim for compensation against the relevant party in North Port.
Common Vehicle Defects Which Can Lead to Car Accidents
There are countless parts of a vehicle that may become faulty and lead to a car accident. It is important to ensure consistent maintenance on your car in order to protect yourself and others from potential harm. However, there are particular parts that have been proven to cause more serious injury if defective. These parts include:
Airbags – When defective, airbags can cause serious harm. The most common damage caused by airbags occurs when they either fail to inflate on impact or inflate without reason.
Tires – Faulty or damaged tires can lead to severe accidents on the road. These accidents often result from the blowout of tires, which is common when driving fast.
Seat belts – When a seat belt is defective, it can be extremely dangerous for all those in a car, as it won't provide adequate protection.
Roof – Having a defective roof can be fatal in the event of a car accident. It is necessary that the roof of a vehicle is well-built and secure in order to provide protection.
Gas tanks – Even in smaller collisions, gas tanks have been known to explode and cause major damage.
Other frequent defects – Car wiring, parts of the steering system, accelerator controls, and brake system parts can cause car accidents and serious injuries when defective.
Compensation for Accidents Caused by Vehicle Defects in North Port, FL.
If motor vehicle defects were the cause of your car accident in North Port and you have suffered injuries because of this, a personal injury attorney from The Law Place is here to help ensure you receive full compensation for your pain and suffering. In your free consultation, we will examine whether your claim has validity and if you are entitled to receive damages. These damages could include:
Lost wages – If you have lost money due to missing work because of your accident, you may be entitled to receive compensation for those lost wages, including any future wages and lost earning potential.
Medical expenses – This includes any medical bills resulting from the injuries you have suffered in addition to past and future medical expenses from the car accident. This will also include your transport to and from these medical appointments.
Property damage – If damage has occurred to your vehicle as a result of the car accident, you will be able to claim compensation for this. This can also include any valuable items that were damaged from being inside your car when the accident occurred.
Pain and suffering – Damages for

pain and suffering

cover any emotional trauma you have suffered as a result of the accident. This can include a loss of enjoyment when you are no longer able to take part in activities, such as running or walking, that you partook in before the accident occurred.
Loss of a loved one – The loss of a loved one in a car accident is traumatic. In this situation, you will be entitled to receive compensation for funeral expenses and

loss of consortium

.
What Will a Law Firm Do for Me in North Port?
Research indicates that having assistance from a personal injury lawyer will benefit you. It has been shown that over 90% of personal injury cases that are represented by an attorney will result in you receiving a payout. In addition, these payouts tend to be 60% higher than payouts received without representation from a personal injury lawyer, depending on the specific facts of a case.
Upon contacting The Law Place, we will give you a free consultation where we will be able to assess and understand your case by asking you some questions. Following this, we will give you advice on what to do next if we believe you have a valid claim, all at no-obligation. With their vast experience, our accident lawyers will help you determine whether proceeding with the case is the right thing to do. If you decide to proceed with your case, our lawyers will put together an in-depth case review.
The in-depth case review will involve us taking over your case on your behalf. This will include speaking with your insurance company, assessing the value of your claim, and carrying out an investigation. Additionally, we will fully explain our fee structure so that there are no surprise costs.
Settlements are the most common outcome for motor vehicle accidents in North Port. Our law firm is here to ensure that you receive a settlement that adequately reflects the damage you have suffered. If the case ends up going to trial, we will use the strong case we have built to fight for adequate compensation for you.
How Much Does It Cost to Hire an Attorney for a Car Accident in North Port, Florida?
Here at The Law Place, we completely understand that dealing with a car accident can cause a lot of stress, particularly when it is because of defective car parts. The purpose of vehicle safety features is to protect you, and they should never play a role in causing injury or death.
Our law firm will provide you with a free consultation in order to help you decide whether to proceed with your case. It is quite common for your insurance company to put their needs first and offer you an inadequate settlement. At The Law Place, we work on a contingency basis, which is monitored by the State Bar Associations. This means that we will not require any costs from you until we have been successful in winning your case.
If we are successful, we will subtract our costs from your settlement, which are reasonably charged in accordance with the State Bar Associations' standards. From the outset, our law firm will make these costs clear to you so that you are never left unsure.
Speak to a Personal Injury Lawyer at The Law Place Today!
If you have been in a car accident that occurred due to defective parts, or your injuries were made worse as a result of these faults, then it is vital that you get in contact with one of our experienced car accident lawyers today. Regardless of whether you were at fault for the accident, you may still be entitled to compensation if faulty parts made your injuries worse.
Our team at The Law Place works together to ensure that you receive the benefits of our combined experience. We are here to fight on your behalf and to ensure that you receive the adequate amount of compensation that you deserve. We want to help you and try to create a safer environment for drivers in North Port, Florida. Contact us today at (941) 444-4444, where we will provide you with a free consultation. Phone lines are open 24/7.