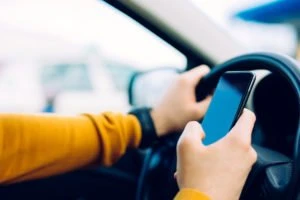 The speed at which technology advances is ever-increasing. Our cell phones give us the capacity to do so much at our fingertips, which many of us take for granted. Modern cell phones can navigate, play games, play music, take pictures, keep us in contact with loved ones, and so much more. Increasingly, people are spending more and more time on their phones.
While cell-phone use comes with countless benefits, more and more people are driving distracted in Clearwater because they are using their phones. Distracted driving is a leading cause of accidents, whether it is the result of someone adjusting their navigation, the music, or even texting while driving or checking social media.
If you or a family member has been the victim of a car accident in Clearwater or elsewhere in Florida because of a distracted driver, then you could be owed compensation. The Law Place has over 75 years of combined experience dealing with car accident cases in Florida. Contact us today for a free consultation with a personal injury lawyer in Clearwater, FL.
Our phone lines are open 24/7, so contact us now on (941) 444-4444.
Florida Ban on Texting While Driving
From the first of January in 2020, in accordance with Flordia Statute 316.305, texting while driving in Florida was made a primary offense. Before this, it was difficult for law enforcement to take sufficient action against a negligent driver using their cell phone.
Now that texting while driving is a primary offense, authorities in Clearwater and throughout Florida can stop a driver and issue a fine. The first for a first offense is only $30, which still seems to be an insufficient punishment when you consider the potential ramifications of someone using their phone while driving. If someone is caught a second tie, they will be fined $60, and points will be added onto their license.
Many argue that this law does not go far enough. Drivers in Florida can still use their cell phones if they are making a call or reading emergency messages such as weather alerts. However, if the driver is close to a school or in a construction zone, then all cell phone use is prohibited.
Breach of Duty of Care
Distracted driving is a leading cause of accidents, and there is no excuse for texting while behind the wheel of a car. It is frustrating that so many people are injured or even killed, in accidents that are entirely avoidable.
All drivers in Clearwater and Florida have a duty of care to take reasonable measures to keep other drivers and pedestrians safe when they are behind the wheel of their vehicle. When someone uses their cell phone while driving, they are breaching this duty. If texting while driving leads to an accident, then the person who committed the offense can be held liable for any resulting damages.
Although it may seem clear that cell phone use caused the accident, the burden is on you to prove this. We advise seeking help from a Clearwater personal injury lawyer who will gather evidence so that you are in a good negotiating position when you approach the insurance companies.
Distracted Driving Is Not Worth the Risk
A distracted driver is an individual who is driving without their full attention on the road. Instead, they might be looking at their cell phone or looking in the mirror. Distracted driving endangers not only the driver and their passenger but also pedestrians and either road users.
In the United States, nine people die every day because of distracted driving, and on average, 1,000 people are injured. Individuals using their phone while driving is a major public health concern that needs more awareness and action. The reality is that cell phone use is likely to only increase, and car accidents are likely to become more frequent.
According to Florida Highway Safety and Motor Vehicles (FHSMV), around 400,000 car accidents occur each year in Florida, and a whopping 25% of them are because of distracted driving. That means that more than 100,000 accidents each year are avoidable, and the injuries and damages that resulted could have been prevented.
If you or someone you love has been injured in a car accident, then you should fight for compensation. Not only do you deserve proper compensation for your damages, but those responsible must also be brought to justice. You may be preventing a future car accident by taking action.
Contact The Law Place today for a free consultation with a personal injury lawyer.
Use of Cell Phones Statistics
Of all phone-related distractions, texting is the most dangerous.
Almost 390,000 injuries occur every year in the United States because of people texting while driving.
According to a report by The National Safety Council (NSC), cell phones result in over 1.6 million accidents every year.
A driver who takes their attention off the road for five seconds while traveling at 55 mph will travel the length of a football field. But any distance traveled without eyes on the road is dangerous.
A driver who is distracted by their phone is six times more likely to cause an accident than someone driving under the influence.
How Long Do I Have to Make a Claim?
Following a car accident in Florida, you are bound by Florida Statue 95.11, the Statute of Limitations. Depending on the circumstance of your case, you could have two to four years to make a claim.
However, the sooner you contact a personal injury lawyer, the better. At The Law Place, we will get to work right away and begin gathering fresh evidence, and this could have a big impact on the value of your case.
Talk to a Clearwater Accident Lawyer Today
There is no excuse for texting while driving. When accidents result, they can cause serious injuries and even death. By holding distracted drivers responsible, we hope that they will change their behavior in the future.
You or a loved one should not be left with medical bills and lost wages because of an accident that wasn't your fault. A Clearwater accident lawyer at The Law Place can offer legal representation to fight for your rights to compensation.
Contact us today at The Law Place for a free consultation. We will offer some free advice, and if we think you have a valid claim, we will arrange an in-depth review so that you can get all f the information you need before you make a commitment to representation.
Don't suffer alone; contact us today on (941) 444-4444.
Contact us today for a free consultation.