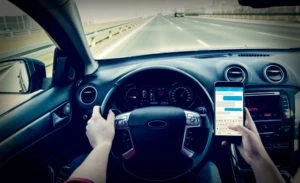 Technology is increasingly becoming intertwined with modern society, and it is developing faster than people can adjust to it. One way that technology is benefiting and encompassing our lives is through cellphones. Most people own a cell phone, and not only do they use it to keep in contact with people, but they also use them to navigate, play music, play games, and take photographs. In a lot of ways, this has been a great advancement to mankind, but on the other hand, it has also caused an epidemic.
Increasingly, more and more people are being distracted on the road because they are using their cellphones while driving in Sarasota. Distracted driving is always dangerous, whether someone is changing the song, adjusting the navigation, or even texting and driving. It seems ludicrous that this behavior continues to such a degree.
If you have been injured in a car accident in Sarasota because of another driver's cell phone use, you're likely to feel a lot of frustration. Someone made a selfish and reckless decision, and now you are paying the price. Our Sarasota personal injury lawyer can help you get the compensation you deserve, and you also need to send a message that this behavior is not acceptable. Contact us at The Law Place for a free consultation on 941-444-4444.
Florida's Ban on Texting While Driving
It was not until 2020 that Florida made texting while driving a primary offense. Until this point, you could only be convicted of using your phone while driving as a secondary offense, making it difficult for law enforcement to take action on negligent drivers.
However, as of 1st January 2020, using a mobile device is a primary offense. Officers can stop a driver on their phone and give them a fine. However, for a first offense, the fine is just $30, this seems wholly insufficient when you consider the serious consequences that distracted drivers can have on those around them. If a driver is caught a second time, they receive a $60 fine and three driver's license points.
Under the new Florida law, drivers can still use their mobiles to make calls and read emergency messages such as weather alerts, except in construction zones and near schools.
There is No Excuse for Using a Phone While Driving in Sarasota, Florida
Distracted driving is always a recipe for disaster, and there is never an excuse for texting while driving, adjusting navigation, or picking a song. Car accidents involving cell phone use are always preventable.
Drivers have a presumed duty of care when they get behind the wheel of a car in Sarasota and the rest of Florida. This means that they are expected to act as any reasonable person would in order to keep other drivers and pedestrians safe. When someone uses their cellphone, such as texting while driving, they are acting recklessly, and therefore breaching their duty of care. If this breach led to a car accident, which caused injuries, then the at-fault party could be found liable for your damages.
Despite how clear it may seem that distracted driving caused the accident, the burden of proof lies with the victim. Therefore, in order to claim compensation for your injuries in Sarasota, FL, you should speak to a Sarasota car accident lawyer.
Distracted Driving Isn't Worth the Risk
When someone chooses to use their cell phone while driving, whether they are texting or using it for another purpose, they are not giving their full attention to the road. This not only puts their own life at risk, but it also endangers other drivers and pedestrians. Every day in the United States, nine people die, and 1,000 people are injured because of distracted driving. This is a serious public health issue that needs addressing, especially as technology increasingly plays a bigger role in our lives.
Because of our increasing reliance on technology, our attention spans are becoming shorter. As a result, more and more people find themselves not paying attention to the road.
It is estimated that 25% of car accidents in Florida are caused by cell phone use. According to Florida Highway Safety and Motor Vehicles (FHSMV), over 400,000 car accidents occur in Florida each year. If distracted driving accounts for 20% of these accidents, then 100,000 car accidents could be prevented. That's tens of thousands of people whose injuries could have been prevented, and a large number of people would never have had to suffer the loss of their loved one.
If you or a loved one has been in an accident because someone was distracted while driving, then you have a right to compensation. Contact us today for a free consultation with a personal injury lawyer in Sarasota, Fl.
Cell Phone Statistics
Nearly 390,000 injuries occur each year because of drivers texting.
The National Safety Council (NSC) reports that cellphones result in 1.6 million distracted driving crashes each year.
Drivers texting takes away their attention for at least five seconds. If drivers are traveling at 55 mph, they will travel the length of a football field.
When drivers are using their phones, they are 6x more likely to cause an accident than if they were drunk driving.
Of all cell phone-related activities, texting is by far the most dangerous on the road.
The Law Place
There is never an excuse for distracted driving and cellphone use. This is becoming more and more of a problem, and it is essential that people are held responsible for their actions. We hope that by holding more people responsible, we can prevent more injuries and fatalities in the future. More actions need to be taken against drivers when they act irresponsibly on the road.
Get in touch with a car accident lawyer at The Law Place for a free consultation. We will assess your case and make sure you have all the information you need in order to make a decision on what your next steps will be. If you decide to continue to have representation from us, then we will use our combined experience of over 75 years in Florida law, to fight for your right to compensation, and hold the driver who acted irresponsibly accountable for their actions. Call us today on 941-444-4444 to get the ball rolling.