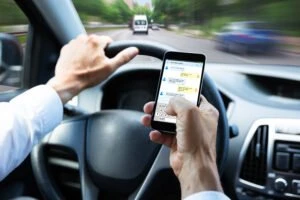 Texting while driving is a dangerous activity, one that has caused countless injuries, accidents, and deaths in Orlando, Florida.
Despite the laws of the state prohibiting texting whilst driving, many drivers in Orlando, Florida continue to engage in this risky and dangerous behavior putting themselves and others on the road at risk.
If you or a loved one has been involved in an Orlando texting while driving accident, Call (941)-444-4444 now to speak to an experienced lawyer at The Law Place and schedule your free consultation.
Dangers Of Texting While Driving
Texting while driving is a dangerous activity, one that can lead to drivers being distracted and road traffic accidents taking place.
When a driver is preoccupied with their phone, they are not focused on the road, and their reaction time is significantly slower. This leads to important signals being missed such as stop signs, a pedestrian crossing the road, or a car suddenly stopping in front of them.
According to the National Highway Traffic Safety Administration, distracted driving caused 2,841 deaths and 400,000 injuries in 2018 alone. This highlights the growing danger that texting while driving brings to the roads of Orlando, Florida, and the serious nature of this offense.
Texting requires manual, visual, and cognitive attention, so when a driver is looking down at their phone texting, using their hands to type, or thinking about what they are writing or reading, they are not looking at the road, holding the steering wheel or taking into account their surroundings.
Preventing Texting While Driving
Victims may be posing the question as to who is responsible for preventing texting while driving accidents. Responsibility for preventing texting while driving is shared between drivers, law enforcement, and lawmakers.
Drivers
Obeying the law, being aware of their surroundings, and avoiding any activity that could lead to distraction is the responsibility of the driver.
One of our experienced attorneys at The Law Place will be able to help you navigate the responsibility of the texting and driving accident that victims have been involved in.
Lawmakers
Creating and passing laws that prohibit and discourage texting while driving and increasing penalties for violators is the responsibility of lawmakers.
Law Enforcement
Enforcing the law, educating drivers about the dangers of texting while driving, and holding offenders accountable is one of the roles of law enforcement.
An experienced Orlando texting while driving accident lawyer at The Law Place can talk you through the laws and accountability involved in this type of road traffic accident.
Damages In Texting While Driving Accidents
If you or a loved one have been injured in a texting while driving accident, the distracted driver should be responsible for the damages inflicted.
The Law Place has listed some of the damages that may have occurred if you have been the victim of a distracted driving accident.
Medical Expenses – Surgeries, hospitalization, physical care, and ongoing care may be needed for a victim of a texting while driving accident in Orlando, Florida.
Lost Wages – Victims may be eligible for compensation if their injuries have left them unable to work and prevented them from returning to the workplace.
Emotional Pain and Suffering – Areas of pain and suffering can include emotional damage, physical pain, and a loss of enjoyment of life.
Common Texting While Driving Injuries
Texting while driving accident injuries come in a variety of forms ranging from minor cuts and bruises to life-threatening and severe injuries.
It's essential that you contact The Law Place if you have suffered any injuries from texting while driving a motor vehicle accident, as one of our experienced attorneys will be able to help you.
To help you understand some of the injuries involved in texting while driving accidents, we have listed the most common ones below.
Whiplash – Forceful and sudden movement of a vehicle can cause whiplash, this can happen when a car is hit from behind or suddenly stops in front of you.
Traumatic Brain Injuries – Traumatic brain injuries can range from concussions to severe brain damage and can have long-term health effects on victims' quality of life.
Spinal Cord Injuries – An SCI is a type of injury that happens when the spinal cord is damaged. This often results in paralysis or other serious health conditions for the victim.
Broken Bones – Texting while driving accidents can result in broken bones, particularly in the legs, arms, and ribs of the victim.
Cuts and Bruises – While they may not be life-threatening, cuts and bruises are common injuries sustained in motor vehicle accidents like texting while driving.
Florida's Texting While Driving Law
The Wireless Communications While Driving Law, section 316.305, Florida Statutes, took effect on July 1, 2019. This law means it is now illegal in Orlando, Florida, to use a wireless communication device to read or type a message while driving.
Texting, emailing, and instant messaging are all prohibited under this law as is entering multiple numbers or letters into a wireless communication device while driving. Nevertheless, the law does allow drivers to use their phones for navigation purposes, to make phone calls, and to receive emergency alerts.
Violating this law in Florida is now a primary offense, meaning law enforcement officers can pull over drivers for this offense alone. Fines, and points on your driving license are penalties that may be inflicted on the offender depending on their number of previous offenses.
Building a Successful Case
Gathering as much evidence as possible after a texting and driving accident is crucial for The Law Place to build victims a successful case. This helps prove that the other driver was at fault in the accident that occurred through them texting while driving.
To help you understand the kind of evidence that may be needed in a successful texting while driving accident case we have listed some types below.
Cell Phone Records
Phone records can be obtained through a court order and show whether the offender was using their wireless communications device while the accident took place.
Eyewitness Testimony
Eyewitnesses may have seen the other driver texting and using their phone during the accident. Their testimony can be used to help The Law Place shape your case.
Police Report
Police reports can be crucial for victims having a successful case and provide attorneys at our law firm with essential information.
Surveillance Footage
Surveillance footage may have captured the other driver using their phone at the time of the accident if it occurred in a public setting.
Medical Record
Medical records will provide proof of the extent of the injuries the victim of a texting while driving accident has suffered.
Call The Law Place Today
If you've been injured in Florida, don't wait another day to get the help you need. The Law Place is here to fight for you. With 75 years of collective experience, our team has the knowledge and expertise to get you the compensation you deserve.
Our attorneys, including our founder David Hannel, have achieved a 10.0 rating on AVVO, the highest possible rating on the independent review site. This is a testament to our dedication to our clients and our proven track record of success.
Don't let your injury hold you back any longer. Contact The Law Place today for a free consultation and let us fight for you.
Don't hesitate to call us today at (941)-444-4444 to schedule a free consultation with an experienced Orlando texting accident attorney.