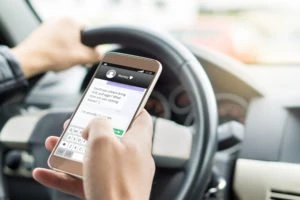 Today's society is a world where there are constant advances in technology. Our mobile phones can be viewed as portable computers, with access to various multimedia tools at our fingertips. Mobile phones are a great tool. It keeps us connected to loved ones but also has various functions such as social media applications, playing games, listening to music, taking photographs, and much more. There has been a surge in mobile phone usage, and most of us would likely be lost without them.
As stated above, mobile phones have a multitude of functions. However, unfortunately, with them being able to connect to your car via Bluetooth, they have become a dangerous distraction while driving. This distraction could be from checking text messages, taking a phone call, or changing music, resulting in an increase in car accidents.
You may be owed compensation if you or a loved one has been a victim of a car accident involving a distracted driver. With over 75 years of experience in handling law cases in Florida, such as accidents from distracted drivers, the lawyers at The Law Place have the know-how required to help you. Contact us today on (941) 444-4444 to schedule a free consultation with a personal injury lawyer in Fort Myers, FL.
Florida Ban on Texting While Driving
Flordia State Statute 316.305 has enforced texting while driving as a primary offense as of the first of January 2020. Beforehand, it was challenging for the law to act against a reckless driver using a mobile phone.
With the new law in place, if a driver is caught texting whilst driving in Fort Myers and anywhere in Florida, the authorities can apprehend them and warrant a fine. Upon first offense of being caught using your mobile phone whilst driving, you will be issued a fine of $30. When caught for a second time, the driver will be fined $60. In addition to this, points will be put on their driving license. Considering the possible consequences of using your mobile phone whilst driving these penalties seem insufficient.
It is also arguable that the law does not go far enough, as drivers in Florida can still use their mobile phones to make and take phone calls, which can be a potential distraction. Yet, if driving within an area with construction work being carried out or within the vicinity of a school, it is prohibited to use your mobile phone.
Breach of Duty of Care
With cell phone usage on the rise, this has led to distracted driving, causing an increase in car accidents. With this said, car accidents involving distracted drivers using mobile phones is one of the leading causes. Resulting in causing people harm or even death, both of which could be completely avoidable.
Any driver has a duty of care, not only for themselves, but for passengers, other drivers, and pedestrians. Drivers in Fort Myers and Florida are not exempt from this duty of care. If a driver is breaking the law by using their mobile phone while driving, they are also breaking that duty of care. If an accident occurs because of a driver using their mobile phone, they can be held accountable for any potential damages.
Unfortunately, if you have suffered injuries from an accident caused by a driver using their mobile phone, you still have to provide evidence of the cause. This may be a burden, a burden which you should not have to deal with. With this in mind, we advise that you ask for help. An attorney from The Law Place will be able to provide this by gathering the evidence required to fight your case.
Distracted Driving Is Not Worth the Risk
If a person is not paying attention to the road ahead as they are using their cell phone, they will be deemed a distracted driver. If a person is distracted whilst behind the steering wheel, this could lead to an accident, harming not only themselves but other drivers and pedestrians.
As technology advances, cell phone usage increases. Action needs to be taken to reduce the number of accidents caused by cell phones. Currently, on average, nine people die a day, and thousands of people are injured, all as a result of distracted driving.
Statistics from Florida Highway Safety and Motor Vehicles (FHSMV) indicate that approximately 400,000 accidents happen each year in Florida, with a staggering 25% of them being from a distracted driver, which means that a potential of 100,000 car accidents could have been avoided.
To enforce the severity of texting while driving, people need to come forward and make a claim if they or a loved one have been a victim of such an incident. Justice must be served, and fair compensation should be given for any damages that occurred. If you are unsure whether you deserve compensation, then contact The Law Place today to book a free consultation with a personal injury lawyer.
Cell Phone Use Statistics
Text messages – the most severe phone use distraction.
390,000 – The staggering amount of injuries that occur each year in the United States because of texting.
1.6 million – The alarming amount of accidents caused by phone use whilst driving.
Five seconds – Is the time it takes to travel the length of a football pitch whilst driving at 55 mph. You can only imagine what could happen during that time whilst being distracted.
Six times – This is the amount that a driver is more likely to cause an accident whilst using their phone; this is greater than someone driving under the influence.
How Much Time Do I Have to Make a Claim?
For any car accident that happens in Florida, depending on the circumstances, you legally have two to four years to make a claim. This is set out by the Statute of Limitations under Florida Statue 95.11.
However, it is vital that you contact a lawyer as soon as possible. At The Law Place, we advise you to do so in order for us to gather the evidence whilst it is fresh. In return, this will aid you in having a strong case and giving you a fighting chance of receiving the compensation you deserve.
Speak to a Clearwater Accident Lawyer Today
Texting whilst driving is reckless behavior and is inexcusable, especially when it can cause severe damage, injury, and potentially death. In order to make people realize the severity of their actions, they need to be held accountable for the harm they have caused.
If you or a loved one have been the victim of such an incident, it will have left you feeling in despair, likely with lost wages, medical bills, and potentially a change in your everyday life. If this is the case, then you deserve fair compensation. A Fort Myers accident attorney at The Law Place will be able to do this for you, giving you a fighting chance to receive what is only fair.
Call us today at The Law Place for a free consultation. We will be able to offer you advice on how to proceed and if we believe you have a valid case we will invite you for a formal in-depth discussion and appoint you with the best-suited lawyer to fight your claim.
Contact us today on (941) 444-4444 for a free consultation.