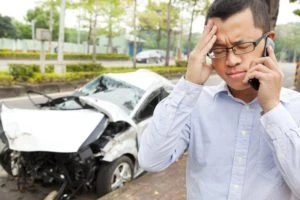 In North Port and all throughout Florida, there are a lot of motorists who drive without insurance for their vehicle. If an accident occurs with an uninsured driver and you suffer personal injury, making a claim can become quite difficult. If you are involved in a serious car accident in Florida, you would normally approach your own insurance company first to cover the costs. However, if the damage suffered goes beyond your policy limits, you may not be compensated enough to cover your costs through your own insurance company. If you find yourself in this situation, you can still make a claim for compensation with the help of an experienced car accident attorney.
Here at The Law Place, our team of skilled car accident lawyers is ready to help you fight for compensation. Our law firm has over 75 years of combined experience dealing with personal injury cases, including uninsured car accidents. Car accidents can be a traumatizing experience, particularly when there is the added stress of dealing with an uninsured driver. If you have experienced personal injury, damage to your property, or lost wages as a result of an uninsured car accident, call us at The Law Place today on (941) 444-4444. Our lines are open 24 hours, 7 days a week, for you to call and arrange a free consultation.
Florida Auto Insurance Laws
Florida Statute 627.736 provides that every driver in Florida is required to have at least $10,000 in personal injury protection (PIP) insurance coverage. This coverage is to ensure that all motorists on the road are protected, including cyclists and pedestrians.
If you are involved in an accident in North Port, you would first make a claim under your own insurance policy. However, if your policy is not enough to cover the damages, then you can make a claim against the negligent driver's policy. The problem arises when the other party does not have insurance for their vehicle. In this situation, you typically have two options. The first is to claim under your own uninsured motorist coverage if you have it, and the second is to make a claim against the driver personally.
Uninsured motorist coverage protects you against uninsured or underinsured drivers in the event of an accident. If they are uninsured, it pays for any damage you've suffered, and if they are underinsured, it compensates the remainder of your damages not covered under their policy. It is advised that you take out uninsured motorist coverage on your vehicle given the high percentage of drivers without coverage in Florida. However, it is not a requirement. Without the protection of uninsured motorist coverage, it can be extremely difficult for victims of car accidents to pay for damages suffered, particularly medical expenses.
Uninsured Motorist Accidents Liability in North Port, FL.
If you were involved in a car accident with an uninsured driver and were injured, you are able to file a claim against them for personal injury. Regardless of whether the driver had motor insurance, if it can be established that the driver was liable, you may be able to bring a case against them and receive the compensation you are owed.
When determining whether the other party was liable, it has to be shown that the driver was negligent. In order to establish negligence, it needs to be shown that:
There was a duty of care owed to you – If you are a driver in Florida, you automatically owe a duty of care to all other motorists on the road. This means that you are required to take all reasonable steps to keep other drivers, cyclists, and pedestrians safe.
There was a breach in that duty – If the other party has not taken the reasonable steps to ensure that you were kept safe on the road, and if they acted recklessly or negligently in doing so, then this will amount to a breach in their duty.
There was causation – It needs to be proven that there was a direct link between the injuries you suffered and the negligence of the driver.
Damages have been suffered – Damages can include any costs related to your personal injuries or lost wages as a result.
If you can prove that the other driver was negligent, you can try to seek damages for the harm you have suffered. If you are unable to do this through your own insurance policy, it is possible to take charges against them in court. Situations like these can be stressful and confusing, which is why it's important to speak with a personal injury lawyer who can help advise and guide you through the process. Here at The Law Place, our car accident lawyers are available with a free consultation to help get you compensation for your injuries resulting from an auto accident in North Port.
Seeking Compensation in North Port
It is possible for you to recover damages for your personal injury once you can establish liability. This will include any medical bills, lost wages, any future earnings that will be affected, and damage to your personal property. Additionally, you may also be eligible to claim funeral expenses if you have lost a loved one in your car accident.
The main difficulty in car accident cases involving an uninsured driver is that the other party often does not have the funds to duly compensate you. It is unlikely that a judge in North Port will award you a lot of compensation if it is clear that the other party cannot afford it. If a high reward is granted, it may still be difficult to actually collect. In these situations, you could be left with uncompensated damages.
However, there may be other ways for you to receive the right amount of damages. This is why we advise you to speak with a personal injury lawyer that can guide you in the right direction and make you aware of possible routes available to you to receive compensation.
Discovery of Hidden Assets
It may be possible to receive your compensation if you discover that the other party has hidden assets. When determining whether the other party does have any extra assets, a car accident attorney will run a credit check against the negligent driver. If there is evidence that they have hidden assets, a lawyer can file to have their assets frozen, ensuring that they don't try to move or hide the money before paying you. If the other driver has enough time to hide the money, then you will be unable to receive compensation this way. Getting in contact with a personal injury lawyer as soon as possible can help you avoid this situation.
File a Claim Through Your Own Insurance Company
Law in Florida requires that you contact your insurance company if you have been in a car accident. Typically this has to be done within the first 24 hours. However, it depends on your particular policy. If you are in an accident and the other driver won't give you their insurance policy details or seems hesitant to give you details, it is vital that you get in contact with your own insurance company immediately. In these situations, it is possible that they are an uninsured driver, and your uninsured motorist coverage may have a shorter time frame for you to claim.
When speaking with your insurance policy, it is important to keep in mind that their priority is making a profit. Giving them any incorrect information about the situation may result in your claim being devalued. Be careful about giving too many details before you know all the facts. In particular, make sure to not discuss any personal injury you have suffered and don't admit any fault. Although you are required to contact your insurance company immediately to inform them of the accident, speaking with a personal injury lawyer before giving them all of the details is advised. Once you have spoken with a lawyer in North Port and they have decided to take on your case, they can handle all further communication with your insurance company on your behalf.
Claims involving an uninsured driver are often more complex and difficult than standard insurance claims. It is encouraged to get in contact with a personal injury lawyer as soon as possible if you are in a car accident where you suspect the other driver is uninsured. They can advise you on your particular situation and help you get compensation.
Contact Us at The Law Place Today
Here at The Law Place, our personal injury attorneys are highly experienced in dealing with car accident cases in North Port, including those involving an uninsured driver. Our law firm is always ready to assess your case, regardless of how difficult it is. Once you have your free consultation with us, our car accident lawyers will examine the facts and determine whether there is a possibility of claiming compensation. Even if we think there is a low possibility of you receiving compensation, you can benefit from our free advice on dealing with an uninsured driver without any obligations attached.
If you or someone you know has been in an accident involving an uninsured driver in North Port, FL., contact us at The Law Place today for a free consultation at (941) 444-4444. Our lines are open 24 hours a day, 7 days a week, for your convenience. We want to help you get the compensation you deserve.