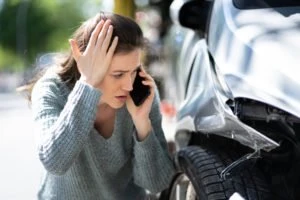 Many states across the U.S. see a concerning amount of motor vehicle accidents occur every day, and Florida is no exception. According to the Florida Highway Safety and Motor Vehicles (FHSMV), over 400,000 auto accidents occurred in the U.S. in 2018 alone. In Fort Myers, aggressive driving is known to be a major cause of these road traffic accidents. This type of driving can involve intentionally running a red light, speeding, and failing to yield when necessary. A driver usually drives aggressively in order to reduce driving time and arrive at a destination quickly, especially during the busy commute to work or when in a rush. Interestingly, a study conducted by the AAA Foundation for Traffic Safety found that aggressive driving does not, in fact, reduce driving time but actually increases it.
If you or someone you know has been involved in a road accident involving an aggressive driver, call The Law Place today. Aggressive driving can be extremely dangerous for other drivers as well as pedestrians, and the consequences of this type of driving can be devastating. Our personal injury lawyers have over 75 years of combined experience dealing with cases such as these across the State of Florida. If we believe that you have a strong enough claim, a Fort Myers car accident lawyer will strive to ensure that you get the compensation that you deserve. Driving recklessly is both dangerous and selfish and should not go unpunished. We offer a free case evaluation service at no obligation so that you can receive legal advice and get the legal process underway in order to hold the perpetrators of your accident accountable.
At The Law Place, we believe that open and continuous communication with our clients is extremely important. That's why our phone lines are open 24 hours a day, 7 days a week, so you can call us whenever it best suits you.  Contact us today at (941) 444-4444 to schedule a free consultation with a personal injury lawyer and find out how much compensation you may be owed.
What Is Aggressive Driving?
Aggressive driving is frequent in Fort Myers, FL., and is often very noticeable to other drivers on the road. Examples of aggressive driving can include:
Passing cars illegally.
Tailgating.
Failing to stop at red lights and stop signs.
Speeding.
Quickly changing lanes without signaling.
Cutting off drivers.
Drivers often demonstrate aggressive driving behaviors when in a rush and have somewhere to be. However, drivers have a responsibility to follow responsible driving practices while on the road, and there is no excuse for aggressive driving.
Reasons for Aggressive Driving
There are a variety of reasons why some drivers drive aggressively in Fort Myers. Research indicates that one cause could be anonymity. That is, a driver is more likely to become aggressive while driving if they can not be identified, perhaps when driving at night or if the vehicle has tinted windows. Other factors that could influence aggressive driving include:
Driving under the influence – A driver is more likely to demonstrate aggressive driving behaviors when under the influence of drugs and/or alcohol. Consuming these substances can impair cognitive function, which could lead to erratic and reckless behavior.
Stress – Most drivers are able to remain calm while behind the wheel, but some can be overcome with stress and worry, which can lead to aggressive driving. For example, a driver may fail to stop at a stop sign or run a red light when late for an important meeting, appointment, or special event.
Developing bad habits over time – Some drivers tend to develop bad habits after driving for an extended period of time. Tailgating and speeding are examples of aggressive driving habits that sometimes go unnoticed by the driver doing them.
Road rage – It is important to note that road rage and aggressive driving are not equivalents. Aggressive driving is defined as intentional risky behavior while driving, whereas road rage is defined as a sudden violent outburst provoked by another driver. This anger may lead drivers to drive aggressively.
Driving aggressively in Fort Myers can cause devastating accidents, which can result in serious injuries. All too often, drivers act negligently and recklessly when behind the wheel and are rarely held accountable. At The Law Place, we believe that holding dangerous drivers responsible for their behavior is essential to make our streets safer for motorists and pedestrians alike. Call our law firm today for a free consultation with a Fort Myers accident lawyer and get the compensation you may be owed.
Common Accidents Caused by Aggressive Driving in Fort Myers
Aggressive driving accident victims often sustain serious injuries after a car crash. Common accidents that can occur due to aggressive driving include:
Head-on accidents.
Rollover collisions.
Side-impact collisions.
Rear-end accidents.
Multi-vehicle collisions.
Accidents such as these can cause serious injuries such as broken bones, traumatic brain injuries, and internal bleeding. By hiring a professional car accident lawyer, you may be able to claim compensation for your traumatic accident. Our law offices cover Fort Myers and surrounding areas in Florida, so you can trust us to get the compensation you deserve wherever your accident occurred.
Liability in Fort Myers Motor Vehicle Accident Cases
All road users in Fort Myers and across Florida owe other drivers and pedestrians a duty of care while driving their vehicle. This means that under Florida law, drivers have a responsibility to drive responsibly to prevent any accidents from occurring. It is essential to prove liability for motor vehicle accident claims in order to receive compensation.  Examples of what must be proved by an attorney include:
Duty of care – It must be proved that the driver of the vehicle owed the claimant a duty of care. This is automatic in Fort Myers and across Florida.
Breach of duty – An attorney must then prove that an individual breached this duty by putting your safety in danger, perhaps by driving aggressively.
The breach caused your accident – After collecting evidence from the collision, your lawyer can prove that the breach in their duty resulted in the accident.
Damages suffered – By examining medical records and photographic evidence from your accident, an attorney can demonstrate that the claimant suffered from damages, including serious injuries and property damage, as a result of the driver breaching their duty of care.
Insurance Coverage for Fort Myers Car Accidents
The State of Florida is a no-fault state as per Florida Statute 627.7407, which means that victims of personal injury claims must seek compensation from their insurance company before anything else. If the damages of your accident exceed the limits of your policy coverage, then it may be possible to claim compensation from the other party's insurance provider.
After submitting a car accident claim to their insurance company, claimants quickly realize that insurance companies almost always prioritize profits over their clients. Like any business, the main objective of insurance companies is to earn large amounts of money while spending as little as possible. Employees of these companies are trained rigorously to reduce the company's expenditure as much as possible by rejecting your claim and challenging its legitimacy.
If you have been involved in an auto accident, you are required to inform your insurance provider. At The Law Place, we urge our clients not to share too much detailed information about their accident with their provider, as this can later be used to devalue your claim. After filing your claim with your insurance provider, we highly recommend seeking legal representation as soon as possible. A personal injury lawyer at our law firm can offer legal advice and guidance to ensure that insurance companies will not be able to take advantage of our clients. We handle all negotiations with these companies and deal with all the paperwork involving your case so that you don't have to worry about it. With a car accident attorney by your side, you have the best chance of receiving the compensation you may be eligible for. Call our law office today for a free consultation to fight these greedy companies and to secure the compensation you may be owed.
Damages That a Car Accident Lawyer Can Help You Claim in Fort Myers
Car accidents can not only leave victims with life-changing injuries but also with expensive debts to cover. Medical expenses and damages to property can result in large bills that victims of driving accidents shouldn't have to deal with. The following list offers an idea of what can be claimed with the help of an accident attorney:
Medical bills – It is likely that you have received medical care after a serious auto accident. Medical bills can amount to large sums of money which have to be paid off. Therefore, it is important to cover these expenses in order to avoid further debts in the future.
Lost wages – Past, present, and future losses of income due to your accident can be covered by compensation.
Property damage – Property including your vehicle and belongings that were on your person at the time of the accident can be claimed. Repairs and replacements of property can cost a small fortune, and a professional lawyer may be able to help you claim for this.
Pain and suffering – Fort Myers car accidents can result in physical and psychological trauma. Injuries can leave victims unable to partake in hobbies and other activities they enjoyed before their accident, and you may be entitled to compensation for this.
Wrongful death – Losing a loved one to an auto accident can be devastating, especially when caused by someone else's negligence. You may be able to claim compensation for funeral expenses as well as loss of consortium to help ease financial burdens while mourning the death of someone you love.
An experienced lawyer at The Law Place will ensure you receive the maximum amount of compensation by claiming all the damages that you are eligible to. An individual is more likely to receive more compensation when represented by professional legal representatives. If you decide to let us take on your case, we will arrange a meeting at one of our law offices so that we can discuss your claim in more depth and decide the best legal approach for your case. Get in touch with one of our law offices today for a free legal consultation with a car accident attorney.
What Can a Car Accident Lawyer Do for You?
If a car accident lawyer believes that your case is strong enough to file a personal injury lawsuit, we will strive to get you the compensation that you deserve until you get it. Following an accident, a lawyer will gather all necessary evidence, including police reports, witness statements, and photographic evidence from the scene of the accident. Once we collect all available evidence, we handle all official paperwork necessary to file your claim.
After filing the claim, we take it upon ourselves to lead negotiations with insurance providers as we believe victims of these aggressive driving accidents shouldn't have to deal with these greedy companies. Sometimes, insurance companies refuse to negotiate in order to avoid paying out victims. If this occurs with your case, we won't hesitate to fight these companies in court. We are more than prepared to defend you throughout the legal process and ensure that the experience is as worry-free as possible.
At The Law Place, we understand that some victims of motor vehicle accidents can be apprehensive about taking legal action against an aggressive driver due to the financial stress they are already under. For this reason, we work on a contingency basis monitored by The State Bar Association. Simply put, operating on a contingency basis means that our service fees are only charged if our client is successful in their case. We don't want your concerns about legal fees to dissuade you from calling us. That's why we offer a free case evaluation service with no strings attached when you call one of our law offices. During your consultation, you will have the opportunity to discuss your case with a legal professional and explain the circumstances surrounding your accident to them. Take the first step in your personal injury lawsuit by calling us today.
Contact The Law Place Today
If you have been involved in a motor vehicle accident involving an aggressive driver in Fort Myers, call The Law Place today. Sustaining injuries as a result of a car accident can result in expensive medical bills, property damage, lost wages, and many other problems. Following an accident, you should be able to recover in peace without worrying about covering these costs. Our team of experienced lawyers will be with you every step of the way during the legal process so that you don't have to fight your legal case alone.
Not only do we strive to get the compensation you deserve, but we are committed to getting dangerous drivers off of Fort Myers' roads in order to keep its residents and other road users safe. At The Law Place, we pride ourselves on our positive client reviews and trusting attorney-client relationship. We have fought thousands of cases just like yours and have won considerable amounts of compensation for our clients.
Our phone lines are open around the clock so that you can call us whenever you need to. Contact us today at (941) 444-4444 for a free consultation with an esteemed personal injury attorney to see how much compensation you may be owed.