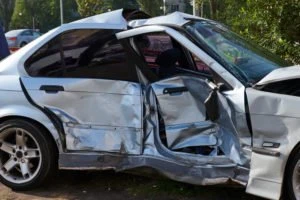 If you are in an accident that is a side-impact collision, it means that your vehicle has been struck on the side by another, resulting in a car accident. These types of collisions usually occur at stop sign intersections or at traffic lights. They usually happen as a result of another car jumping or skipping the stop sign or traffic light. This is usually referred to as a "T-bone" accident as the two cars involved create the letter "T" once the accident has taken place. As is the case with many vehicle accidents in Fort Myers, side collisions can result in a number of fatalities and injuries for those involved.
Being involved in this type of accident usually means that you will require the services of an accident lawyer who can represent you and help you when it comes to claiming compensation in Fort Myers, FL. At The Law Place, we have decades of combined experience as accident lawyers, and our attorney-client relationship is that of the highest caliber. Our law firm operates in Fort Myers, Florida, and we would love to be of assistance wherever possible should you or someone you know require our services. We have won many lawsuits and compensation claims, including personal injury.
We look to advise you as best we can and so that you can make the most informed decision. Our office lines are open 24/7 for your convenience. Contact us today at (941) 444-4444 for a free consultation to discuss your requirements and the specific details of your case.
Statistics on Side Impact Collisions
In Florida, the National Highway Traffic Safety Administration (NHTSA) has put together a comprehensive online viewing of all the data pertaining to side-impact collisions. Most devastating is that the number of child injuries and fatalities occurring as a result of side-impact collisions has increased in the last two decades quite substantially. Astonishingly, the data revealed that 9,000 of the accidents occurring in one year occurred as a result of T-bone accidents. There is speculation that suggests the number of side collision accidents is due to the increased amount of SUV vehicles on the roads. This could also contribute to the child injury statistic, as mentioned earlier. These figures resonate across the US, including Fort Myers.
This kind of accident is, therefore, very common and likely to occur more than any other accident at this stage. Due to the fact that these accidents are increasing so much and have so over the last 20 years, car manufacturers have had to take this into account when designing vehicles. The purpose of doing so is to add additional safety functionality so that if this type of accident occurs, the risk of injury for the passenger is lowered. The most widespread example of this would include the airbags that have been added to each vehicle, especially for backseat passengers. Airbags offer a buffer or padding to help alleviate some of the impacts in an accident of any kind.
The installation of airbags is not mandatory by vehicle producers and designers, but many have recognized the importance of it and have opted to include it as part of their safety features. Even though many are emphasizing the importance of airbags, sometimes it is simply not enough, especially when accidents occur as a result of speeding. In this case, there is little an airbag can do to safeguard passengers.
If you find yourself in this position, you will require the services of an experienced accident lawyer to represent you in Fort Myers. At The Law Place, we can act as your legal representation to ensure you get the compensation you deserve after being involved in a side collision car accident. Our law firm has dealt with many similar personal injury cases.
Common Causes of T-Bone Car Accidents in Fort Myers
Like most accidents, side-collision car accidents occur in a few different ways, some more typical or common than others. They can happen anywhere at any time, but we do see these accidents in areas where one vehicle has a chance to jump or skip a stop more frequently or has more opportunity to do so. This occurs at intersections, four-way stops, on busy roads, when someone pulls out of the driveway, etc.
In a nutshell, these accidents usually happen when one driver has not looked or checked his or her sideways view and runs or jumps the road/ intersection where another car has the right of way to occupy that space at that time. Therefore, car accidents occurring that are side-impact collision in nature happen when:
A driver is intentionally reckless, where they are speeding or not adhering to traffic signs, rules, and regulations. A full overview of negligent driving can be seen in Florida Statute 768.81.
When the driver is distracted by something, such as being on his or her mobile phone.
Obstructed vision. Where the driver's vision is in some way obstructed due to heavy or severe weather conditions or a poorly lit road, for example.
Being intoxicated while driving or operating any sort of vehicle. Drinking alcohol or doing drugs and then driving any sort of vehicle is not advised under any circumstance as it significantly impairs judgment.
Irrespective of how and why your car accident came about in Fort Myers, you will require the services of an esteemed law firm. At The Law Place, one of or lawyers will be able to assist and advise you and, more importantly, take away the guesswork and uncertainty. Our legal team will be able to help you and answer any questions you may have. We will also deal with any insurance companies on your behalf. Please feel free to call us anytime for a free consultation after your car accident.
The Most Common Injuries Sustained After Side Collision Accidents in Fort Myers
Unlike other accidents, side collisions usually mean more severe injuries for those involved. It is very seldom people in these types of accidents walk away with only a bruise or scrape, but rather, more serious injuries are commonly seen. Some of these include:
Injury to the head or brain area known as TBI (traumatic brain injury) often appears in this type of accident. It usually occurs as a result of a sudden and forceful hit or bump on the head, which damages brain functioning in some way. This can happen when the head has intense contact with a car part, for example, bashing into the windscreen or seat. Injury to the skull can occur as well.
Injury to the ribcage or the breaking of a person's ribs. This can be extremely painful.
Trauma to the chest area can occur when blunt force has affected the chest area obstructing airflow or hurting the chest. The US National Library of Medicine stipulates that 70% of all chest trauma injuries happen as a result of car accidents.
Florida Statute 316.027 provides more information and contextualization of bodily injury that one can sustain. These are recognizable under Florida law. Any personal injury has the potential to result in a long recovery process and can affect a person's life indefinitely in some cases. It is important to seek proper advice and legal counsel if you or a loved one is in this situation. At The Law Place, we work hard at making sure our interactions are meaningful and respectful at all times due to our impeccable attorney-client relationship.
What Damages Are You Eligible to Recover After a Side Collision Accident?
The trauma after having been in any type of car accident can leave a victim with many things to overcome, be it physically, emotionally, and or mentally. Compensation can be claimed to take away some of the stress, especially when it comes to bills and other financial expenditures. Below are some instances where you may be eligible to claim compensation:
Immediate as well as future medical costs as a result of the accident.
Loss to income as the accident prohibited your ability to work.
Any pain and emotional or mental suffering.
General worry and being put out of your way.
Damages and any repair work that needs to be done to your property as a result of the car accident.
Stress.
Car accident lawyers deal with these types of claims to make sure their clients receive the compensation they deserve and to help them live as comfortably as possible after their accident has occurred. At The Law Place in Fort Myers, we offer an attorney-client relationship like no other. We put you first. We are specialists when it comes to personal injury claims, and we can deal directly with insurance companies if needed.
If you are seeking the skills and expertise of a law professional after being in any sort of car accident, we highly recommend getting in touch today so we can discuss your specific needs and hopefully become your law firm of choice.
What Do I Need to Do If I Have Been the Victim of a Side Impact Accident in Fort Myers?
The most important thing to do after being involved in any sort of accident is to check yourself for any injury, personal injury, or general injuries. Even if you are unsure or appear to be unaffected by the accident, you should still seek medical attention as they can check for things like an internal injury. Your body might only show signs of injury a short while after the car accident, so it is crucial to be thoroughly checked and cleared medically. Your health and wellbeing are the most important thing, and no unnecessary risks should be taken. Try to assist others only after you feel fit enough to do so.
Medical bills associated with car accidents can be especially expensive without financial support or the appropriate compensation. It is therefore highly recommended to appoint a personal injury accident attorney in Fort Myers, to represent you and take care of any claims that need to be made.
It is also important that you refrain from speaking to the other driver's insurance company. It is unfortunately very common that they try to point blame and pin fault on you as to avoid liability themselves. They will sometimes misconstrue your account of events or do and say whatever necessary to make it seem like you were the one responsible for the car accident. We highly recommend allowing us as your legal representation to handle this, and you should refer them to us if ever in the situation of speaking to the other parties' insurance company.
Sometimes lower settlements are offered, and while sometimes this instant gratification can be extremely lucrative, it is imperative that you refrain from engaging in the conversation as it will most certainly not be in your best interests and will likely be substantially lower than what you actually deserve. You should never feel intimidated or as though you are being forced into anything. Contact us immediately, and we will advise.
What Will a Personal Injury Lawyer Do for Me?
Being involved in an accident can be seriously stressful on all levels. The toll on your mental wellbeing should not be understated. No amount of money or pleasantries can ever take away from the trauma and stress of the situation. Our role as your legal representation is to make sure you get the compensation that is owed to you and that we protect you from potential insurance companies who are trying to cheat you out of what you deserve.
There are many types of expenses that the insurance company could be liable to pay you. Things like costs for burial should a loved one have passed away due to the accident, medical bills, and more. It is vital your legal team handle this for you so that you can focus on your recovery and wellbeing. We want to be there to support you and see you in the most favorable position.
Our legal team will conduct a thorough and legitimate investigation of your accident to make sure we have all the information necessary for a winning case so that you receive the maximum compensation available. We only take our fees after you have received your final payout, so you do not have to stress about paying us immediately. We will make sure we have a case that speaks to your best interests. We will collect evidence and make sure nothing can be overturned.
Contact The Law Place Today
At The Law Place car accident attorneys, Fort Myers, we pride ourselves on representing our clients with care and professionalism. We have decades' worth of combined experience and can advise you according to your specific case. Our concern is making sure you get what you are owed to live a comfortable, stress-free life after being the victim of an unfortunate car accident. Sadly, many accident victims are bullied out of what is owed to them and intimidated due to not having access to proper legal representation.
Our job at The Law Place is to make sure you are not bullied out of receiving the adequate and correct amount of compensation after having been in a Fort Myers car accident. Dealing with injuries is a hard and emotionally taxing thing to have to go through, and we would like to take some of the other stress factors away. These include things such as dealing with medical bills, financial costs, damages, and so forth. Not having someone helping you and fighting for your compensation can lead to further stress and worry starting to mount up. We are here to help you and ensure we can get you the right amount of compensation as quickly as possible so that you have all you need to focus on your recovery and living the best life you can after the ordeal of being in a car accident.
If you or a loved one has sadly been involved in an accident and requires the services of an accident attorney, please call us today. We are available around the clock and offer free consultations so that you can acquire as much information as possible without any obligation. Our legal team is speedy and efficient and has vast experience in all scenarios when it comes to accidents in Florida.
Contact us today on (941) 444-4444.