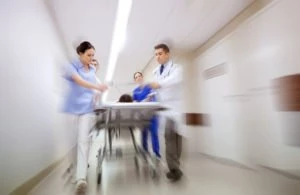 T-bone accidents tend to cause severe personal injury at the best of times; when a big truck is involved, things can be much worse. Simply due to the increased size of a truck, when it collides with another vehicle, it can cause catastrophic damage. If you have been T-boned by a truck in Tampa, Florida, then The Law Place is here for you. Contact us on 941-444-4444 and book in a free consultation with one of our Tampa personal injury lawyers.
What Are the Most Common Causes of Truck T-Bone Accidents in Tampa?
T-bone collisions should never happen; many safety precautions have been put in place to avoid them. As you may well know, that is not enough to stop them entirely. Here are some of the most common causes of T-bone accidents in Tampa:
The intersection is not marked correctly, or the traffic signal was broken.
The truck driver ran a red light.
The truck driver was distracted.
The truck driver was on the phone or texting.
The driver was under the influence of drugs or alcohol.
The driver was overly tired and not aware of the road.
Truck brakes failed.
If you have been T-boned by a truck and you suspect one of these reasons was the cause, then contact us today and speak to a personal injury lawyer.
Who Is Liable in a Tampa Bay Truck T-Bone Accident?
Liability in a Tampa truck accident can be a nightmare to determine. This is because there are a great many parties that could be held accountable and deemed at fault. Some of the most common are:
The truck driver.
Government entity – If the road conditions are attributed to the cause of the accident.
Truck manufacturer.
Truck maintenance.
Third-party driver.
This list only represents a few of the parties that could be held liable. If you are T-boned by a truck in Tampa. The list of potentially liable parties is extensive and covers both individuals, commercial and government entities. In some cases, we may find more than one party liable, and you could file cases against several individuals or entities. Without an experienced personal injury attorney beside you, it could be a nightmare to figure out who is to blame.
How Is Liability Assigned in a Tampa Truck T-Bone Accident and How is it Investigated?
To determine which of the aforementioned parties is liable can be a painstaking process. With so many different places that fault could lie, our injury lawyers conduct an in-depth investigation to determine who was at fault. It is imperative that we act quickly following your collision, we advise you to call a personal injury lawyer as soon as you can following your accident. They will act quickly to gather all the evidence they can to properly move forward with your case. Some of this evidence will not be present in your standard car accident.
All trucks in the state of Florida are required, by law, to have an EDR or black box installed in their truck. This will record the Truck driver's speed, braking cornering, and many other details about their driving. It can yield vital evidence in the investigation of your accident. The black box may even contain evidence that clears the driver of any liability.
It is important to act fast when recovering this EDR because they can be tampered with or even destroyed by the driver or trucking company. Other such documents must be recovered to conduct the investigation properly, such as the driver's logbook, maintenance records, employment files, and any other document that could hold information about the driver or the trucking company.
In every car accident, including truck T-bone collisions, your personal injury lawyer will conduct an on-site investigation of the crash site. They will look for skid marks on the road or pavement, obstructed stop signs or traffic signals, collect eyewitness accounts, and much more. They will ensure that no stone goes unturned, and all the evidence available will be presented to get you your compensation.
What Damages Can I Claim for in a Tampa Bay Truck T-Bone Accident?
When it comes to determining what damages a person can claim for, the answer is pretty similar across the board. The only difference is when a truck is involved, person injuries tend to be worse, and therefore the damages awarded raise to. Here are some of the most common damages awarded in Tampa:
Loss of earnings.
Medical bills.
Property damage.
Loss of loved ones.
If you have been involved in a truck T-bone accident, then do not hesitate to call one of our personal injury attorneys today. They will take the case into their experienced hands and advise you which of these damages you may be eligible for.
Is it Important to Act Quickly After You Have Been Involved in a Truck T-bone Accident?
If you have been t-boned by a truck in Tampa, it is imperative that you act quickly. These types of accidents are investigated differently from your regular car accident. They revolve around determining fault and doing so quickly. To get you your compensation, your Tampa truck accident lawyer must provide sufficient evidence to prove who was at fault.
The stakes involved in these accidents are very high. They can cost trucking companies considerable amounts of money if they are found at fault. This forces them to act fast in an attempt to discredit your claim and limit their liability. Our attorneys will do everything they can to act faster and get you the compensation you deserve
What Can a Tampa Bay Personal Injury Lawyer Do for Me?
Upon calling our law firm, an injury attorney will offer you a free consultation to determine the validity of your claim. in which you will be offered some no-obligation advice so you can make an informed decision on how you wish to proceed. If you wish you choose another law firm following this meeting, that is not a problem. If you do choose us, we will book you in for an in-depth interview. We will ask you a series of simple questions and explain our fee structure. Once all this is done, our attorneys will take the reigns and meet you abreast of any new developments.
When the Trucking company gets wind that you have opted to enlist the help of a Tampa Bay personal injury lawyer, they will likely contact you. They will attempt to get you to waive your right to make a claim or offer you a settlement that is much lower than the one you are due. If this does happen, we advise that you agree to nothing over the phone and contact your personal injury lawyer straight away.
How Much Will a Tampa Truck Accident Lawyer Cost Me?
All of our attorneys at the Law Place work on a contingency basis. This means you will not be that you will not be charged a penny upfront. All fees will be recovered from the settlement upon winning the case. If we are not successful, then you will not be charged a penny.
All contingency work is monitored by the State Bar Associations; they monitor how much attorneys can charge for their services and ensure nobody is taken advantage of. We follow these guidelines very strictly.
How Should I Deal With My Insurance Company?
By law, you must notify your insurance company when you have had an accident. Your contract will stipulate the amount of time you have to do this, usually 24 hours. We advise that you contact a personal injury lawyer before contacting your insurance company.
If you must speak to them first, we advise that you keep your statements short and stick to the truth. They will have claim adjusters and personal injury lawyers on hand to discredit your claim and even disregard it entirely. Avoid speaking about your injuries as you may not know the full extent of them yet. Bear in mind that you must watch what you say on the phone to them, as it will be recorded and used against you if possible.
Call Us at The Law Place Today!
Have you been T-boned at an intersection in Tampa? Do you think you are entitled to compensation? Then call us today on 941-444-4444 and get your free consultation.