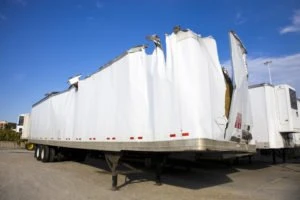 An accident that is the result of an unsecured load on a truck can be devastating. Even a small item falling from a truck can be catastrophic at that speed. Even with the legislation in place to ensure this does not happen, over 100 residents of Florida were killed or injured as a result of debris falling from an insecure load.
If you or one of your loved ones has been a victim of personal injury due to something falling off a truck with an insecure load, contact us at The Laws Place today on 941-444-4444. Our Tampa personal injury attorneys are waiting to take your call and get you the compensation you deserve.
What Are the Common Ways an Unsecured Load Causes Personal Injury?
Most people's minds will jump straight to an overturned truck and one unlucky bystander being crushed by the contents. While this does happen, it is very rare. Here are some of the most common ways this can happen:
Rocks or debris coming loose in transit.
Improperly strapped loads on flatbeds.
Trailer doors becoming unhitched during transit.
Cargo falling from a truck on to another road user.
If you have been a victim of any of these scenarios, then do not hesitate to contact us at The Law Place. One of our experienced personal injury lawyers is waiting to take your call.
Who Is Liable in a Tampa Truck Unsecured Load Accident in Tampa?
Liability in truck accidents can be a nightmare to assign. It is often considered to be the fault of the truck driver and nobody else's. In some cases, this is true, but certainly not all. Here are some of the commonly liable parties involved in an unsecured load accident:
The truck driver – Truck drivers have a responsibility to inspect the load before they leave. This is made impossible at times by enclosed cargo that they have been constructed not to open.
The trucking company – The company is responsible for the competence of its employees. They must ensure their drivers have the correct experience to take each individual load.
Third parties – In some cases, that person who has loaded the truck has done so irresponsibly, and they can be called to account for it.
Determining which of these parties is at fault can be a huge hassle without an experienced personal injury lawyer at your side. At The Law Place, one of our team will handle all the details and ensure that the responsible party is found.
What Damages Can I Claim for in an Unsecured Load Truck Accident in Tampa, FL?
Damages can be claimed in any form of accident and in many other forms of lawsuits. They tend to be very similar in all of them. Here are a few of the most common:
Loss of earnings.
Medical bills.
Property damage.
Loss of loved ones.
If you have been involved in an accident caused by a truck with an unsecured load, you could be entitled to compensation. call one of our truck accident lawyers today to get you a free consultation
While rarely awarded in the state of Florida, you could also claim for punitive damages. These were put in place to further punish the offending party if the settlement was need deemed enough. To get the judge to award these, you must prove that the other party was willfully neglectful or malicious. This can be very hard to do.
What Can a Tampa Truck Accident Lawyer Do for Me?
Upon cooling The LawPlace, you will be offered a free consultation. In this meeting, we will assess the validity of your claim and offer you some no-obligation advice. If following this meeting, you do not wish to proceed with us, that is no problem. If you do decide to become one of our clients, we will book you in for an in-depth case review. During this review, you will be asked a series of simple questions, and our fee structure will be explained.
Our highly trained team will conduct a stringent investigation into the events leading up to your truck accident. We will speak to the driver, the truck company, and the man who loaded the truck. We will gather eye witness accountant check the crash site for anything you may have missed. We will recover the EDR or black box from the truck to determine if the driver's driving was the cause of the accident.
Our team has a collective experience of 75 years. We set ourselves apart from other law firms in our area by working together so you can benefit from every second of that experience and get the best legal advice.
How Should I Deal With Insurance Companies After My Truck Accident?
Dealing with insurance companies can always be tricky. You are required, by law, to notify them when you have been involved in an accident. Your contract will tell you how long you have to do this, usually 24 hours. We advise that you contact a personal injury lawyer before you do so. If you have to speak to your insurance company first, our advice is to keep the conversation short and stick to the truth. Do not mention your injuries as you may not know the full extent of them at the time.
Upon discovering you have opted to enlist the help of a Tampa truck accident attorney, it is likely that the trucking company's insurance company will contact you. These situations are very high stakes for them as the payouts can be huge. They will have a team of claim adjusters and personal injury lawyers on hand to devalue and discredit your claim. They will attempt to offer you a settlement that is much lower than the one you are due in an attempt to close the case quickly and quietly. In addition to this, they may try to get you to waive your rights to further fight the case, you should always watch your words when dealing with insurance companies, as everything you say can be used against you.
How Much Will a Tampa Truck Accident Attorney Cost Me?
All attorneys at The Law place work on a contingency basis; this means you will not be charged anything upfront. All our costs will be recovered from your settlement upon winning the case. We do this so that you can have the time you require to heal from your accident and not have to worry about receiving any surprise bills in the mail.
All contingency work is monitored by the State Bar Associations. They put down these guidelines to ensure that nobody is taking advantage of in their time of need. We follow all of these rules to the letter. Our attorneys are here to help you in any way they can and help you bear the burden of your accident.
Contact One of Our Experienced Personal Injury Lawyers Today!
Have you or one of your loved ones been involved in an accident caused by a truck with an unsecured load? Are you unsure who is to blame for this accident? Do not suffer on your own! Call one of our experienced truck accident lawyers for some legal advice on 941-444-4444.