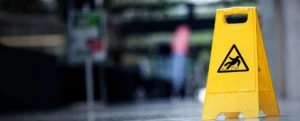 Tampa, Florida, is famed for its high-end stores, buzzing nightlife, and activity parks, offering both residents and tourists an exciting time to spend the endless sunny days. Property owners in Tampa have a duty to people visiting their premises to keep them safe. However, sometimes in an attempt to cut costs, some hazards can go unnoticed or ignored.
Premises liability is a legal concept used in cases where someone's personal injury was a result of an unsafe condition on someone's property.
However, when you are injured on someone's Property in Tampa, you may not quickly be awarded compensation. In order for a premises liability lawsuit to be successful, you need to prove that someone's negligence led to your injuries. To prove this, you stand the best chance if you hire an experienced Florida liability lawyer to represent you.
At The Law Place, we are ready to tackle your liability claim. We have a long history of dealing with personal injury lawsuits involving liability in Tampa and the entirety of Florida. Our law firm will be by your side every step of the way, so you can focus on getting better. Contact us on (813) 544-4444 now for a free consultation.
Types of Premises Liability Cases in Tampa, FL
Many types of personal injury cases involve premises liability in Florida. A property owner has a duty to keep their premises safe for people of all abilities. When they fail to do so, it can have serious consequences for the victims and their families. It is only right that they are held accountable for their actions.
Some common examples of Tampa premises liability include:
Swimming pool accidents.
Slip and fall cases.
Fires.
Amusement park accidents.
Elevator and escalator accidents.
Defective conditions on the premises.
Inadequate building security leading to injury or assault.
Inadequate maintenance of the premises.
Toxic fumes or chemicals.
Water leaks or flooding.
Dog bites.
Conditions for a Tampa Premises Liability Claim
In order to have a successful injury claim against a property owner, a good lawyer will look to prove that:
The property owners' actions or inactions caused the hazard.
The property owner knew that the hazard existed, or had a reasonable time to detect it but failed to take rational steps to remove it or warn people about it.
Premises Liability Negligence Tampa, FL
In order for your Tampa premises liability case to be successful, you need to prove that your injury was caused by negligent actions on behalf of the property owner.
To prove negligence, your liability lawyer will find evidence that:
A duty of care was owed to you by the owner of the property.
They breached their duty of care.
The duty of care caused your injuries.
Your injuries led to damages such as medical bills, lost wages, and pain and suffering.
However, if the property owner has strict liability, then it would remove the need for your lawyer to be required to prove negligence. One example of this is in the scenario of a dog bite. The dog owner has strict liability and is required by law to do what they can to keep people safe from their dog. A lawyer can still help you to gain the maximum compensation you are entitled to due to your injuries, though.
What Is Duty of Care in Tampa, FL?
Duty of care means that people are legally obliged to take reasonable steps to ensure the safety and wellbeing of others. Property owners, which include homeowners and businesses, have a duty to keep their properties free of hazards that could potentially harm visitors.
According to Florida law, visitors in Tampa are grouped into three categories:
Trespassers – If an individual enters a property illegally or without consent from the owner, then they are classified as a trespasser. The property owner cannot be held liable for injuries sustained by a trespasser.
Licensees – Licensees are people who enter a property for their own purposes, such as a houseguest, with the owner's consent. If the property owner is aware of a hazard and fails to adequately warn the visitor, or take steps to remove it, they could be found liable for an injury that results.
Invitees – An invitee is someone who has been invited into a property to do business, such as a diner at a restaurant or an individual coming in to do maintenance. The owner has a duty to ensure their property is safe for invitees and take reasonable steps to prevent injuries.
What Can I Receive in Compensation for a Claim in Tampa?
In order to successfully claim for compensation for a premises liability claim, you should contact a Tampa premises liability lawyer. When you put your faith in The Law Place, you will receive representation from a law firm with over 75 years of combined experience in Florida law. If you are still unsure, then contact us for a free consultation.
Lost wages and lost earning potential.
The cost of past, present, and future medical care and rehabilitation.
Pain and suffering, including compensation for emotional trauma and any loss of enjoyment, such as if you are unable to live the life you would have because of your injuries.
Compensation for damage to property.
Why You Need Help From a Premises Liability Lawyer
If you have been injured on someone's property in Florida, then you should speak to a lawyer as soon as possible. The quicker you speak to us at The Law Place, the better as we will get to work fast to ensure evidence can be preserved, and we can speak to witnesses while their memories are fresh. We will ensure that your rights to compensation are preserved.
Furthermore, a lawyer will evaluate your case and determine what it is worth. They will identify what types of compensation you should fight for and how much you should expect if you were injured at a business their insurance companies will have experienced lawyers on their side ready to devalue your claim. They will do all they can to devalue your case or have it dismissed entirely. It is important that you level the playing field.
Get a Free Consultation at The Law Place
Without a lawyer on your case, you may end up with less than what you deserve. At The Law Place, we understand how to handle a premises liability case, and our law firm will fight for the best possible result. We understand how being injured can be detrimental to your life, we give your case the time and dedication it deserves so that you can focus on your recovery.
Call us now on (813) 544-4444 for a free consultation, with no obligation to continue.