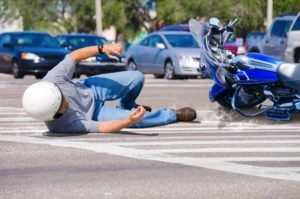 The State of Florida has the second-highest number of motorcyclists in the whole of America. Driving along Florida's roads with beautiful views of the ocean and the sun on your face on the freedom of a motorcycle attracts many people. However, that also means that motorcycle accidents are more common in Florida as well.
If you or someone you love has been in a motorcycle accident, then you should speak to an attorney as soon as possible. At The Law Place, we have over 75 years of combined experience dealing with road traffic incidents in Florida. We understand the intricacies of Florida law and can help you claim the compensation you may be owed.
We offer everyone a free consultation, so at the very least, you should call up and seek some free advice about your case. Our phone lines are available 24/7. Contact The Law Place on (941) 444-4444 to schedule a free consultation today.
Motorcycle Accident Statistics at a Glance
According to Florida Highway Safety and Motor Vehicles (FHSMV), in 2020 there were 8,043 motorcycle accidents. This was down from the previous year, with 2019 seeing 8910 crashes with motorcycle riders involved. However, considering the time spent in lockdown over 2020, this figure did not drop significantly. That being said, the number of motorcycle accidents in 2018 in Florida was 9143, so this number has been dropping in recent years.
Motorcycle Fatalities
There were 551 motorcyclist fatalities in 2020, which is similar to the previous year where there were 552. Considering the lockdown in 2020 and the fact there were over 800 fewer motorcycle crashes, this figure is concerning. 2018 also saw 531 motorcycle deaths, so even though the number of motorcycle crashes has been declining, fatal motorcycle accidents have not.
In fact, in 2020, motorcycle fatalities represented 15.5% of all fatal accidents in Florida. Considering that there are many more cars on the road than motorcycles, this is another concerning statistic.
Why Are There So Many Fatal Crashes With Motorcycles?
More cycles are inherently more dangerous to drive than other vehicles. It is important that motorcycle drivers are aware of potential dangers and do everything possible to keep themselves safe. It is also important that other drivers keep a look out for motorcycle drivers and take care to be aware of where they are.
The reasons for the number of motorcycle crashes and motorcyclist deaths include:
Less Visible to Drivers
According to a study published in the National Institutes of Health, the smaller the size of the motorcycle, the more vulnerable it is to accidents.
A significant number of motorcycle accidents happen when passenger vehicle drivers fail to check their blind spots before turning or changing lanes.
Motorcyclists should stay out of drivers' blind spots as much as possible. They should also wear bright clothing and reflectors on both their clothing and their motorbike.
More Vulnerable to Poor Road Conditions
According to the NHTSA, poor road conditions such as potholes, uneven surfaces, and debris can be dangerous for motorcyclists. Four-wheeled vehicles are more stable in poor road conditions, where even a minor hazard can cause a motorcyclist to lose control.
Less Protection in the Event of a Crash
Motorcycles offer no protection themselves. It is essential that riders wear the proper safety equipment, including wearing helmets and protective clothing. However, even with all the safety equipment, motorcyclists are at a higher risk of severe injuries.
Less Stability
Due to their two-wheel design, motorcycles are less stable than other vehicles, which makes them more challenging to control when turning or braking. Motorcyclists should make sure they give themselves plenty of space to brake and turn corners slowly.
Encourages High-Risk Behavior
Motorcycles are able to speed up quickly and easily move between traffic. This can encourage high-risk behaviors, especially for young drivers.
More Challenging to Drive
Motorcycles can be particularly challenging to drive, they are less stable than other vehicles, and changes in weight distribution can be challenging.
Motorcycle Helmets Laws in Florida
Different states have different laws when it comes to helmet use, and in Florida, it is not always required.
In Florida, laws around helmet use on motorcycles are as follows:
Young riders must wear a safety helmet – Motorcyclists and motorcycle passengers under 21 years of age must wear a helmet at all times, without exception.
Adult riders may be exempt with proper insurance – Motorcyclists and motorcycle passengers who are over 21 are not legally required to wear helmets if they have insurance coverage that provides a minimum of $10,000 in Personal Injury Protection (PIP) insurance.
All riders must wear eye protection – Motorcycle riders and motorcycle passengers in Florida are required to wear eye protection when driving on public roads, regardless of what insurance they have.
Helmets Keep You Safe
Regardless of the law, motorcycle riders should wear helmets. The evidence is overwhelming. Helmets prevent traumatic brain injuries and save lives. Not only does it reduce your risk of severe injury and death, but it can also make it easier to recover compensation if you are involved in an accident.
According to the Advocates for Highway and Auto Safety, more than 1,800 lives are saved by motorcycle helmets every year. Plus, the National Highway Traffic Safety Administration (NHTSA) has found that wearing a motorcycle helmet reduces the risk of suffering a brain injury by almost 70%.
The Most Common Causes of Motorcycle Accidents
As a motorcyclist, understanding the causes of accidents can help you prevent them. It is important that all drivers have an understanding of the causes of motorcycle crashes so that they can take care to prevent them, especially in Florida, where motorcyclists are so common.
The most common causes of motorcycle accidents are:
Blind spots – Because motorcycles are small, other vehicles can easily miss them, which can cause accidents, especially when they are changing lanes, turning, or merging.
Drunk driving – Driving under the influence of alcohol or drugs causes a lack of focus and control and is a leading cause of all road traffic accidents in Florida.
Distracted driving – Distracted driving is becoming an increasing problem in Florida. It can be caused by mobile phones and other electronic devices as well as other passengers and fatigue.
Tailgating – Tailgating, which means following another vehicle too closely, is particularly dangerous for motorcyclists. Drivers should take extra care to give motorcyclists space, especially when there is poor weather.
Poor road conditions – Sometimes potholes, debris, or bad weather can lead to accidents.
Defective parts – A motorcycle part can malfunction as a result of improper maintenance. This could be the fault of the motorcycle rider, the manufacturer, or the mechanic of the bike.
Traffic violations – Traffic laws are in place for a reason. When people fail to follow the rules of the road, they put everyone around them at risk.
Types of Injuries for Motorcycle Riders
Injuries following motorcycle accidents are often more severe than other types of road traffic accidents. Motorcyclists have less protection than other drivers and are often thrown from their bikes.
The most common types of injuries include:
Eye injuries – Motorcyclists are at a high risk of sustaining eye injuries, which is why eye protection is required in Florida.
Sprains – Ankle, knee, wrist, and elbow sprains.
Internal damage – Internal bleeding is a serious injury and requires immediate medical attention.
Fractures – Legs, ribs, collarbones, arms, jaws, and skull fractures.
Dislocations – A dislocation can lead to damage to the soft tissue in the joints.
Traumatic brain injury (TBI) – A blow to the head can lead to a concussion or even a traumatic brain injury.
Paralysis – Paralysis may be the result of a serious back or neck injury or even a head injury. It can affect various areas of the body.
Death – In the worse cases, motorcycle accidents can be fatal.
Following any kind of road traffic accident, it is common for adrenaline to mask the pain. If you have been involved in a motorbike accident, then you should seek medical attention as soon as possible and follow your doctor's advice.
Steps to Take After a Motorcycle Accident in Florida
If you or a family member were injured in a motorcycle accident, then you should take the necessary steps to seek medical attention and protect your legal rights to compensation.
Check for injuries – Your first priority is your health and the health of those around you. If you are able to, then check for injuries and phone an ambulance if needed. You should also move out of the way of any traffic if you are not badly injured. If you are hurt, then you should stay put until emergency responders arrive at the scene.
Call the police – Under Florida Statute 316.062, you must call the police to the scene of an accident that involves personal injury or serious property damage. They will fill out a police report that will be important in your case.
Gather evidence – If you are not too badly injured, then gather evidence by taking photos of the vehicles involved, the road, injuries, and anything else that could be relevant to your case.
Contact information – If you are able to, collect the contact information of the police at the scene, any witnesses, and the other drivers, including their names, phone numbers, vehicle registration numbers, and insurance information.
Seek medical treatment – If you did not receive immediate medical attention, then you should seek medical treatment as soon as possible. Some injuries may not show up straight away, and it is important that you don't do anything to make your injuries worse. In accordance with Florida Statute 627.736, if you do not seek medical attention within 14 days, then you will not be able to make any claim against the at-fault party for the accident.
Seek a free consultation with a reputable law firm – It is important that you seek legal counsel with an experienced motorcycle accident lawyer, even if you think you could be at fault for the accident. You may not have all of the information right away, and the other driver may also have contributed to the crash. At the very least, seek a free consultation so that you can advise you on your next steps.
Speak to your insurance company – Most insurance companies require you to inform them of an accident within 24 hours. Be careful about what you say and stick to the facts without admitting fault. Insurance companies will look for ways to devalue your claim, and it is important that you don't give them any ammunition.
Report the accident – If the crash was minor and police were not called to the scene, then you still need to report the accident within 10 days of it happening, as per Florida Statute 316.066. You can do this online or at your local police station.
Compensation for a Motorcycle Accident Case
If another party was at fault for the motorcycle accident, then you should be able to claim compensation. An attorney can help you through the process and can work to maximize the amount you receive.
Medical bills – All medical expenses related to the accident, including past bills and future expenses, which could include physical therapy, surgery, medication, home adjustments, and more.
Lost wages – Any loss of income, including future income and future earning potential, could be compensated for.
Property damage – Repairing or replacing any property that was damaged in the accident, such as your motorcycle, helmet, clothes, and mobile phone.
Pain and suffering – Pain and suffering damages are designed to compensate you for your emotional suffering and physical pain, including any loss of enjoyment in life if you are left unable to participate in activities you once enjoyed. These types of damages are subjective, but a motorcycle accident attorney can fight for your right to fair compensation.
Wrongful death – If you have lost a family member in a motorcycle, then you can also claim damages for your own pain and suffering, loss of income to a family household, funeral expenses, and more. While no amount of money can make up for your loss, you should not have to suffer the financial burdens of the loss of a loved one.
The Statute of Limitations
The statute of limitations sets out the amount of time you have to make a claim following an accident, and it differs by state.
In Florida, you have four years from the date of the accident to make a personal injury claim. If you lost a family member in an accident and are looking to make a wrongful death claim, then the statute of limitations is reduced to two years. This is laid out in Florida Statute 95.11.
Although you have some time to make a claim, it is a good idea to seek legal representation as soon as possible. The quicker your attorney begins gathering evidence, the stronger your case is likely to be.
Contact The Law Place Today
If you or someone you love has been in a motorcycle accident in Florida, then you should speak to an attorney as soon as possible.
At The Law Place, we will handle your case for you so you can focus on your recovery. Many of our attorneys are AVVO rated 10.0, the highest possible rating, awarded through considering things such as client reviews, years in service, and awards. When you put your faith in us, you know that you are in good hands.
Contact The Law Place on (941) 444-4444 to schedule a free consultation today.