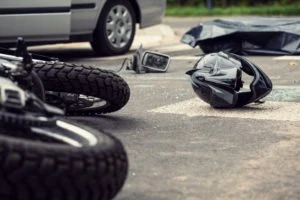 Florida is a state with some of the most avid motorcycle enthusiasts and has one of the highest numbers of registered motorcycle users on its highways. Unfortunately, Florida is also one of the most dangerous places in the United States to be a motorcycle rider and motorcycle accidents happen regularly in Tampa.
When a motorcyclist is involved in a collision, they don't have the benefit of being surrounded by a steel frame, airbags, or other automobile safety features. Even worse, insurance companies often stereotype bikers as being reckless simply for riding a motorcycle.
There are 600 motorcycle deaths in Florida each year. Of 10,331 motorcycle accidents in 2016, 600 fatalities resulted. Another 8,256 drivers suffered injuries in motorcycle accidents in the same time period, and there is little to protect riders when everything goes wrong.
If you or a loved one have suffered an injury while riding a motorcycle in Tampa, FL, you may need a Tampa motorcycle accident lawyer to represent you. At The Law Place in Florida, we have a wealth of experience in dealing with motorcycle injury cases. Let an experienced personal injury attorney from our law firm help you to seek the compensation you deserve. Contact us today on 941-444-4444 for free legal advice.
Common Causes of a Tampa Motorcycle Accident
The most common cause of a Tampa motorcycle accident is straying from the lane of travel or disobeying right of way laws. More fatal motorcycle accidents occur because of a head-on collision than any other cause. That can include a head-on crash on a two-way road or a situation where one vehicle turns in front of the other without having the right of way.
Other common causes of motorcycle accidents in Tampa, Florida include:
Poor weather conditions. Rain, road work debris, snow, or ice are among the most common.
Failure to check blind spots.
Door accidents such as when a driver opens their car door without check for oncoming traffic they can impede a biker's path of travel.
Overcompensating the front brake, which is when the front of the motorcycle stops too hard, the rider's momentum can quickly throw them over their handlebars.
Lane splitting or white lining, including cutting between slower vehicles across lanes. This is extremely dangerous and often leads to disastrous results.
Driving Under the Influence (DUI). The National Highway Traffic Safety Administration reports that the vast majority of fatal motorcycle accidents involve at least one driver with a blood alcohol content.
Road imperfections, potholes, or roadworks.
Speeding.
Road rage.
As a motorcycle driver in Florida, you have every right to enjoy the road in a safe and carefree manner. This is why you may have the right to compensation if the motorcycle crash is caused by the negligence of somebody else. The damages an attorney could win for you include lost wages and pain and suffering.
Motorcycle Helmets
Florida does not require motorcyclists over the age of 21 to wear helmets, so long as they have $10,000 in medical insurance coverage for crash injuries. Helmets may not protect a motorcyclist from every injury, but the lack of a helmet could leave a rider more susceptible to catastrophic injuries or even death.
Types of Injuries Caused by Motorcycle Accidents in Tampa
The nature of motorcycle riding, with its inherent lack of physical protection compared to cars, often leads to more severe injuries in the event of an accident. In Tampa, where the roads are bustling and sometimes unpredictable, motorcycle accidents can result in a range of serious injuries.
Traumatic brain injuries are among the most serious consequences of motorcycle accidents, especially if the rider wasn't wearing a helmet. These injuries can range from concussions to more severe brain damage, leading to long-term cognitive, physical, and emotional impairments. Neck injuries are also common and can vary in severity from minor whiplash to more serious damage that can impact nerve function and mobility.
Fractures are frequent in motorcycle accidents due to the force of impact and the lack of protection around the rider. These fractures can occur in any part of the body but are most commonly seen in the arms, legs, and ribs. The recovery time can be extensive, depending on the severity of the break.
Spinal cord injuries are particularly concerning as they can lead to partial or complete paralysis. The impact of a motorcycle accident can damage the spine, leading to life-altering consequences that may require long-term medical care and rehabilitation.
In some unfortunate cases, motorcycle accidents in Tampa can result in fatalities. The exposed nature of motorcycles means that riders are at a higher risk of fatal injuries in collisions.
What Should You Do After Being Involved in a Tampa Motorcycle Accident?
If you are involved in a motorcycle accident in Tampa, FL, here is what we advise you to do at the scene to protect yourself and others from further injury and to give you the best possible chance at a claim later down the line.
Prioritize your safety and that of everyone involved – First things first, you need to make sure that you are safe. When that is done, you should try and make sure that everyone else involved is safe too. Move away from oncoming traffic, crashed cars, or any other obvious danger.
Call emergency services – As soon as you have done everything possible to make everyone involved safe, then you call the Florida emergency services. Not only will they ensure everyone is safe, but they will also compile a police report, which will be useful to your motorcycle accident case later.
Compile evidence- As soon as you are able, take pictures of the crash scene, the vehicles involved, and any damages. You should also get the contact details for any witnesses as well as the details of the other driver. Get their address, name, phone number, insurance company details, etc. It is also a good idea to draw a sketch of how the accident happened. Draw the road and cars and the direction they were traveling.
Contact a Tampa personal injury lawyer – This is the best time to speak to your attorney. The sooner after the crash, the sooner they can begin to compile evidence on your behalf.
Some other things you should remember:
Never accept liability at the scene – Apart from making sure people are safe, do not talk about the accident. People may take what you say and twist it for their own needs. Lots of people end up missing out on the compensation they deserve because they apologize on the scene.
Be careful of what you say to any insurance companies after the accident – Once again, they may try and get you to admit fault and lessen their liability. Speak to an attorney first.
Why You Should File a Florida Motorcycle Accident Personal Injury Claim
If the accident was not your fault, you should not be out of pocket for your damages or medical bills. The average cost for a visit to the trauma center for an injury after a Florida motorcycle accident is around $40,000 dollars.
When the accident isn't your fault, this is a hefty sum to have to find. By speaking to a reputable Tampa personal injury attorney from our law firm, you can fight for compensation and avoid being left with medical and personal debts.
Injuries from an accident can stay hidden for weeks or even months, if you did not lodge a claim, to begin with, your chances of lodging one later on down the line are drastically reduced, so it is important that you contact us right away!
It is also important that those responsible are held accountable for their actions to help to prevent accidents happening in the future. An attorney from our law firm can give you legal advice and tell you if you have a claim.
What Types of Damages May Be Claimed in a Tampa Motorcycle Accident Case?
There is a huge range of variables and different ways that you can claim following a Florida motorcycle accident. Some of the most common forms of damages a lawyer may fight for are:
Property damages – The most common and obvious form of damages you can claim for is for the cost of replacing or preparing your motorcycle after the accident.
Medical bills – Medical expenses may quickly add up quickly after a Florida motorcycle accident, and it is unfair that you have to pay them if the accident was due to the negligence of another party. You can claim for any paid medical bills as well as any future medical costs if you can prove that you will need long term medical help.
Lost wages – If the accident has led to you missing work if you have to take time off work for your injuries and if you are incapable of going back to work, all of this can be claimed for.
Pain and suffering- If you need financial assistance for any emotional or physical health issues, you can claim damages for these.
Punitive damages – Punitive damages are awarded for gross misconduct or when someone hurts you purposefully with intent.
Wrongful death – If someone you loved has been killed by the negligence of another party, you can seek damages for their death.
Understanding Wrongful Death Cases
Wrongful death cases arise when an individual's death is caused by the negligence or misconduct of another person or entity. These cases are particularly complex and sensitive, as they involve the loss of a life and the impact of that loss on the surviving family members. Understanding the nuances of wrongful death cases is crucial for those seeking legal recourse.
In the context of wrongful death, negligence or misconduct could stem from various scenarios, such as medical malpractice, car accidents, workplace incidents, or criminal acts. The fundamental aspect of these cases is proving that the death occurred due to the negligent or intentional actions of another party.
One of the key elements in a wrongful death case is establishing the liability of the responsible party. This involves demonstrating that the party had a duty of care towards the deceased, that this duty was breached, and that the breach directly led to the death. For instance, in the case of a car accident, it would need to be shown that the at-fault driver violated traffic laws or drove recklessly, leading to the fatal accident.
The plaintiffs in wrongful death cases are usually close family members of the deceased, such as spouses, children, or parents. These cases are intended to provide compensation for the losses suffered by these family members, which can include:
Loss of financial support – If the deceased was a primary breadwinner, the family could claim compensation for the loss of income and benefits.
Loss of companionship and emotional support – Compensation can also be sought for the emotional pain and suffering due to the loss of a loved one.
Medical and funeral expenses – Families can recover costs related to medical care prior to death and funeral expenses.
Is It Necessary to Hire a Florida Motorcycle Accident Lawyer?
No, it is not necessary, although it is highly recommended. When you are seeking a large payout from an insurance company, they will do everything within their power to devalue their claim or even refuse it outright. They will have strong, aggressive legal teams who know the intricacies of Florida law. This puts you at an immediate disadvantage.
By hiring a reputable Tampa personal injury lawyer, you instantly level the playing field. Your Florida motorcycle accident lawyer will have dealt with a number of cases just like yours and will know exactly how to handle the insurance companies of both parties.
Your Tampa motorcycle accident attorney will take over the fight for you, allowing you to sit back and focus on your recovery. They will do the paperwork, the negotiation, and will protect your interests.
Research has shown that 90% of cases where motorcycle accident lawyers were hired ended up with a payout, and on average, the payouts are 60% more than those who seek compensation on their own, although this also depends heavily on the case at hand.
The Process of Filing a Motorcycle Accident Lawsuit
Filing a motorcycle accident lawsuit involves several steps, each critical to pursuing justice and compensation for the injuries and damages sustained. The process typically begins with the immediate aftermath of the accident, where gathering evidence at the scene, such as photos of the accident site, witness statements, and police reports, is crucial.
Once you have received the necessary medical attention, the next pivotal step is to consult with a lawyer experienced in motorcycle accident cases. This attorney will help you understand your legal rights and the feasibility of pursuing a lawsuit. They will review all the evidence, including your medical records, to assess the extent of your injuries and the impact on your life.
Your lawyer will then file a complaint on your behalf. This legal document, submitted to the court, outlines the details of your case, including the parties involved, the nature of your claims, and the damages you are seeking. The defendant will receive a copy of the complaint and will have the opportunity to respond, either accepting responsibility or contesting the claims.
Following the filing of the complaint, the discovery phase of the lawsuit begins. During this period, both parties exchange information and gather further evidence. This can involve depositions, where witnesses and experts are interviewed under oath, and requests for documents relevant to the case, such as additional medical records or the defendant's driving history.
Negotiations for a settlement often occur concurrently with the discovery process. Many motorcycle accident lawsuits are settled out of court, as both parties may seek to avoid the unpredictability and expenses of a trial. Your lawyer will negotiate with the defendant or their insurance company to reach a fair settlement that covers your medical expenses, lost wages, pain and suffering, and any other relevant damages.
If a settlement cannot be reached, the case will proceed to trial. In this stage, both sides will present their evidence and arguments before a judge or jury. Your lawyer will advocate on your behalf, aiming to demonstrate the defendant's liability and the extent of your damages. The trial process can be lengthy and complex, requiring a detailed and persuasive presentation of your case.
Finally, if the court rules in your favor, you will be awarded compensation. The amount will depend on various factors, including the severity of your injuries, the impact on your quality of life, and any financial losses incurred due to the accident.
I Was Partly at Fault. Can I Still Claim?
In some motorcycle crash cases, a driver will blame the motorcyclist for causing the accident. This should not deter you from filing a claim against the driver. As of 2023, Florida files a modifified comparative negligence standard in personal injury suits. This means that you can recover damages even if you are partly to blame for your injuries so long as you are less then 50% at fault. The amount of damages you can recover will be reduced in proportion to your percentage of fault.
Tampa Motorcycle Accident Lawyer FAQ
What should motorcycle accident victims do immediately following an accident in Tampa?
Motorcycle accident victims should first seek medical attention for any injuries. It's also important to document the accident scene, if possible, by taking photos and gathering contact information from witnesses. Then, contact Tampa motorcycle accident attorneys as soon as possible for legal guidance.
How is a motorcycle accident case typically handled in Tampa?
A motorcycle accident case in Tampa usually starts with an investigation into the accident. This involves collecting evidence such as accident reports, witness statements, and medical records. Your attorney will then use this information to build a case for compensation, either through a settlement negotiation or a court trial.
Are motorcycle accident cases in Tampa different from other vehicle accident cases?
Motorcycle accident cases in Tampa often have unique aspects compared to other vehicle accidents due to the specific risks motorcycle riders face, such as greater exposure and vulnerability. These cases may involve more severe injuries and require a detailed understanding of motorcycle laws and rider rights.
How can Florida motorcycle accident lawyers help victims?
Florida motorcycle accident lawyers can assist victims by providing legal representation, helping them understand their rights, negotiating with insurance companies, and pursuing fair compensation for damages like medical expenses, lost wages, and pain and suffering.
What types of compensation can Tampa motorcycle accident victims seek?
Tampa motorcycle accident victims can seek compensation for medical bills, lost income, property damage, and non-economic damages such as pain and suffering. In cases of severe injuries, they may also claim compensation for long-term care and rehabilitation costs.
Why is it important to work with Tampa motorcycle accident attorneys?
Working with Tampa motorcycle accident attorneys is crucial due to their experience in handling similar cases. They understand the complexities of motorcycle accident claims, including dealing with insurance companies and advocating for the rights of motorcycle riders.
What challenges do motorcycle riders face in accident claims in Tampa?
Motorcycle riders in accident claims may face challenges such as bias against motorcyclists and disputes over fault or injury severity. Experienced attorneys can help navigate these challenges by presenting clear evidence and advocating for the rider's rights.
9How long do I have to file a motorcycle accident case in Tampa?
The statute of limitations for filing a motorcycle accident case in Tampa is typically two years from the date of the accident. However, it's advisable to consult with an attorney as soon as possible to ensure your case is handled effectively within this timeframe.
Contact One of Our Tampa Motorcycle Accident Lawyers Today
Making sure that you have a motorcycle accident attorney on your side straight away could be the deciding factor in whether or not you receive compensation as the result of a Tampa motorcycle accident that isn't your fault.
Here at The Law Place, we have over 75 years of combined experience in dealing with cases just like yours. We aren't afraid to stand toe to toe with an insurance company, and we won't back down, we will help you seek the compensation you rightfully deserve.
Call us on 941-444-4444 today. We are contactable 24 hours a day, seven days a week, and offer a free consultation with an experienced motorcycle accident lawyer.