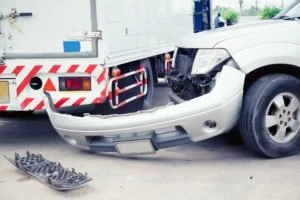 Driving on the highway with a large truck can be nerve-wracking. Their size, weight, and speed make them imposing figures for anyone driving a smaller vehicle. A big rig accident often results in catastrophic injury and thousands of dollars in property damage. When they tailgate, it becomes even more likely that a devastating accident can occur.
Due to the danger they pose to other motorists, truck drivers and their payloads are strictly regulated by state and federal law. Blood alcohol content (BAC), hours worked, and miles driven are all monitored closely to prevent accidents from happening and keep all drivers as safe as possible. Despite this, truck accidents are still quite common. In Florida alone, there are 400,000 truck accidents every year, with over 3,000 resulting in fatalities.
Your personal injury protection and auto insurance may not cut it. If a tailgating truck causes you to get in an auto accident, you will need an experienced Tampa, FL., truck accident attorney to fight your case.
The Law Place is here to do just that. We have 75 years of combined experience battling trucking and insurance companies to get the financial compensation our clients deserve. All truck accidents are unique, and our investigators will comb through all the evidence to build you the strongest case possible. We offer a free consultation with one of our Tampa personal injury attorneys to go over the details of your claim so you can move forward with confidence.
If you or a loved one has been involved in a tailgating truck accident, contact The Law Place today. Our representatives are available 24/7 and are waiting for your call.
Call us now at (941) 444-4444.
What Is Tailgating?
Florida Statute 316.0895 defines tailgating as following a vehicle more closely than is reasonable or sensible for the speed and density of traffic in any given circumstance. Drivers must be aware of the hazards of tailgating and how their actions can force other motorists to react detrimentally.
Big trucks especially must give enough room for vehicles to their front. Not doing so can result in a catastrophic accident for that vehicle and other vehicles on the road. Because of the large size of tractor-trailers, big trucks can't brake quickly. If a truck driver is tailgating, they won't have time to react if the vehicle in front of them stops suddenly.
What Do You Do If a Truck Is Tailgating Your Vehicle?
Federal Motor Carrier Safety Administration lists tailgating as one of the most common causes of trucking accidents.
If a large truck is tailgating your vehicle, you must keep aware of the traffic to your front. If you get distracted, you may be forced to stop suddenly. A large truck to your rear might ram your vehicle at high speeds, which can often result in disastrous injury and property damage.
When you are free to do so, move to your right and let the truck pass. You shouldn't take chances by brake-checking or slowing your speed. When the vehicle has moved past yours, try to take note of the license plate number or listed trucking company telephone number. Most big trucks will have a "How's my driving?" number on the back. Report the driver to relevant authorities as soon as possible to help prevent another tailgating incident from occurring.
What Do You Do After a Tampa, Florida, Truck Accident?
If a tailgating truck ends up causing an accident, safety should be your first concern. If possible, move away from the accident and seek medical attention as soon as you can. Position yourself away from oncoming traffic and behind cover. Get others out of harm's way if it doesn't jeopardize your own safety in the process. Truck accidents are loud and chaotic events; police, fire, and medical teams will arrive at the scene soon.
You need to start collecting evidence quickly. This is essential because you have no idea how long evidence will be available. The following will help you build a strong case against trucking companies and their insurance:
Truck – License plate number, make, and model of the vehicle.
Truck driver – Name, address, registration number, employer, and insurance provider.
Photos – The scene of the accident, the truck, your vehicle, the road, other involved vehicles, traffic, and weather conditions.
Sketch – Draw the incident to the best of your ability.
Witnesses – Gather information and contact details from willing witnesses.
Police – Badge numbers and names.
Medical records – Treatment records, medical bills, and prescription receipts.
After you have gathered evidence, contact a Tampa, FL., personal injury law firm immediately. The Law Place will quickly start an investigation on your behalf. Any evidence you may have missed will be collected and cataloged for future use in your claim.
Providing all of this will strengthen your case and prevent trucking companies and their insurance from hiding or destroying evidence proving their liability.
How Are Florida Tailgating Truck Accidents Investigated?
After the unfortunate event of a big rig truck accident, you must contact a truck accident attorney. As stated above, the evidence must be collected quickly, and a lawyer will have the resources to make sure this happens. Trucking companies and their insurance will do everything necessary to prevent evidence from falling into your hands. Hard evidence might be hidden or destroyed to prevent a statement of liability. Tampering with evidence is illegal but can be hard to prove after it has happened.
An essential piece of evidence in any large truck accident in Tampa is an EDR (Event Data Recorder) or black box. All trucks are required to be fitted with these devices. Black boxes are equipped to measure what the vehicle was doing before, during, and after an event, including but not limited to truck speed and brake application. This helps investigators determine how the event occurred and whether proper safety precautions were taken by the truck driver in the moments before or after an accident.
Investigator will also examine the scene of the accident to help paint a picture for the court. Traffic signage, skid marks, road hazards, and vehicle damage are just some of the things they will look at. After hard evidence is collected, investigators will interview witnesses, request police reports, and speak with insurance investigators.
A good law firm will have excellent investigators to gather evidence for your case. The Law Place, personal injury lawyers in Tampa, FL., are here to help. We will do everything in our power to make sure trucking companies and drivers don't prevent you from getting the financial compensation you deserve.
What Damages Are Available in Tampa Truck Accident Cases?
Compensation for things like property destruction, loss of wages, and medical expenses are known as economic damages. This refers to the literal financial loss you may have incurred following a truck accident. While these are often the main subject of insurance claims, they are not the only damages you can claim for.
Non-economic damages, otherwise known as general damages or pain and suffering damages, cover the mental and physical anguish you may have experienced after the accident. Depression, anxiety, physical pain, and an inability to fulfill your personal responsibilities can be compensated in a truck accident claim.
Your lawyer can only file for pain and suffering damages if you or a loved one sustained a serious injury because of the truck accident. Florida Statute 627.737 defines the threshold for serious injury as permanent and extensive scarring or disfigurement, the loss of normal mobility or bodily function, permanent injury, or death.
If the truck driver was found to be driving under the influence of alcohol or drugs, you might also pursue punitive damages. The Legal Information Institute defines this as compensatory punishment in addition to other damages. When a driver is doing something illegal or criminal, punitive damages can be claimed.
How Much Does It Cost to Hire a Truck Accident Attorney?
Different law firms will have varying pay scales that cover their fees for legal representation. In civil suits, most will use a contingency basis to structure their payment.
The Law Place personal injury lawyers use this to determine pay. Contingency fees usually take 1/3 or 33.3% of a final settlement amount. If you lose your case, you will not owe us anything. If you win, you will keep the majority of whatever the court awards you. Our law firm does not have any hidden fees or costs associated with our representation.
The specifics of our fee structure will be outlined during your free case evaluation with one of our partners.
The State Bar Association monitors all law firms working on a contingency fee basis in Florida.
Contact The Law Place Florida Truck Accidents Attorneys Today
Have you or a loved one been injured in a tailgating truck accident? Have you been seriously injured, and are you unable to work? You may be entitled to compensation.
The Law Place Florida personal injury attorneys are here to fight for you. Corrupt trucking firms and their insurance companies can't be trusted, but we can make sure they are held responsible for the damages you deserve. Our attorneys work together on every case, ensuring you have the most comprehensive representation available. We offer a free case evaluation with one of our partners to make sure you know your options and what settlement you can claim.
Focus on your recovery and leave the messy business to us. Truck accidents are serious, and we are too.
Schedule your free consultation with The Law Place today. Our representatives are waiting for your call.
Contact The Law Place today at (941) 444-4444.