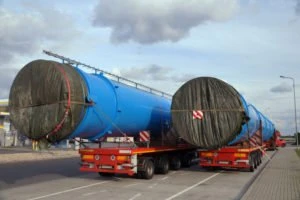 Commercial truck accidents are considered to be some of the most dangerous accidents in Tampa, becoming even more so when the truck is carrying an oversized load. Whether the load is balanced, if the load is secure, the height of the stacked content and the total weight are all factors which affect how a truck performs on the road and affect the likelihood of an accident. Despite there being strict regulations in place for large commercial vehicles, some trucking companies do not adhere to the guidelines, which means big truck accidents are still occurring way too often.
If you or your loved one have been a victim of a truck accident in Tampa and think you are entitled to compensation, The Law Place is here to help. At The Law Place, our law firm is made up of excellent accident lawyers possessing 75 years of combined experience. Our lawyers will offer you a free consultation to establish if you have a valid case and explain all of the next steps in your legal journey. Call us today using the toll-free number (941) 444-4444. Our lines are open 24/7 for your convenience, so speak to one of our skilled Tampa personal injury attorneys today.
What Is an Oversized Load Truck?
An oversized load truck is pretty much exactly what it sounds like. All roads and highways in Tampa, Florida, have regulations for limits on the size and weight of trucks; if a truck is over these limits, then it is classed as an oversized load truck. There are also restrictions placed upon the weight each axle must bear. If the load does not reach the maximum weight but exceeds the weight limit per axle, then this will also mean the load is classed as oversized.
Load restrictions for trucks are in place all across Florida, including Tampa. Trucking companies are required to have a permit for a truck driver under their employment to drive an oversized load legally. Furthermore, to prevent accidents, in the state of Florida, the hours a truck driver can transport an oversized load is restricted depending upon the physical size. If the driver has a permit, however, they can travel at all hours. These regulations are in place to try and minimize the occurrence of accidents but are not always effective.
What Causes Big Truck Accidents in Tampa?
A big truck accident can be caused by a range of different factors. Here is a list of the few most common causes of a load-carrying truck accident in Tampa:
Distracted drivers.
Fatigued drivers, common for a truck driver to be driving for long hours this consequently impairs their ability to drive safely.
Speeding trucks, for instance, going around a corner quickly in a tall truck, can easily cause a truck accident.
Untrained/inexperienced truck drivers.
Overloaded trucks.
Negligence with the trucking companies, e.g. breaching the Federal Motor Carrier Safety Administration (FMCSA) regulations.
No matter what caused the accident you or your loved one were involved in, if it was not your fault, you may be able to claim for compensation. Contact The Law Place today and talk to one of our experienced Tampa truck accident attorneys to discuss your unique case so we can evaluate whether we feel you have a strong claim. If we conclude, you do have a strong claim our team will be dedicated and supportive when going forward with your claim if you do choose us as representation, allowing you to focus on getting better rather than worrying about the legal system.
How Is a Tampa Big Truck Accident Investigated?
To begin the investigation into an oversized load truck accident, we advise that you get in contact with knowledgeable truck accident lawyers as soon as possible. At The Law Place, our team of accident attorneys are ready and prepared to carry out a stringent investigation into your case. Every lawyer we employ at our law firm is experienced in piecing together all elements of a case to get you the compensation you so rightly deserve.
As in the case of most road accidents, including oversized load trucks, an accident attorney will carry out an onsite investigation on the site of the crash. Our team will interview eyewitnesses, check the site for any skid marks from either vehicle, look for obstructed stop signs, and anything else you may have missed at the time of the accident.
Additionally, Florida law states that all commercial trucks are required to have an EDR or black box installed. Any information received from a black box or an EDR can be extremely important in your claim succeeding or failing. Black boxes, similar to a plane, record data about the driving; examples of data recorded include driver's speed, the application of brakes, and other similar information.
After an accident, the black box is known to be tampered with or even destroyed in some cases. This is why it is vital you act as quickly as possible to enlist the help of an attorney to retrieve the black box before this can happen. Other information that may be destroyed or tampered with if not retrieved in time but can be vital to a case involves maintenance records, information about the truck driver or trucking company, and employment records.
To prevent yourself from losing information integral to your claim, get in contact with The Law Place today and organize a consultation with one of our lawyers. We will not waste any precious time in recovering all of the evidence you will need to get the justice you deserve.
How Do We Determine Liability in a Tampa Truck Accident
Determining liability in an overloaded truck accident can be quite difficult. Truck accidents are often some of the worst accidents on the road because of their sheer weight and the oversized cargo inside. They can cause long-lasting injuries and even death for the drivers involved.
A vast amount of large trucks on the road are commercial vehicles, and for this reason, the liability after a truck accident can go further than just the driver. When you begin to look at the most common causes of a Tampa truck accident, it quickly becomes apparent that deciding where the liability lies is hardly ever simple. Some parties that may be found liable are as follows:
The truck driver.
The employer of the driver.
The trucking companies.
The insurance company.
The truck manufacturer.
Due to how difficult it is to determine liability after an accident, it is advisable to enlist a truck accident lawyer to make sense of such a confusing task. At The Law Place, our law firm of excellent personal injury and accident lawyers will take that case off your hands and ensure that the liability rests with the guilty party. Our lawyers will ensure you get the justice you deserve.
Damages Following an Oversized Loads Truck Accident
All road accidents tend to amount to a similar style of damages, here is a list of the most common following a truck accident:
Medical bills – If you suffer an injury/injuries which require medical attention after a truck accident, you should be able to claim for compensation. Any bills that you have to pay after an accident, e.g. any surgery costs, should be claimed for. Projected medical bills expected for rehabilitation or a life-long injury that will need to be paid in the future can also be accounted for.
Loss of earnings – For any time you are forced to spend off work due to the accident, you will be able to claim for all lost wages from this period. As well as this, if you are unable to return to work due to the accident, you could claim for any future loss of earnings too.
Property damage – If your vehicle is damaged in the accident, you will be able to claim for any repairs or replacements you require.
Wrongful death – Under Florida Statute 768.21, if the accident, unfortunately, leads to the wrongful death of a person, then their loved ones will be able to file a wrongful death lawsuit and claim for any funeral costs and loss of consortium.
Pain and suffering – Pain and suffering envelopes any physical or mental suffering that the victim faces after a truck accident. Such damages, however, are hard to quantify and translate into monetary compensation, so it is in your best interest to hire a personal injury lawyer who will be able to understand and build a case for this.
Loss of enjoyment in life – If you or a loved one can now no longer enjoy and take part in activities you once did before your accident, e.g. playing an instrument or a sport, this is known as loss of enjoyment. A personal injury lawyer could calculate this into monetary compensation you may be owed.
If you have been involved in a Tampa truck accident, then contact The Law Place today to receive a free consultation. We will discuss your claim with you and whether or not we believe you have a strong enough claim to compensation.
How Much Will a Tampa Truck Accident Lawyer Cost Me?
At The Law Place, all of our lawyers operate on a contingency basis. This means that you will not be charged anything upfront, all necessary fees will be deducted from your settlement upon winning your case. If we are, however, unsuccessful in winning your case, then you will not be charged anything – a no win no fee guarantee! This means you won't have the avoidable stress of legal fees whilst you should be focusing solely on your mental and physical recovery.
Any contingency work carried out is monitored by the State Bar Associations of Florida. Our law firm follows the guidelines set strictly as these guidelines are put in place to ensure all clients are treated fairly. The fee system will be explained to you in your first consultation so that you are fully aware and do not receive any surprise bills.
Contact The Law Place Today!
If you or a loved one have been involved in a trucking accident that was not your fault and you believe you may be entitled to claim compensation for injuries you received, then contact The Law Place today. At The Law Place, our team of lawyers will dedicate their time to ensuring you receive the compensation you deserve. Our lawyers have 75 years of combined experience, so you can be confident in our abilities. Call us today to organize a free case evaluation on (941) 444-4444.