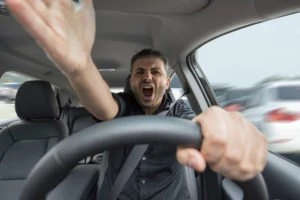 Aggressive driving is all too frequent in Sarasota, FL, congested roads, and busy lifestyles may contribute to these driving practices, but there is never an excuse to behave recklessly on the road. Even though people might be looking to get places fast, a study of six years of data conducted by the AAA Foundation for Traffic Safety discovered that aggressive driving actually led to an increased commute time overall.
Aggressive driving is different from road rage. Aggressive driving is defined as intentional risky driving behavior such as running a red light, tailgating, speeding, failure to yield when the other driver has the right-of-way, and excessive weaving in and out of traffic. These risky and aggressive behaviors result in thousands of car accidents each year and can result in serious injuries and even death.
If you or a loved one have been in a motor vehicle accident with an aggressive driver, then you deserve compensation. It is unacceptable for drivers to behave recklessly and selfishly put the lives of other drivers and pedestrians at risk. At The Law Place, we have over 75 years of combined experience dealing with Florida law. Call us today on 941-444-4444 to arrange a free consultation with a Sarasota personal injury lawyer and be supported by a law firm that is dedicated to justice.
What Causes People to Drive Aggressively?
Research shows that there are many factors involved in aggressive driving behavior. One particularly intriguing idea is that of anonymity. Studies have shown that people are more likely to drive aggressively if their identity is masked, such as if they were driving at night or had tinted windows.
These types of behaviors are often learned from parents, peers, and media such as TV and movies. Despite the sheer volume of drivers on the road driving aggressively, it is surprising that available research suggests that the majority of people do not consider aggressive driving to be acceptable behavior, at least not publically.
If you have been in a car accident with an aggressive driver, then it is important that you stand up and take action. At The Law Place, we want to make Florida's road safer for everyone. Florida has some of the worse car accident statistics in the country, with over 400,000 every year. By holding reckless drivers accountable, we hope to make our roads safer for everyone.
Characteristics of Aggressive Driving in Sarasota
When you see aggressive driving on the road, it is easy to spot. Aggressive drivers participate in a number of risky behaviors, such as:
Illegally passing cars.
Tailgating drivers.
Cutting off drivers.
Failing to signal lane changes.
Weaving back and forth between lanes.
Running red lights and stop signs.
Speeding.
Many drivers behave this way because they are impatient or in a hurry to get to their destination. At other times they may believe that they look cool. Aggressive driving can also be associated with road rage.
Accidents Caused by Aggressive Driving in Sarasota, Florida
Aggressive driving can directly lead to several different kinds of motor vehicle accidents. This is because aggressive driving covers a lot of different behaviors. They could lead to:
Head-on collisions.
Side impact collisions.
Rear-end collisions.
Rollover accidents.
Multi-vehicle accidents.
Any car accident caused by an aggressive driver can lead to serious injuries and extensive property damage. Get help from a Sarasota car accident lawyer at The Law Place today so that we can fight for the damages you deserve. Our practice areas cover Sarasota and the rest of Florida, and we offer a free consultation.
The Duty of Care
In Sarasota and across Florida, drivers have a presumed duty of care to those around them, including pedestrians and other drivers. This duty of care requires you to drive reasonably in order to keep everyone safe. When someone drives aggressively, they are violating their duty of care and can, therefore, be found liable for damages if this causes an accident. In order to have a valid personal injury claim, your car accident lawyer will need to prove that:
You were owed a duty of care – When someone drives, they automatically owe you a duty of care.
The duty of care was breached – When someone drives aggressively, they breach their duty of care.
The breach caused your injuries – Your lawyer will help you to prove that your injuries were a result of the motor vehicle accident.
Your injuries led to damages – The injuries that result from your accident will lead to damages, and if a correlation can be proved, then you can claim for them.
Common Damages Following a Motor Vehicle Accident in Sarasota
The most common types of damages that people claim for after car accidents in Sarasota, Florida, are:
Medical bills – You should claim for the cost of medical expenses such as medical bills and transport to and from appointments. This includes past, present, and future treatments.
Loss of earnings – If you lose any wages or your injuries result in lost earning potential, you should be compensated for this.
Property damage – The cost of repairing your vehicle in Sarasota should be reimbursed.
Pain and suffering – Pain and suffering includes mental suffering and loss of enjoyment if you have been left unable to do something you once could. These are difficult to quantify, and you need a car accident lawyer on your side to ensure fair compensation.
Loss of a loved one – If you have lost a loved one because of an accident, then you should receive compensation for funeral expenses and loss of consortium.
When dealing with the aftermath of a car accident, it is crucial to have a personal injury lawyer in Sarasota working alongside you. A lawyer will make sure that you are not taken advantage of and will help you to fight for justice. At the very least, you should contact The Law Place for a free consultation. The other driver is likely to have accident lawyers on their side, so you should level the playing field, especially if you are dealing with big corporations in Florida like insurance companies.
Insurance Companies
Following a car accident in Sarasota, you might find that you struggle to claim compensation from your insurance company. Florida is a no-fault state, as stated in Florida Statute 627.7407, which means that initially, you need to seek compensation from your personal insurance company unless your damages exceed your policy limits, at which point you may turn to the other driver's insurance firm.
However, insurance companies are big business, and like any big business, their main priority is profit. They have experienced claims adjusters whose only job is to devalue your claim or find a way to reject it. It is essential that you are not taken advantage of in this way. Therefore, when you have a personal injury lawyer on your side, they will fight by your side and help to protect your rights.
After an accident, you are required to inform your insurance company. Your policy will tell you how long you have to do this, but it could be within 24 hours. However, be careful what you say as anything you say could be used against you. Stick to the facts, and do not go into detail about your injuries. Even better, phone The Law Place for a free consultation first so they can advise you before you have to speak to your insurance in Sarasota.
What a Car Accident Lawyer in Sarasota Can Do for You
Research has shown more than 90% of people that get help from a car accident lawyer receive a payout, and on average, the payout is 60% more than those without a lawyer, although this varies case to case.
Following an accident, why not phone The Law Place for a free consultation? We will help you with free, no-obligation advice. And if we believe you have a valid claim and you decide you would like to proceed, then we will arrange an in-depth meeting. At this point, we will tell you exactly what we can do for you and how our fee structure works. Even after free advice, you can walk away or decide to continue. If you do continue, we will take over the investigation of your case and fight alongside you until the job is done. You can focus on your recovery while we do the leg work. The best part? If you don't win, you will not pay anything, we take our fee from your eventual settlement, and we do not ask for anything upfront.
The Law Place
Phone The Law Place today on 941-444-4444 for a free consultation. If you have been in an accident with an aggressive driver, then they have behaved negligently, and you deserve compensation for your damages. Don't take on the Florida legal system alone; get help from experienced lawyers who are dedicated to justice and making the roads a safer place to drive.