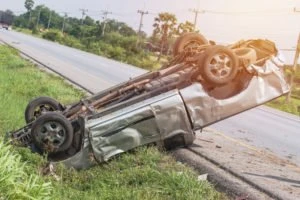 Rollover accidents are extremely dangerous, and they have some of the highest fatality rates. Tall vehicles with high centers of gravity are most at risk. However, any car or truck can rollover. Not only can these cause severe injuries such as head injuries and broken bones, but they are also some of the most emotionally traumatic accidents.
Due to the severity of these accidents, the damages are rarely entirely covered by a Sarasota car insurance policy. That is why you need help from a Sarasota personal injury lawyer. At The Law Place, we understand how traumatic a rollover accident is, which is why we offer a free case review. That way, you can seek the information you need before you decide how to proceed.
Our phone lines are always open, so contact our Florida law firm today for a free consultation on 941-444-4444.
Why Do Rollover Accidents Occur in Sarasota?
According to The National Highway Traffic Safety Administration (NHTSA), rollover accidents have the second-highest fatality rates, following head-on crashes. Accidents where a vehicle rolls over account for around 33% of all traffic accident fatalities each year.
Rollover accidents usually occur because of a vehicle 'tripping,' a trip happens because the vehicle hits a pothole, curb, guardrail, or lose a patch of gravel. This causes the tires of the vehicle to lose contact with the road, disturbing its forward motion. This results in the vehicle rolling sideways or forward, and often, it is then hit by another car or truck. About 95% of all rollovers are a result of tripping.
Common causes of rollover accidents in Sarasota include:
Alcohol or drug use by drivers.
Excessive speed.
Defective vehicle design, especially among older pickup trucks and SUVs.
Dangerous driving behaviors, especially while passing other vehicles.
Driver age and experience. Drivers under 25 are more likely to be involved in a rollover crash.
Injuries as a Result of Rollover Crashes
During a crash where a vehicle rolls over, victims are violently tossed around, leaving them extremely vulnerable to injuries such as:
Neck and spine injuries.
Traumatic brain injuries.
Strains and sprains.
Broken bones, broken arms, wrists, and ribs are especially common.
Lacerations caused by vehicle components broken by the rollover.
Wrongful death.
Following a car accident in Sarasota, FL, your main priority is your health. That is why it is a good idea to speak to personal injury attorneys quickly. They can take over the investigation of your case so that you can focus on what's important – your mental and physical recovery.
Common Damages Following a Car Accident in Sarasota
Following a car accident where your vehicle has rolled over in Sarasota, FL, your damages are likely to be extensive. They could include:
Medical expenses – Any expenses that you incur as a result of your injury following an accident should be compensated. Including medical bills for past, present, and future treatments.
Loss of earnings – If you have any lost wages or lost earning potential because of your injury, then you should be able to claim for this.
Property damage – The cost of repairing your vehicle in Sarasota will be covered.
Pain and suffering – Pain and suffering are designed to compensate for mental suffering and loss of enjoyment if you have been left unable to participate in activities that you were once able to. These are difficult to quantify, and you need a personal injury lawyer fighting for you to ensure fair compensation.
Loss of a loved one – If you have lost a loved one in an accident, then you can claim compensation for funeral expenses and loss of consortium.
When dealing with the aftermath of a car accident, it is crucial to have a personal injury lawyer in Sarasota fighting for your rights to compensation. Phone The Law Place today for a free case evaluation, we will tell you if we believe you have a strong claim and will answer any questions you have so that you can decide how you would like to proceed.
What a Personal Injury Lawyer in Sarasota Can Do for You
Research has shown more than 90% of victims that receive help from a car accident lawyer get a payout, and the average payout is 60% more than those without representation.
Following an accident, contact The Law Place for a free consultation. We will provide you with free, no-obligation advice. We will determine whether we think you have a valid claim, and you want to proceed with representation, we will arrange an in-depth meeting. In this meeting, we will explain what we can do for you and how our fee structure works.
If you decide that you do not want representation at this point, then no problem! But if you do, then we will take over the investigation for you while you focus on getting better. We will collect evidence and fight for justice. Most car accident cases in Florida ended in a settlement, but if your case does go to court, then we will be prepared, and we will not accept anything less than what we think you deserve.
We are confident that if we are representing your injury case, it will most likely succeed. However, if, for whatever reason, your claim is unsuccessful, you will not pay anything.
The Law Place
Contact The Law Place today for a free consultation on 941-444-4444. If you or a loved one have been in a rollover accident, you deserve compensation for your damages. While no amount of money can make up for how this accident may have changed your life, it can ease some of the stress of paying for the aftermath. We understand that these types of accidents are traumatic, and we are ready to stand by your side and support you so that you can focus on your health.