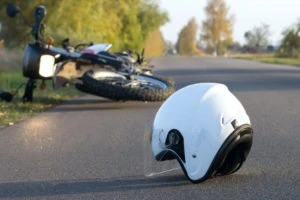 America loves its motorcycles, home to Harley Davidson and many other motorcycle brands the motorcycle culture here is rich and full of history. You will find motorcycles on almost every highway in almost every state and county, Sarasota FL included.
Unfortunately, Sarasota and Florida, in general, is one of the most dangerous places in the states to be a rider and motorcycle accidents happen regularly. As there is little protection offered by a motorcycle, motorcycle accidents tend to lead to more severe injuries than car accidents, and there is little to protect riders when everything goes wrong.
If you or a loved one have been injured while riding a motorcycle in Sarasota county, The Law Place is here to help you seek the compensation you deserve. Contact us today on 941-444-4444 for a free case review.
Why Do Motorcycle Accidents Occur?
In shocking data from the National Highway Traffic Safety Administration, over 75% of riders involved in a motorcycle accident, end up with a serious injury or death.
So why are there so many motorcycle accidents here? Here are the main reasons why people crash their motorcycles in Sarasota, Florida:
Human error by the driver.
Vehicles failing to see the driver and cutting them up.
Driving under the influence.
Bad weather conditions.
Road imperfections, potholes, or roadworks.
Speeding.
Changing lanes suddenly without signaling.
Road rage.
Just because motorcycles offer less protection than cars should not mean that you have to worry about other drivers. You have every right to enjoy the road in a safe and carefree manner. This is why you have the right to compensation if the accident is caused by the negligence of somebody else. The damages you could claim in Florida include lost wages and pain and suffering.
What Should You Do After Being Involved in a Motorcycle Accident in Sarasota, Florida?
If you are involved in a motorcycle accident, here is what we advise you to do at the scene to protect yourself and others from further injury and to give you the best possible chance at a claim later down the line.
Prioritize your safety and that of everyone involved – First things first, you need to make sure that you are safe. When that is done, you should try and make sure that everyone else involved is safe too. Move away from oncoming traffic, crashed cars, or any other obvious danger.
Call emergency services – As soon as you have done everything possible to make everyone involved safe, then you call the emergency services. Not only will they ensure everyone is safe, but they will also compile a police report, which will be useful to your case later. According to Florida Statute 316.062, you are required to call the police to the scene of an accident that has caused injury or substantial property damage.
Compile evidence- As soon as you are able, take pictures of the crash scene, the vehicles involved, and any damages. You should also get the contact details for any witnesses as well as the details of the other driver. Get their address, name, phone number, insurance company details, etc. It is also a good idea to draw a sketch of how the accident happened. Draw the road and cars and the direction they were traveling.
Contact Sarasota personal injury lawyer – This is the best time to speak to your attorney. The sooner after the crash, the sooner they can begin to compile evidence on your behalf.
Some other things you should remember:
Never accept liability at the scene. Apart from making sure people are safe, do not talk about the accident. People can take what you say and twist it for their own needs. Lots of people end up missing out on the compensation they deserve because they apologize on the scene.
Be careful of what you say to any insurance companies after the accident. Once again, they will most likely try and get you to admit fault and lessen their liability.
Should You File a Motorcycle Accident Personal Injury Claim in Florida?
If the accident was not your fault, you should not be out of pocket for your damages or medical bills. The average cost for a visit to the trauma center after a motorcycle accident is around $40,000 dollars.
When the accident isn't your fault, this is a hefty sum to have to find. By speaking to a reputable Sarasota personal injury lawyer, you can avoid being left strung out to dry.
Injuries from an accident can stay hidden for weeks or even months, if you did not lodge a claim, to begin with, your chances of lodging one later on down the line are drastically reduced.
What Types of Damages May be Claimed for?
There is a huge range of variables and different ways that you can claim following a motorcycle accident. Some of the most common forms of damages are:
Property damages – The most common and obvious form of damages you can claim for are for the cost of replacing or preparing your motorcycle after the accident.
Medical bills – Medical expenses can add up quickly after a motorcycle accident, and it is unfair that you have to pay them if the accident was due to the negligence of another party. You can claim for any paid medical bills as well as any future medical costs if you can prove that you will need long term medical help.
Lost wages – If the accident has led to you missing work, if you have to take time off work for your injuries and if you are incapable of going back to work, all of this can be claimed for.
Pain and suffering- If you need financial assistance for any emotional or physical health issues, you can claim damages for these.
Punitive damages- Punitive damages are awarded for gross misconduct or when someone hurts you purposefully with intent.
Wrongful death – If someone you loved has been killed by the negligence of another party, you can seek damages for their death.
A reputable motorcycle accident lawyer in Sarasota will be able to help you calculate these damages.
Is It Necessary to Hire A Motorcycle Accident Lawyer?
No, it is not necessary, although it is highly recommended. When you are seeking a large payout from an insurance company, they will do everything within their power to devalue their claim or even refuse it outright. They will have strong, aggressive legal teams who know the intricacies of Sarasota and Florida law. This puts you at an immediate disadvantage.
By hiring a reputable Sarasota personal injury lawyer, you instantly level the playing field. Your motorcycle accident lawyer will have dealt with a number of cases just like yours and will know exactly how to handle the insurance companies of both parties.
Your Sarasota motorcycle accident attorney will take over the fight for you, allowing you to sit back and focus on your recovery. They will do the paperwork, the negotiation, and will protect your interests.
Research has shown that 90% of personal injury cases where lawyers were hired ended up with a payout, and on average, the payouts are 60% more than those who seek compensation on their own.
So this means that by hiring a Sarasota motorcycle accident attorney, you will have a higher chance of a payout and could receive a higher payout then if you did not have an attorney. You will also have to do much less work and will be able to focus on your health while your attorney fights your corner.
What Affects The Amount You Can Win In A Motorcycle Accident Claim?
There are lots of different factors that influence how much you can claim for a motorcycle accident in Sarasota. The ability of your attorney, the severity of your injuries, and the level of evidence you can provide are all major influences.
Contact The Law Place Today!
Sarasota, like the rest of Florida, is one of the most dangerous places in America to be a driver, a pedestrian, or a biker. This is due to the huge number of under the influence drivers and hit and runs that happen every year.
Being on a motorcycle in Sarasota instantly puts you at a higher risk, then if you were driving in another town from another state. Making sure that you have a motorcycle accident lawyers number saved in your phone could be the deciding factor in whether or not you receive compensation as the result of an accident that isn't your fault.
Here at The Law Place; we have over 75 years of combined experience in dealing with cases just like yours. We aren't afraid to stand toe to toe with an insurance company, and we won't back down, we will help you seek the compensation you rightfully deserve.
If you are thinking about having an emergency motorcycle accident lawyers' number in your phonebook, make sure it's ours.
We are contactable 24 hours a day, 7 days a week and offer a free consultation with no strings attached. Contact us now on 941-444-4444.