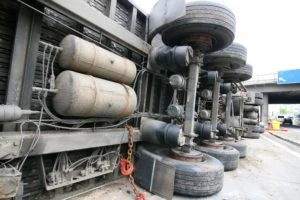 A T-bone collision is when the front of a car or a truck crashes into the side of another vehicle, causing a potentially dangerous car accident. Oftentimes, in Sarasota, a T-bone accident is caused at an intersection, where a driver runs a red light or stop sign and into crossing traffic, and when the driver is driving a large commercial vehicle, the accident can cause even more serious injuries.
At The Law Place, our Florida personal injury lawyers are experienced in dealing with cases involving people injured in truck t-bone accidents. These are exceptionally dangerous accidents, and can often leave drivers and passengers seriously or fatally injured and causing their cars to be entirely crushed or mangled because of the sheer size and weight of a commercial truck in the impact.
If you or a loved one have been involved in a T-bone accident, then you may be entitled to compensation. Call us today on (941) 444-4444 for a free consultation with an experienced personal injury lawyer in Sarasota. Don't take on the Florida legal system and big insurance companies alone; get help from experienced lawyers who are dedicated to getting you the justice you deserve.
Common Causes of Truck T-Bone Crashes in Sarasota, FL
Typically, T-bone collisions occur at intersections as one driver has failed to stop at a red traffic light or a stop sign. However, this isn't the only cause of such an accident. Below are some of the common causes of a T-bone accident:
Failure to stop – Some drivers may not yield or may run red lights, which can cause T-bone collision.
Drunk driving – Drunk driving and Driving Under the Influence (DUI) of drugs slows down a driver's reaction times and impacts their reasoning abilities.
Distracted driving – Drivers face more distractions on the road today than ever before, mainly from using their cell phones. When distracted, drivers are not paying attention to their surroundings, making it easier for them to crash.
Negligent or aggressive driving – This refers to a whole host of driving violations, which can lead to T-bone collisions, however in particular, speeding is a popular cause of many T-bone crashes.
Driver misjudgments – Many T-bone collisions are caused because of driver error, and this can refer to misjudging the gap in traffic or the oncoming traffic speed, which can all lead to a dangerous car accident.
Poor weather conditions – It is dangerous to drive a regular car in poor weather conditions, and so even more dangerous when driving a large commercial truck in such circumstances. The common Sarasota rainstorms, as well as other such weather, can make the roads slippery and impair the vision of drivers.
Fatigue – Drivers that are fatigued often cannot react to situations quickly enough if they notice them at all.
Failure to maintain the vehicle – Not maintaining the truck properly can allow mechanical defects such as brake failure to go unnoticed until it's too late.
Inadequate driver training – Driving a truck is much different from driving a car, and so specified training is required to be able to drive one proficiently, because of how highly dangerous they are. If a driver has not been adequately trained in driving such a large vehicle, then car accidents could easily occur.
Regardless of the cause, if you have been involved in a T-bone crash with a truck, then you deserve compensation. Call The Law Place today to book a free consultation with an accomplished and experienced personal injury lawyer based in Sarasota, north of Port Charlotte, Florida. You don't have to face a big insurance company alone; contact us for the best chance at receiving the justice you deserve.
Our team of dedicated attorneys fight and win for Floridians.
Injuries Commonly Caused by T-Bone Crashes in Sarasota
T-bone accidents can be extremely dangerous. They often result in serious injuries, or even deaths to those in the vehicle struck on the side. This is because, while the front and rear of a car have "crumple zones" which offer protection as they absorb the force of a collision, the sides of cars do not have any "crumple zones." This can extensively increase the severity of injuries sustained, and so have the potential to lead to high medical bills and may permanently affect your lives. In a truck accident, rather than a regular car accident, these injuries can be even more severe because of the large size and weight of the commercial truck involved. As well as this, the speed that the vehicle was moving at can distinctly affect the gravity of the injuries.
Such injuries that can be sustained in a truck T-bone accident include:
Spinal cord injuries, including paralysis.
Neck injuries, such as whiplash.
Broken bones and fractures.
Sprains, lacerations, cuts, burns, and bruises.
Traumatic brain or head injuries.
Internal organ injuries.
Amputation and disfigurement.
Wrongful death.
T-bone collisions can also result in severe damage to the car involved as well as extensive emotional distress to those involved.
If you have suffered any of the above injuries because of a truck T-boning your vehicle, then you should call The Law Place for a free consultation in Sarasota, north of Port Charlotte. Our personal injury lawyers have all the skills needed to ensure you receive all the compensation that you deserve.
Seeking Compensation After a T-Bone Crash in Sarasota, FL
If you have been involved in a car accident, then you may deserve compensation. Car accidents can be life-changing and devastating, and so it is important to us that you receive justice for all you have endured. Below are some of the most common damages that you could receive financial compensation for:
Medical expenses – If an injury that you sustained in the crash meant you had to get medical help and now have medical bills, you deserve compensation to help you pay.
Property damage – If your vehicle was damaged or totaled in the accident, then any money spent on repairing it in Sarasota should be reimbursed.
Loss of wages – If the crash meant that you could not attend your work for a period of time, then you could be owed money to cover your lost wages, past, present, and future.
Pain and suffering – The aftermath of car accidents can often mean that you are suffering mentally, perhaps because you can no longer enjoy things you once used to. If this is the case, then you could be entitled to compensation for your pain and suffering. However, as this is very hard to prove, it is a good idea to have an attorney on your side to help you argue your case.
Loss of a loved one – If you have lost someone close to you because of the crash, then you should receive compensation to cover funeral costs and loss of consortium.
If you have been involved in a T-bone truck accident in Sarasota, then call The Law Place for a free case evaluation. Your chances of winning the case against an insurance company will be higher if you enlist the help of an established law firm, such as ourselves.
We're Florida's top litigation team with over 75 years of combined experience
The Law Place
With over 75 years of combined experience in dealing with Florida law, you can be confident that our accomplished lawyers will be able to guide you and support you through your case. So call us now at The Law Place on (941) 444-4444 for a free case evaluation. Don't face the big insurance companies alone; give yourself the best chance at receiving the compensation you deserve by working alongside our law firm.