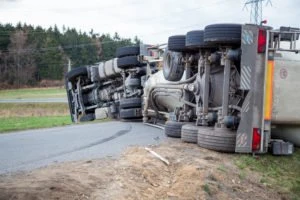 The roads in the US today present a considerable number of dangers for those who use them. In fact, driving a vehicle around is statistically the most dangerous part of the average American's day. There are many things that can cause an accident on the road, from innocent accidents to the negligence of your fellow drivers. However, the most dangerous road traffic accidents in Clearwater are caused by truck accidents. The average truck dwarfs almost every other vehicle type sharing the road with them, and, in a collision, it is often the other party that comes off the worst. Due to their size, it is not uncommon for a truck accident to impact several drivers.
There are additional factors that make a truck driver more susceptible to the errors which lead to an accident. Often, the companies who will employ truck drivers use pay-per-mile incentives to push their employees past the limits of exhaustion that would dissuade the average civilian driver from driving. This increases the probability of fatigue-related truck accidents as well as reckless or negligent driving. As FedEx is one of these large trucking companies, their fleet is responsible for a considerable portion of Clearwater truck accidents.
If you have found yourself involved in a truck accident involving a FedEx vehicle in the last four years, we can help you to receive the maximum amount of compensation for your case. Experienced and knowledgeable legal counsel is even more vital when dealing with a large company like FedEx, as they will employ insurance companies with huge budgets and a long history of devaluing the claims of an accident case.
The Law Place has a team of personal injury lawyers with more than 75 combined years of experience helping to fight large corporations and their insurance companies to achieve the appropriate level of compensation for truck accident injuries. We offer a free consultation at no obligation when they contact us by telephone. Our lines remain in operation all day, every day. Call us on (941) 444-4444 to find out how we can help you.
FedEx Company Statistics
FedEx has a considerable fleet of both trucks and drivers at their disposal to assist them in the huge package delivery operations they carry out on a daily basis.
Thanks to information collected by the Federal Safety Measurement System, anyone can view the size and safety statistics of FedEx Ground Package System Inc. (one of several incorporated companies used by FedEx.)
Their fleet consists of 73,586 vehicles, supported by 110,971 truck drivers. With a fleet this large, it is easy to see how their involvement in truck accidents becomes an inevitability. This is why it is so important to have access to a Clearwater truck accident lawyer experienced in dealing with large corporations, should you need one.
The Federal Safety Management System can also show us how FedEx has accumulated 6,636 total inspections with some form of violation. Additionally, it discloses 2,175 instances of a truck accident involving a FedEx truck driver.
We can also see that they have received 3,249 unsafe driving violations and 2,982 driver inspections with unsafe driving violations. When considering the scale of damage and injuries common to a truck accident, many lives have the potential to be irreparably damaged by corporate negligence.
Finally, there are also a small number of incidents that point to a much larger problem. The federal data discloses 15 drug/alcohol violations and 444 driver fitness violations. Both of these numbers point to the presence of corporate and truck driver negligence that has the potential to cause a devastating accident. These statistics also only include the drivers who have been caught for these things.
Common Problems That Cause a Truck Driver to Trigger an Accident
There are many factors to consider with a truck driver accident that do not apply to most accidents involving a civilian vehicle.
This is due to the tendency of large corporations like FedEx to push their drivers past the regularly accepted point of exhaustion. It is often the case that fatigue contributes to a large number of road traffic accidents. Exhaustion can cause a driver to suffer from lower levels of focus and reaction speed times, as well as increasing the risk of the driver drifting in and out of consciousness or falling asleep at the wheel entirely and losing control. Considering the weight of the vehicles involved in a truck accident, these fatigue-related risks have a particularly high potential for damage.
The average truck driver's wage is directly proportional to the number of miles they cover. This encourages the truck driver to cut down on sleep/ rest periods and cut corners, which can lead to reckless or negligent driving. With this payment system, the trucker is also not paid for non-distance-related parts of their job, such as planning their route, loading their vehicle, partaking in inspections, and following federally mandated rest periods. It can also encourage the use of illegal stimulant drugs to circumvent fatigue, which also contributes to the probability of a truck accident.
As such, seeking justice through a personal injury lawyer following a truck accident caused by a company like FedEx does not just result in justice for you and your injuries. It also helps to make the US roads a safer place by holding large corporations accountable for the risk they add to regular people's lives in the pursuit of ever-greater profits.
What Injuries Are Common in a Truck Accident Case?
The injuries incurred from a truck accident carry a greater risk of catastrophic damage, disfigurement, or even death than in the case of a regular vehicle accident.
Some of the most common injuries as a result of a truck accident case are listed below:
Injuries to the neck and back, causing anything from minor levels of persistent pain to lifelong reduced mobility, or even paralysis.
Fractures and broken bones, which at best can take a long and painful time to heal and at worse, can leave the victim with lifelong complications.
Head injuries, which are particularly dangerous for their potential to cause mobility or mental disabilities that can last a lifetime.
Internal bleeding and other internal injuries as a result of blunt force trauma.
Emotional and psychological distress resulting from the accident, which can leave victims with depression, anxiety, and PTSD.
Disfigurement and dismemberment.
Cuts, lacerations, and burns.
Death.
If you have received any of these injuries as the result of your FedEx truck accident case, the best thing to do is to contact The Law Place today for a free consultation. You should not be made to suffer potentially life-changing injuries without justice and compensation.
What Damages Can a Personal Injury Lawyer Help Me Claim?
There are several categories of damages that a personal injury lawyer can help you to claim in a truck accident case. Some will concern the physicality of your injuries, while others will concern the lasting financial, emotional, and mental implications of your accident.
The damages most common to a truck accident case include:
Medical expenses – Astronomical medical bills can compound the already distressing period following a truck accident with financial complications. However, an experienced law firm can help you to recover the cost of your medical bills if you retain all of the documentation concerning your medical costs.
Lost wages – Another financial complication in a truck accident can be the time you are forced to spend off from your job while you recover. Again, these lost wages can be recovered by a law firm if you retain all correspondence with your employer concerning the time you have been forced to take off work.
Pain and suffering – The level of injury incurred in a truck accident will often lead to additional complications. Pain and suffering damages consider the duration and pain level in your specific recovery process. They also look at the levels of emotional/mental distress and any lasting implications of injuries sustained in your accident case.
Wrongful death – A truck accident case carries an increased risk of catastrophic damage, which can lead to a fatality. While no monetary sum will make this easier, wrongful death damages will lighten the financial load associated with the loss of a loved one and make it easier for you to grieve, free from unnecessary additional anxieties.
To find out what damages will be relevant for your specific truck accident case, call us for a free consultation today. Here at The Law Place, we will make it our mission to recover as much compensation as possible for the various damages you have received.
How Does the Florida Statute of Limitations Impact Claiming for a Truck Accident?
The statute of limitations refers to the amount of time that can elapse following your truck accident, where you are still entitled to claim for compensation. Florida Statute 95.11 states that you have four years after the precise date of your accident in which to make a claim.
However, it is worth remembering this is a maximum amount of time, not a recommendation. It is highly advisable that you begin the process of claiming for compensation immediately. This is due to the possibility of evidence, such as eye-witness accounts and the specific state of the accident scene, becoming lost or unavailable over time.
Additionally, companies like FedEx will have access to expensive teams of lawyers who will waste no time in building the most solid case possible to devalue your claim. You do not want to give these insurance companies a head start. Call The Law Place today for a free consultation and begin the process of building a solid case to achieve as much compensation as possible for your truck accident.
Contact The Law Place Today
If you have suffered in a truck accident that occurred in the last four years, contact us today.
We offer every client a free consultation at no-obligation. Our contingency work also means that you will not pay a single cent until the finalization of your settlement, and you will pay absolutely nothing for an unsuccessful case. There should never be any risk involved in trying to recoup compensation for events that were not your fault. Help make America a safer place for everybody by contributing to holding corporations accountable for the avoidable dangers they put on our roads to maximize their own profits.
The telephone lines at The Law Place remain open 24 hours a day, 7 days a week. Get the ball rolling on achieving the compensation you deserve for any injury and any complications by calling an experienced member of our team today. Give us a call on (941) 444-4444.