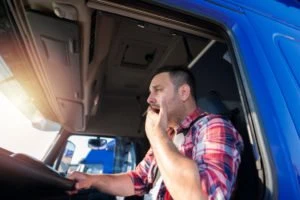 America has a booming trucking industry. Truck transport is the most suitable and most commonly used way of transporting goods across the United States. Accidents involving large commercial trucks are common in Clearwater; after all, every day, they transport materials and goods that are necessary for businesses to run. We rely on them enormously, and without them, we wouldn't have any of the daily things we take for granted, like fresh produce and clothing. However, due to long hours of driving and tight deadlines, truck drivers can easily become fatigued on the road.
These commercial vehicles are usually large and heavy vehicles, especially when full of goods. This means that crashes can be very serious and have severe consequences.
Due to this, the restrictions placed upon commercial truck drivers and the laws around what happens when they crash are a lot more complex than a car accident between two normal citizens. When it comes to commercial truck accidents where the driver is being accused of being fatigued, it can be extremely difficult to investigate thoroughly. The investigations can be expensive, and the case can be a lengthy one.
Here at The Law Place, we know the ins and outs of truck accident law in Florida. If you've been involved in an accident with a fatigued truck driver in the Tampa-St. Petersburg-Clearwater metropolitan area, contact us today for a free consultation on (941) 444-4444. Our law group has dealt with cases from both the side of the driver and the victim and will be able to advise what the best course of action is for you to take. During a free consultation with us, you will get free unbiased and honest advice from a personal injury lawyer who will provide no-obligation advice specific to your case.
Who Is Liable in a Truck Accident in Clearwater, FL?
When it comes to a truck accident in Clearwater, there are lots of variables involved. Not only are commercial trucks a lot larger than other vehicles, but there are also a lot more parties who could be considered liable.
Unlike car accidents, there are more parties that are involved in a truck accident when it comes to liability. These parties can include a truck drivers' employer, the manufacturer, and third party contractors as well as the insurance companies behind each of the parties.
Truck drivers often have different relationships with different parties. For example, they may be independent contractors, working for themselves; they could also work solely for one company transporting their goods for them.
Independent drivers who own their own truck and accept contracts on a freelance basis have different responsibilities in terms of liability.
This means that in terms of accident cases, your Clearwater truck accident lawyer will have to figure out who to seek in terms of placing liability. Determining this is really important as it dictates which insurance company will need to be approached for compensation.
Here are the parties that may be at fault:
Truck driver – Perhaps it was the trucker's negligence or dangerous driving that caused the accident. Truckers too often drive when they are tired or distracted. Even worse, they may be impaired by alcohol or drugs (both prescription and over-the-counter drugs and illegal recreational drugs). They also might get road rage and react aggressively by speeding or tailgating. All of these practices can lead to a crash.
Trucking company – The company that hires a truck driver could be held liable for the driver's negligence. Some companies push drivers too hard and allow them to violate laws and regulations in order to make deliveries on time. Some agency drivers who lack proper training or have a hidden history of driving violations of crimes and accidents. Companies may also fail to properly inspect and maintain their trucks.
Cargo owners or handlers – Abruptly breaking will change the balance of a large truck and may make it to roll or force the driver to struggle to control the truck and crash. Cargo shifts typically occur because cargo has not been properly loaded and secured. Some companies load their own cargo. However, many companies and independent truckers have to help and load their own truck cargo. Whoever is at fault for loading the cargo wrong can be held accountable.
Truck or truck parts manufacturers or distributors – Many parts and mechanical systems have to work in unity together for a truck to safely travel on the highway. This includes brakes, tires, steering, and lights. An investigation may reveal that a faulty truck part or a wrongly installed piece of equipment may have caused the accident. A product liability claim would seek compensation from a manufacturer or distributor.
Driver Fatigue and Its Contribution to Accidents
The biggest cause of truck accidents is due to driver fatigue. Driver fatigue leads to thousands of avoidable truck accidents every single year in Clearwater alone. To help counteract this there are federal trucking laws knows as Hours of Service (HOS) which are regulations that govern:
How much time a driver can drive their truck in a single period before taking a rest.
How much time a truck driver needs to take off between each shift.
How many hours a week, a truck driver is allowed to work.
Often, truck drivers will lie on their driving logs in order to drive for longer and earn more money. Some companies even encourage this even though it is against the law.
Fatigue happens for a number of reasons; the most common we see in Clearwater are:
Driving for long stretches at night.
Driving schedules that are erratic and have no schedule.
Bad health habits of drivers like poor eating and lack of exercise.
Having to help load and unload the truck for the customers or businesses.
Fatigue is so dangerous that The National Transportation and Safety Board (NTSB) released data that suggests that fatigue plays a part in over 30% of trucking accidents.
Common Damages a Truck Accident Can Cause in Clearwater, FL
If you are involved in a truck accident, just like with any other personal injury or accident case, anyone injured through no fault of their own is entitled to seek compensation for any damages they have received. These include:
Medical bills – Any bills that have to be paid for an injury caused by someone else. Projected medical bills for the future can also be accounted for.
Surgery and other medical treatment costs – If you have had to undergo surgery due to your accident, the other party will have to pay for this if they are found liable.
Rehabilitation fees and procedures.
Nursing home care costs – If the accident has lead to the victim having to be moved into a nursing or assisted living home, all costs involved will be claimable.
Lost income during the incident – For the time that you have to spend off work, you can claim all lost earnings.
Loss of earning capacity in the future – If you cannot go back to work, you can claim for all future loss of earnings.
Mental and emotional suffering.
Disfigurement and permanent scarring.
Loss of enjoyment of life – If you can no longer play the piano or do a sport you enjoy, this can be calculated and claimed for.
In rare cases, the victim's family can claim for something call loss of consortium. This is where they feel that due to the accident, the victim can no longer have the same relationship they had before. For example, if the truck accident has left you paralyzed, you may not be able to have a healthy sex life with your spouse.
Truck Accident Settlements in Clearwater, FL
After being involved in an accident with a truck driver, it is important to protect your health. When medical bills begin to pile up, this can often lead to victims accepting a low-ball settlement figure from the insurance company in order to cover their growing medical bills.
It is always worth remembering that insurance companies always have their best interest at heart. This means that no matter how friendly and accommodating they sound, you should take time to discuss anything they offer with your Clearwater truck accident attorney.
Florida's Statute of Limitations
Although every single injury case is as unique as the individuals involved, there are still some laws that apply to everyone; for example, the state statute of limitations (Florida Statue 95.11). This law states that you only have four years from the date of your accident to make a claim, or it will be forever barred, and you will never be able to make a claim relating to it ever again.
The other time-sensitive matter is much more urgent. After an accident, the evidence is still fresh, but accident scenes are cleaned quickly. First responders, who deal with cases every day, may have less memory of what happened. And witnesses may be less likely to come forward. The sooner you get in touch with a lawyer, the more likely they will be able to find fresh evidence which they can use to help your case and win you a better settlement.
Contact the Law Place Today!
Here at The Law Place law group, we are not just an ordinary law firm. We built our team of established Florida lawyers by picking lawyers with a wealth of skill and knowledge under their belt. The personal injury lawyers at our law group have dealt with cases just like yours for over 75 years collectively and take our roles as your advocate extremely seriously.
Your lawyer will use all of the resources at our disposal to thoroughly investigate your truck accident. Our main priority, though, is listening to each individual and their needs.
Give us a call for a free consultation today on (941) 444-4444 and let us take the weight off your shoulders.