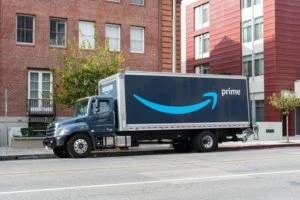 It is common knowledge that America's roads are somewhere where it is entirely possible to get into an accident. However, something few people realize is that driving a vehicle is the most high-risk activity involved in the average person's day. While a road traffic accident can take many different forms, one of the most dangerous forms of road accident is one which involves a truck. This is because a truck boasts a much more considerable size and weight than a regular car and can therefore inflict a larger amount of damage and greater injuries.
Another thing that makes a truck accident more likely to occur than a regular car accident is the unique conditions present when working for a large trucking company. Large companies like Amazon often work with payment schemes which reward driving an unsafe distance in as short a time as possible. Paying per mile in this way encourages drivers to ignore their fatigue and also leads to a greater rate of negligent driving as well as other health and safety shortcuts, which can increase the probability of a truck accident.
If you have found yourself involved in a truck accident involving an Amazon delivery truck any time in the last four years, it is likely that you could be entitled to compensation. Putting forward a case against a large corporation like Amazon can be incredibly intimidating due to the amount of money they have at their disposal to provide the very best legal defense. However, The Law Place has over 75 years of combined experience fighting these sorts of corporations to achieve the compensation you are rightfully owed.
The Law Place in Clearwater has an extensive team of experienced and knowledgeable personal injury lawyers. We also offer each prospective client a no-obligation free consultation. If you would like free legal advice specific to your case, please get in touch with us any time, day or night. Our lines remain open 24 hours a day, 7 days a week. Contact us on (941) 444-4444 today!
Who Is Liable for an Amazon Delivery Truck Accident in Clearwater?
If you were involved in an accident that involved an Amazon delivery truck, you can file a case against the delivery truck driver and their employer. It is often the case that a third-party delivery company is utilized. In this situation, the case would be filed against that specific trucking company instead.
If an individual truck driver is responsible for the truck accident you were involved in, they can be sued separately from their employer. This may seem harsh, as these drivers are often under a lot of pressure from their employer to cover as much mileage as possible in a short time. However, they may also be able to sue their employer for negligence if that company has broken federal laws against applying this kind of pressure to their employees.
You can also file a case against the trucking company which employs the truck driver for applying this illegal pressure. They may have made other errors that breached their duty of care, such as improperly maintained vehicles, safety checks, or negligent hiring. It is important that they are not allowed to get away with such actions.
The best way to know which of these applies to your specific case is to get in touch with a Clearwater truck accident lawyer at The Law Place for a free consultation. Following your description, a lawyer from our team will be able to give you an idea of the process involved in your specific case.
How Pressure From a Trucking Company Can Increase the Likelihood of a Truck Accident
There are several problems with large trucking companies and drivers like those at Amazon. Most of these problems arise from truck driver fatigue. The way exhaustion impacts drivers is is a common contributor to both truck and car accidents. A fatigued driver will have their focus and reaction speed decreased, as well as having a greater risk of falling asleep at the wheel and losing control of the vehicle. However, often a trucking company will push their drivers past fatigue barriers that would normally be obeyed by civilian drivers through mileage pay incentives.
Truck drivers are often paid per mile. This is made worse by the fact that these truck drivers have additional responsibilities which take up their time without adding to their mileage, such as route planning, loading their truck, truck inspections, and waiting times both while the truck is loaded and in the form of federally-mandated periods of rest.
All of these pressures have the impact of ensuring that drivers make unsafe sacrifices to maximize their efficiency. It is often the case that a truck driver will minimize their time spent sleeping or on break and push themselves beyond the normal constraints of exhaustion to ensure they are paid fairly. This can also encourage the use of illegal stimulants, which run the double risk of increasing fatigue (once they wear off) and causing the risks associated with intoxication.
When you utilize a truck accident lawyer from The Law Place in your accident case, you are not only helping yourself to achieve the compensation you deserve but also helping to make America a safer and more accountable place by holding large corporations within the bounds of the laws they so frequently flout.
Examples of Common Injuries Resulting From a Truck Accident in Clearwater
As covered earlier, a truck accident is often the cause of much more catastrophic injuries than a simple car accident due to the considerable bulk of the average truck. Accidents involving trucks are much more likely to lead to injuries, which can cause lifelong disabilities, disfigurements, and even the loss of life.
A non-exhaustive list of common injuries possible from a truck accident would include:
Back and neck injuries, ranging from minor yet consistent levels of pain to cases of reduced mobility or paralysis.
Broken bones and fractures.
Injuries to the head that can often result in disabilities, which can impact mobility and mental/emotional capabilities.
Blunt force trauma with the possibility of internal injuries.
Emotional distress, such as depression, anxiety, or recurrent post-traumatic stress disorder (PTSD).
Wrongful death.
If you have been involved in a truck accident that has resulted in any of the previous injuries, an accident lawyer from The Law Place can help you to recover compensation.
What Are Some Examples of Common Damages Claimed Following a Truck Accident in Clearwater?
Your truck accident lawyer can help you to claim several different types of damages following an accident of this kind.
The most common damages that your truck accident lawyer can help you to achieve includes:
Medical bills – Depending on the severity of your accident injuries, medical expenses can sometimes cause even more problems than the physical injury itself. Your truck accident lawyer will be able to assist you to recoup these expenses. It is advised that you retain all documentation concerning your medical expenses to make this process as easy as possible.
Lost wages – Your Clearwater accident lawyer will also be able to assist you in the recovery of any lost wages which you were unable to earn due to time spent off work while in recovery. Once again, retaining correspondence with your employer detailing any time spent off work will make this process much more straightforward.
Pain and suffering – This is a category of damages that will take into consideration any other complications surrounding your injuries. Pain and suffering will consider the pain level and length of your recovery process, any permanent impact on your life in the future, and the mental distress levels you suffered as a result of your truck accident.
Wrongful death – While we understand no sum of money will make the pain of the death of one of your loved ones go away, wrongful death damages can make it easier to grieve uninterrupted. They can also help with the cost of the funeral and burial.
Is There a Time Limit for Making a Truck Driver Accident Claim in Clearwater?
According to the time limits set forth in Florida Statute 95.11, you have exactly four years to make a claim following from the exact date of your delivery truck driver accident.
However, while you may have four years to make a claim in the eyes of the law, we would recommend contacting a Clearwater accident lawyer as soon as possible.
This is because evidence that is essential in maximizing your compensation can become lost over time. The scene of the truck driver accident may become altered, eyewitnesses may become unavailable, and many other things can change that can impact the overall strength of your case.
There is also the additional fact that the companies which employ the truck driver responsible for your accident are often large corporations. They will have money set aside for legal fees and teams of expert lawyers who specialize in disproving or lowering the settlement amount in accident cases. For this reason, if you want to receive the maximum amount of compensatory justice that you deserve, you do not want these teams to get the upper hand by getting a head start on your truck accident.
How Much Will My Clearwater Truck Accident Lawyer Cost Me?
Beginning the process of working towards achieving the compensation that you deserve following an accident case can be extremely daunting.
Thankfully, one of the things The Law Place can offer you is the fact that we take on all our cases on a contingency basis. What this means is that you will incur no legal fees up until the finalization of your settlement, when your legal fees will be subtracted from the amount you are awarded. This also means, in the event of an unsuccessful case, that you will be charged nothing at all.
All of our contingency work is strictly monitored and regulated by the State Bar Association, so you can be safe in the knowledge that you are in fair and trustworthy hands.
Contact The Law Place Today
If you have suffered from a truck accident involving an Amazon truck or a truck driven by one of many third-party companies that deliver Amazon products in the last four years, it is likely that you are owed compensation. This compensation can be maximized by one of the experienced lawyers from our team at The Law Place in Clearwater.
If you would like additional legal information or to discuss the specifics of your accident case, all you need to do is give us a call. We offer a free consultation at no-obligation because we believe that nobody should have to take a risk to be compensated for an accident that was not their fault. Our lines are open 24 hours a day, 7 days a week. Contact a team member on (941) 444-4444 today!