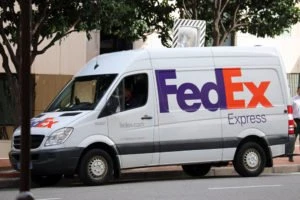 Large trucks pose a particularly large threat to civilian drivers and pedestrians alike on the roads of America. Although very few large truck companies like FedEx are based in Fort Myers, FL., most conduct their operations country-wide. This means that you could still be at risk of a Florida truck accident. Additionally, the weight and size of haulage trucks in comparison to regular cars means they are capable of a lot of damage. Often, the actions of large trucking companies push their employees to drive unsafe distances in short times and further increase the risk of a truck accident.
If you or a loved one were involved in a truck accident involving a FedEx vehicle in Fort Myers, FL., in the last four years, it is highly likely that you could be entitled to compensation for your injuries and damages. If this is the case, the team of personal injury lawyers at The Law Place have more than 75 years of combined experience winning compensation for those involved in truck accidents.
If you would like to receive a no-obligation free consultation, protected by the attorney-client relationship, look no further than The Law Place in Fort Myers, FL. We operate our telephone lines 24 hours a day, 7 days a week. Additionally, all of our accident and injury cases are no-win-no-fee. We strongly believe there should be no risk involved in seeking compensation for events that were not your fault. Contact us on (941) 444-4444 today for more information and free legal advice!
Statistics Concerning the FedEx Truck Company
FedEx hosts a staggering fleet of both trucks and the truck drivers they employ to drive them. They are a common fixture on American roads, delivering packages across the country each and every day.
The federal Safety Measurement System collects and displays figures and safety statistics about all of America's large truck companies. In this section, we will be referring to figures from the FedEx Ground Package System Inc., which is one of several companies utilized by FedEx.
The fleet for FedEx Ground Package System Inc. consists of 73,586 separate vehicles driven by 110,971 truck drivers. When you consider how large this fleet is, it becomes easy to imagine the chances of becoming involved in a truck accident involving a FedEx truck in Fort Myers. This is why access to a truck accident lawyer is so important.
The Safety Management System displays how FedEx has a total of 6,636 inspections that received some form of violation. It also discloses how there have been 2,175 FedEx truck accidents recorded. Additionally, their truck drivers have been on the receiving end of 3,249 violations for unsafe driving and 2,982 truck driver inspections that resulted in unsafe driving violations.
There are also small numbers of statistics that point to a larger problem. There are 15 recorded drug/alcohol violations, as well as 444 violations for truck driver fitness. This points to a larger root cause for Florida truck accidents, which will be explored in the next section.
Why Are Truck Drivers a Greater Source of Accident Risk in Fort Myers?
Aside from the fact that large trucks and tractor-trailer vehicles pose a formidable threat to drivers involved in accidents because of their huge bulk, there are additional complications on the part of trucking companies that make a truck driver more likely to be involved in an accident.
These complications can often find their root cause is the fact that large trucking companies place profit over the safety of their employees and, by extension, those who share the road with them.
Common contributors to truck driver risk include:
Fatigue – Fatigued driving can be traced as the cause of many of America's road accidents. Driving while tired not only means you run the risk of losing control of your vehicle by falling asleep at the wheel, it also lowers your levels of focus and impacts reaction speed. A truck driver will spend countless hours behind the wheel, and their pay-per-mile schemes encourage them to be flagrant with their own exhaustion in order to earn a fair living wage.
Pay-per-mile schemes – As mentioned above, pay-per-mile inadvertently causes an increased risk of fatigued driving. However, it also means that a driver does not get paid for the many other logistical tasks their job entails. These include contributors to fatigue like federally mandated break periods but also add additional risks by forcing the driver to rush loading and unloading their vehicle, safety inspections, and route planning.
Negligent hiring – When hiring a truck driver to work, it is incredibly important to carry out the necessary background checks to ensure they have the correct level of training and no history of reckless or intoxicated driving. However, this is often not the case. By cutting corners on background checks, large companies like FedEx put many people on the roads of Fort Myers at unnecessary risk.
Maintenance – Another place where a company could cut corners is the maintenance and inspection of equipment and vehicles. This is especially problematic with large fleets like those held by the FedEx truck company. Improperly maintained and inspected equipment is much more likely to go wrong, putting other drivers at risk of involvement in a truck accident.
As you can see, there are many ways the profit-pursuing actions of a large trucking company can contribute risk directly to your life. However, you can help to hold corporations accountable for their actions through your own personal injury case. This means the benefits of a successful case are twofold; you achieve compensation for your injuries and contribute to improving corporate justice.
Injuries Commonly Incurred in a Fort Myers Truck Accident
The large trucks and tractor-trailer vehicles utilized by FedEx truck companies are capable of catastrophic damage.
Injuries that are common to this kind of accident include:
Neck and back injuries, which can run the risk of leaving you with lifelong complications ranging from twinging pain to mobility issues and paralysis.
Fractures or bone breakages. While usually, a broken bone is simply a long and painful healing process, certain fractures can result in lifelong mobility issues.
Head injuries, which are particularly risky due to the possibility of brain injuries that can leave the victim with emotional issues, mental incapacitation, and various movement difficulties.
Internal injuries or bleeding from blunt force trauma.
Lacerations, cuts, burns, and bruises.
Emotional complications such as periods of depression, persistent anxiety, loss of enjoyment of life, and post-traumatic stress disorder (PTSD.)
Possible fatalities.
If you have received any of these injuries as a result of a FedEx truck accident or tractor-trailer accident, you could be entitled to compensation for the damages done to you.
What Other Damages Can Be Claimed Following a Truck Accident?
Trucks can cause considerable damages and complications beyond simple physical injuries. An accident lawyer from The Law Place can help you to achieve compensation for several different types of damages.
The most common damages following accidents involving trucks include:
Reimbursement of medical expenses.
Reimburse of additional costs associated with complications in your recovery process, such as transportation and childcare.
Wages lost through your recovery process.
Property damage.
To find out which specific damages apply to your accident claim, call The Law Place for a free consultation today. One of our experienced team will talk you through how much compensation you could be entitled to.
What Is the Florida Statute of Limitations for Truck Accidents?
The Florida statute of limitations set forth in Florida Statute 95.11 means that you have exactly four years from the date of your accident in which to make a claim.
While this may seem like a long time, there are many benefits to seeking legal counsel and beginning your case as soon as possible.
As time passes, the scene of your accident may become disturbed, and evidence vital to building you a strong case may become lost. Similarly, it will become increasingly difficult and costly to track down those vital eye-witness accounts.
Another reason for not wasting time is the legal budget of large trucking companies like FedEx. They will have expensive teams of lawyers and claims adjusters whose entire purpose is to minimize the amount of compensation you can achieve. For that reason, it is vital that you do not give them a head start on your case.
How Much Will a Truck Accident Lawyer Cost?
Financial anxiety is a common aspect of truck accidents. Between the cost of medical bills, other unexpected costs, and the impact of wages lost while recovering, you may believe that you simply cannot afford reputable legal representation.
With The Law Place, this could not be less true. We operate all of our cases on a contingency basis, which means that your claim will be no-win-no-fee. Even if your claim is successful, all legal fees will only be subtracted from your settlement once it has been finalized. Not a single cent will be taken directly from your pocket, whether your claim is successful or not.
All contingency work undertaken by The Law Place is strictly monitored by The State Bar Association, so you can rest assured that there will be no surprise costs involved.
FAQ – Ft Myers Fed Ex Truck Accident Lawyer
Why should I hire a truck accident attorney if I've been in an accident involving a FedEx truck?
Hiring an experienced truck accident attorney can significantly impact the outcome of your case. These types of trucking accidents often involve multiple parties, including the truck driver, the trucking company, and insurance providers. A knowledgeable attorney can navigate the complexities and help ensure you receive the full and fair compensation you deserve.
What are common causes of truck accidents involving commercial trucks like FedEx?
Several factors can lead to dangerous accidents involving commercial trucks. Common causes include driver fatigue, drowsy driving, distracted driving, failing to obey traffic signs, and inadequate driver training. Sometimes, truck drivers speed or even fall asleep at the wheel, leading to severe or even fatal truck crashes.
How do state and federal laws impact my truck accident case?
State and federal laws set standards for commercial vehicle operations, including hours of service, maintenance, and driver training. An experienced truck accident attorney is well-versed in these regulations and can determine if any violations contributed to the truck collision, making it easier to identify the liable parties.
What types of compensation can an accident victim expect from a truck accident lawsuit?
Accident victims can seek compensation for both economic and non-economic damages. This includes medical treatment costs, lost wages, property damage, pain and suffering, and in tragic cases where fatal injuries occur, families can file a wrongful death lawsuit.
Are FedEx truck accident cases different from regular car accident cases?
Yes. While both types of cases revolve around accidents on the road, truck accident cases often involve commercial trucks, which are governed by specific federal laws and regulations. The insurance policies for commercial vehicles are also typically larger than those for personal vehicles, leading insurance companies to fight harder against claims.
What should I do immediately after a truck crash in Ft Myers?
First and foremost, prioritize safety. If possible, move to a safe location. Call 911 and receive medical treatment, even if you think you're unharmed; some truck accident injuries, like traumatic brain injuries, might not manifest immediately. Document the scene, gather witness information, and contact a law firm with experienced truck accident lawyers to discuss your legal options.
How does driver fatigue contribute to serious accidents involving FedEx trucks?
Driver fatigue is a leading cause of trucking accidents. Due to long hours on the road, some truck drivers become drowsy, reducing their reaction time and impairing judgment. This can lead to them missing critical cues or even falling asleep while driving, resulting in serious or fatal accidents.
How will the legal team at The Law Place help me with my truck accident case?
Our legal team will conduct a thorough investigation into your accident, gathering evidence, consulting with experts, and working tirelessly to ensure all liable parties are held accountable. With a comprehensive understanding of both state and federal laws governing commercial vehicles, our lawyers will strive to secure the compensation you deserve.
Can I still get compensation if the FedEx truck driver claims they weren't distracted at the time of the accident?
Yes. While distracted driving is a common cause of trucking accidents, other factors, like driver fatigue, failing to adhere to traffic signs, or not having a properly maintained vehicle, can also play a role. Our truck accident lawyers will investigate all angles to establish negligence.
How do insurance companies typically respond to truck accident claims?
Insurance companies are in the business of making money, and paying out claims affects their bottom line. As such, they often employ tactics to minimize or deny claims. This is why it's crucial to have an experienced truck accident attorney by your side, ensuring you get the fair compensation you need to cover medical treatment and other damages.
Contact The Law Place Today
If you have been unfortunate enough to find yourself involved in a truck accident with a FedEx vehicle in the last four years, get in touch with our team of experienced truck accident attorneys at The Law Place today.
There is no risk involved in making your claim. From the outset, we will offer you a legal road map in our free telephone consultation. Nobody should be at risk for accidental damages incurred by you except for the one at fault.
Contact The Law Place today. Our telephone lines are open any time of the day or night, 7 days a week. Call (941) 444-4444 as soon as possible to find out how we can help you receive the maximum amount of compensation for your specific truck accident claim.