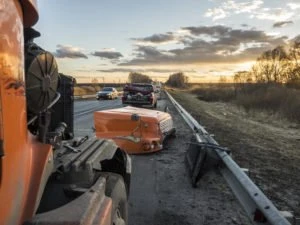 When truck cargo is not adequately secured to the truck, it can become a serious safety hazard to everyone on the road. Regardless of how small the item falling is, it can have catastrophic consequences, and so any truck driver should be vigilant when securing it, so it can't fall or move and cause the vehicle to become unstable.
If a truck's load comes loose and falls into the road, they can cause accidents, whether it's because they fall onto a car or land on the road, becoming an obstacle and causing cars to swerve dangerously. This can cause potentially fatal injuries, all because of the trucking company and its driver's negligent actions.
Crashes caused by unsecured loads are, unfortunately, common all over Clearwater, and throughout the entire United States. The AAA Foundation for Traffic Safety found out that, within a three-year period, 39,000 people were injured in an accident caused by debris in the roads in the US, and a further 500 were killed. Not only this, but two-thirds of these accidents were caused by items falling from a vehicle, often a truck, because of unsecured loads and inadequate maintenance and care.
If you were injured in an unsecured loads truck accident, then you may deserve compensation. We know that these sorts of cases can be very complex, so it would be unwise to try to fight for justice alone. At The Law Place, we understand that being involved in this type of truck accident can be devastating, and we have the skills and determination necessary to give you the best chance at winning the highest possible amount of compensation possible. Our personal injury lawyers have over 75 years of combined experience in dealing with Florida law and cases like yours, so call us today at (941) 444-4444 and schedule a free consultation today.
How Unsecured Loads Truck Accidents Happen in Clearwater, FL
There are many different types of truck accidents that could occur because of unsecured loads, and a number of reasons why these objects or debris fall off the truck. The severity of injuries sustained in the accident often depends on the type of accident, the cause of the object falling, and more factors. Most of the reasons that debris or objects fall off a truck are listed below:
Failing to follow industry and safety standards while securing the load.
Overloading the truck beyond the recommended capacity.
Using inadequate equipment or supplies when attempting to secure the load.
Failing to check that the load is still stable at different intervals throughout the journey.
Excessive speed when driving with the load, as this can cause objects to come loose, even if secured properly.
Regardless of whether you know the cause for the objects or debris falling from the truck, you may still deserve compensation if you have been in a truck accident caused by unsecured loads. By calling our law firm, you will be ensuring that an experienced Clearwater truck accident lawyer will be investigating your lawsuit and building up a strong case against the at-fault party. So, contact The Law Place today to book a free consultation!
Our team of dedicated attorneys fight and win for Floridians.
Unsafe Truck Loading Liability in Clearwater, FL
If a truck is improperly loaded, then it is often because of someone's negligence. This means that if unsafely loaded cargo caused a truck accident, and you were involved and injured, then you could hold someone responsible for loading the truck liable for your injuries. If your case is successful, then the person responsible will owe you financial compensation.
However, to be able to do this, you must be able to prove that the at-fault party was negligent, as this is what forms the basis of liability in most truck accident claims. To prove negligence, you will likely need to be able to prove the following:
The at-fault party had an obligation or duty to use care under those circumstances.
They then violated or breached their duty of care through their actions or their failure to act.
This caused your injuries and damages because of the breach.
Not only this, but there may be several different parties that were responsible for the unsafe loading of the truck that caused your accident. For example, a shipping or trucking company may do the actual loading, but truck drivers may also be required to check the load is still stable at certain intervals during the journey. Therefore, an investigation may need to take place in order to determine exactly what caused the accident, and who in particular, was responsible for this. The most common at-fault parties are listed below:
Truck drivers – Truck drivers are usually responsible for inspecting the load before they leave and checking the load periodically during the journey, particularly if it is a long one. However, even if they failed to do so, it may still not be their fault if they have enclosed cargo loaded on their truck and have been instructed not to open it. Another way they could be held accountable for truck accidents is if truck drivers were speeding excessively, which may have caused the cargo to become loose, even if it had been properly loaded in the first place.
The trucking company – Trucking companies have a duty to ensure that their employees have received adequate training on how to drive a loaded truck and dealing with cargo. They are also responsible for ensuring their drivers have the experience necessary when taking each load.
Third parties – Sometimes, a third party that loaded the truck is at fault, as they did not load the truck properly, whether this is because they overloaded it or just did not secure it safely. Occasionally, this may be classed as the trucking company's responsibility.
Working out who is to blame for the accident can be a very complicated process, and then having to find evidence to prove that they were negligent can be even harder. This is why it is recommended that you contact a law place and speak to a skilled truck accident lawyer who will be able to advise you and do most of the hard work for you. At The Law Place, our personal injury lawyers have the experience necessary and would be able to thoroughly investigate your case on behalf of you and build up your case. So, call us today for a free consultation, to move one step closer to being awarded the compensation that you deserve.
We're here to serve you. Our phones are open 24 hours a day.
Damages Commonly Awarded in Unsecured Loads Truck Accident in Clearwater, FL
At The Law Place, we know how difficult it can be for the victims of truck accidents when dealing with the injuries and trauma caused by a truck accident. Not only this, but they then may be burdened with financial losses because of an accident that was not their fault. Our law firm is dedicated to ensuring that you receive compensation for the trauma you have endured to help you with the extra worry of these bills and to offer you proof that justice has been served. Below is a list of the common damages that The Law Place recovers compensation for in truck accident cases:
Lost wages – If the injuries that you sustained in the truck accident left you unable to work, then those wages that you lost should be covered by compensation. This includes any past and future earnings that you may miss out on.
Property damage – If the accident also damaged your vehicle, then you should receive compensation to cover the costs of any repairs needed in Clearwater.
Medical bills – If the injuries that you sustained in the accident meant that you had to visit a doctor or hospital and you now have medical bills because of this, then you deserve compensation that will cover those expenses. Not only does this include past, present and any future medical costs, but also related expenses, such as travel to and from any appointments.
Pain and suffering – If the accident left you with mental trauma, and you are now suffering emotionally because of this, you may be entitled to compensation. However, as this can be incredibly hard to prove, it is a good idea to get in touch with a law firm and work with a lawyer to give you a better chance at proving the pain and suffering that you are now experiencing.
Wrongful death – If a loved one was lost in the accident, then you can file a lawsuit and receive compensation to cover funeral costs and loss of consortium.
The losses caused by truck accidents can be devastating. While money will not be able to fix the injuries and trauma that the accident left behind, it can cover any financial burdens that you are now suffering from, and serve as closure and proof that justice was served, which can be very influential in your personal recovery. Because of this, you should not leave your case in the hands of amateurs. Our Clearwater lawyers have all had a great experience in dealing with truck accident cases, and so you can trust that they will handle your case skillfully and efficiently. They will be able to guide and support you through the complicated legal system and give you the best chance at winning, so call The Law Place now to schedule a free case evaluation.
We're Florida's top litigation team with over 75 years of combined experience
The Law Place
If you have been involved in a truck accident that wasn't your fault, then you may deserve financial compensation. The Law Place offers everyone involved in an accident a free consultation, where a personal injury lawyer will be able to assess the validity of your claim and offer you some free legal advice. If, after this meeting, you wish to proceed with us, then we will book you in for a more in-depth case review.
Our highly trained team will then conduct a thorough investigation into the events of the truck accident, and speak to the truck driver, trucking company, and everyone else involved in the accident and the loading of the truck's cargo. We will contact any and all eye-witnesses and gather their statements. We will also recover the EDR or black box from the truck, which will help us determine whether the driver's driving was the cause of the accident.
You can rest assured that the lawyers at our Clearwater law firm will do as much as possible to build a strong case and prove that you deserve compensation. Our attorneys are here to help you in any way possible and help you bear the burden of your accident, so you can relax and focus on healing, and not the complicated legal matters. And don't worry about the cost: all our attorneys work on a contingency basis, which means that you will not be charged anything upfront. In fact, if the case is unsuccessful, then you will not be charged anything.
So, if you or a loved one have been injured in a truck accident caused by an unsecured load, then don't suffer on your own. Call The Law Place at (941) 444-4444 to speak to an experienced Clearwater lawyer today in a completely free case evaluation!