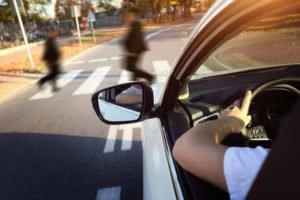 According to Smart Growth America, Florida has the highest amount of pedestrian fatalities. This is because streets have been designed for the easy movement of vehicles while remaining unsafe for pedestrians.
When a pedestrian is hit by a motor vehicle, they have very little protection. Therefore, it is common for any injuries sustained to be severe, resulting in large medical bills and physical and emotional pain that can be life-changing. If you have suffered an accident as a pedestrian, then you could be entitled to compensation.
In Clearwater, navigating the law can be complex. You will likely have to face the driver's insurance company, who will have legal teams and insurance adjusters ready to devalue your claim or have it dismissed. This is why it is a good idea to have the support of a Clearwater pedestrian accident attorney.
Our personal injury attorneys in Clearwater have over 75 years of combined experience dealing with the Florida legal system. They are motivated and committed to helping people seek justice, and hopefully making the streets a safer place to be a driver or a pedestrian.
Contact The Law Place today for a free consultation on (941) 444-4444.
Common Types of Pedestrian Accidents in Clearwater, FL
The speed and size of the motor vehicle can have a big impact on the severity of the injuries in a pedestrian accident. However, severe injuries can be sustained regardless of the size and speed of the vehicle, as it can also depend on how the pedestrian hits the car and the floor.
After an accident involving a pedestrian, figuring out the cause can be complex. In order to prove that the driver behaved negligently, you should seek help from a Clearwater pedestrian accident attorney who will evaluate your case and collect evidence.
The most common types of pedestrian accidents are:
Intersection pedestrian accidents – This occurs when a pedestrian tries to cross an intersection quickly, but the crossing is badly timed, and the driver does not have enough time to react and brake.
Dart-out pedestrian accidents – Dart-out is a term used when someone runs into the road unexpectedly, and the driver does not have time to react. This is not always the fault of the pedestrian, they may have been on a crosswalk, but the driver's view may have been obscured.
Back-up pedestrian accidents – Sometimes, someone can be behind a vehicle, and the driver can begin to reverse, without properly checking behind them. Back-up accidents most commonly occur in parking lots.
Passing pedestrian accidents – Drivers can behave negligently and can hit a pedestrian while trying to pass another car. They may fail to see the pedestrian because their view may be blocked by something such as a bus.
Turn and merge pedestrian accidents – Sometimes vehicles turn or merge into traffic but fail to properly look for pedestrians.
Vendor pedestrian accidents – On neighborhood streets, people may be waiting for food trucks or waiting for an ice-cream van when accidents occur.
If you were involved in a pedestrian accident that was not your fault, then you could be owed compensation. A Clearwater pedestrian accident lawyer at The Law Place will know how to gather evidence and build a strong case.
Common Causes of Pedestrian Accidents in Clearwater, FL
There are many different reasons why a pedestrian accident might occur in Clearwater, FL. Knowing the cause is essential for obtaining compensation from the driver's insurance company. Your Clearwater pedestrian accident lawyer will understand how to determine the cause. Some common examples are:
Distracted driving – Distracted driving is one of the most common causes of road accidents in Clearwater, FL. Distracted driving includes using a phone, eating, applying makeup, or even talking to passengers. The driver may fail to notice pedestrians when they aren't paying attention.
Speeding – The faster a vehicle is moving, the more time it takes to stop for a pedestrian. Higher speed also often results in more severe injuries.
Driving under the influence – Driving under the influence (DUI) is a term used for when a driver's normal faculties are impaired by alcohol or drugs. As a result, they may not see a pedestrian, or they might even swerve onto a sidewalk.
Negligent or aggressive driving – Drivers who disobey the rules of the road, put pedestrians at risk, as pedestrians usually assume that drivers will obey. For example, the driver may run a red light or a pedestrian crossing, or they might be speeding or suddenly make an unexpected maneuver.
Driving in reverse – It can be difficult for drivers to see behind them, their view is often obscured. Rear cameras in new vehicles have helped to limit these instances, but they are still common, especially when drivers are pulling out of driveways or parking lots.
Weather conditions – Fog, ran, and other poor weather conditions often limit visibility, make roads slippery, and make it more difficult for vehicles to brake quickly.
This list is not exclusive; there are many reasons why pedestrians can become injured in Clearwater, FL. No matter the cause, you should at least seek a free consultation. Out personal injury lawyers will help you determine if you have a valid claim and will guide you through the process.
What If I am Partially at Fault for a Pedestrian Accident in Clearwater, FL
You may believe that you were at fault for the accident. Even so, you should still seek advice from a Clearwater pedestrian accident attorney. You may not have all the facts, or your memory of the accident may be skewed.
Under Florida Statute 768.81, Florida operates under comparative negligence. This means that even if you were partially at fault for the accident, you might still be entitled to compensation from the driver's insurance company.
For example, if you were crossing the road where you shouldn't have been, but the driver was speeding, then you may share fault. When this happens, your settlement will be reduced by the amount you were at fault. If you are found to be 20% at fault, then the amount you receive in compensation will be reduced by 20%.
Damages Commonly Won in Clearwater Pedestrian Accident Cases
If you have sustained injures in a pedestrian accident, then you may be entitled to damages. At The Law Place, an accident attorney will seek the highest amount of compensation possible. Compensation is most commonly obtained for the below damages:
Medical bills – If you sustained injuries, then you should be entitled to compensation for past and future medical bills and travel to and from appointments.
Lost wages – if the injuries caused you to miss work, then you deserve compensation for any past and future lost earnings.
Pain and suffering – Following an accident, it is common to suffer emotional distress or loss of enjoyment in activities. These damages are difficult to prove and quantify. Therefore it's important that you have an accident attorney on your side to help you.
Wrongful death – if you lost a family member in a pedestrian accident, then you should be entitled to compensation for funeral costs and loss of income to your household.
The Law Place
If you have sustained injuries in a pedestrian accident in Clearwater or anywhere else in Florida, such as St Petersburg, Sarasota, or Tampa, FL, then contact The Law Place today.
We will help you to get the compensation you deserve. You should not be left out of pocket for an accident that was not your fault. Following serious injuries, medical bills, along with an inability to work, can quickly result in financial hardship, without the right support.
To ensure you have the best chance of winning your case, contact a pedestrian accident lawyer today. An accident attorney will help you navigate the confusing legal process and allow you to focus on your recovery.
Contact The Law Place today and speak to an experienced accident lawyer in a free consultation. We will advise you on your next steps and give you all of the information you need, so you can make an informed decision as to whether you need representation.
Contact us today on (941) 444-4444.