Truck accidents can be one of the scariest things to happen on the road. When a large truck is speeding, the results can be devastating for all parties involved. Trucks usually weigh many times more than your average motor vehicle. When a truck speeds into a smaller car and causes an accident, the driver of the small vehicle is almost always the most injured and experiences more damages. For this reason, truck drivers have a higher level of responsibility and liability on the road than other motorists do.
Clearwater and the State of Florida as a whole are some of the most dangerous places in the country when it comes to truck accidents. Statistically speaking, as a pedestrian or a motorist, you have a higher chance of being involved in a speeding truck accident here than in other states. According to the Florida Department of Highway Safety and Motor Vehicles, 400,000 truck accidents happen in Florida every year, with over 200,000 car and truck accidents being hit and runs and over 3,000 leading to fatalities.
We here at The Law Place specialize in speeding truck accidents. Our accident lawyers hold over 75 years of experience combined and work together on every case. This ensures a thorough approach to the individual needs of your unfortunate truck accident. Insurance and trucking companies will try to speed up the settlement process, sweeping valuable evidence under the rug and pressuring you to accept a lower amount than your case is worth. Schedule a free consultation with us today and find out how much you are entitled to, and get the ball rolling on your truck accident case.
Don't rely on big companies that don't have your best interests at heart. Consult with a qualified Clearwater truck accident lawyer today. Our lines are open 24 hours a day, 7 days per week.
Call The Law Place today at (941) 444-4444. Having a personal injury and car insurance company isn't enough. You need a truck accident lawyer on your side.
What Should You Do After a Truck Accident in Clearwater, FL?
The first and most important thing accident victims should do after they have been involved in a Clearwater truck accident is to make sure that they are as safe as possible. This includes moving out of the road, out of the way of oncoming traffic, away from a damaged vehicle, and behind a traffic barrier, if possible, to avoid further injury. After you are safe from road hazards, it is important to check yourself for injuries. After you have ensured your own safety, look to the needs of others as long as it does not endanger you in the process. Other people may have suffered injuries, and you have an obligation to help them as well. Contact the authorities and emergency services if possible and wait for their arrival.
After you have ensured your safety and the safety of others, start collecting evidence. It is essential to start gathering evidence as soon as possible because you have no idea how long it will be available. Evidence can include:
Details of the truck's number plate, make, and model.
Details of the driver; their name, address, truck driver number, trucking company, and insurance provider.
Safely take photos of everything possible; your vehicle, the truck, the road, weather conditions, everything in your vicinity.
Try to draw a sketch of the accident and what happened to cause it.
Talk to as many witnesses present at the accident as possible and get their personal details to contact them again.
When the police arrive, take down a badge number and name. This will make locating a police accident report much easier down the road.
After you have gathered evidence and have been treated for your injuries, contact a truck accident attorney immediately. Their investigative process will begin, and they will help you in any negotiations with your insurance company before you contact them. Doing all or most of these things will bolster the strength of your case and ensure your lawyer has all the details necessary to maximize your potential claim.
Our team of dedicated attorneys fight and win for Floridians.
What Are the Most Common Causes of a Clearwater Truck Accident?
The Federal Motor Carrier Safety Administration lists the most common reasons for semi-truck accidents. These are broken down into three categories:
Driver Related
Non-performance – The driver fell asleep at the wheel or suffered medical distress and was physically impaired.
Recognition – The driver failed to pay attention to the road or conditions that may lead to an accident.
Decision – The driver misjudged the situation. For example, a drive miscalculates the speed of their own vehicle relative to the braking speed of a car in front of them.
Performance – If a driver panics or exercises poor vehicle control.
Vehicle
Brake problems.
Tire problems.
Load-shifting.
Environment
Road conditions.
Dangerous weather.
External hazards.
State law in Florida monitors trucking companies and scrutinizes the behavior of truck drivers under their employment. There are strict rules regarding blood alcohol content (BAC) and how many hours or miles a truck driver is allowed to drive safely.
The FMCSA also lists the most common factors associated with a collision, even if they might not directly cause it. Among others, they include:
Driving above the recommended speed limit.
Intoxicated driver (inclues alcohol and over the counter, prescription, or illegal drug use).
Driver fatigue.
Drunk driving.
Illegal maneuvering.
How Is a Truck Accident Investigated?
When a truck accident happens, it is advised that accident victims contact an accident lawyer as soon as possible. This will begin the investigation into your incident and ensure that your case is being handled speedily and efficiently. Our experienced Clearwater, FL., accident lawyers at The Law Place can guarantee that no stone will be left unturned.
The evidence used in a personal injury case might not be apparent to the individuals involved in a semi-truck accident. A driver may not have the legal knowledge or time to know what counts as evidence in a truck accident. Our team of lawyers is skilled in this field, drawing from their experience in other cases involving truck drivers, small-vehicle operators, the motor carrier, and any other parties that may be liable for your case.
A large truck in Clearwater must be fitted with an EDR (Event Data Recorder) or black box. These devices are essential for gathering evidence in your accident case. Our lawyers have the technical knowledge and experience to investigate the data these devices provide. Black boxes measure what the vehicle was doing before, during, and after an event. This includes but is not limited to truck speed and brake patterns. This will help investigators determine how the event occurred and whether proper safety precautions were taken by the truck driver in the moments before or after an accident.
The Law Place will guarantee fast action from our investigators. We will ensure that the evidence is not tampered with or even destroyed by liable parties. A truck driver or trucking company may manipulate the evidence in a truck accident to benefit themselves. Company records, black box recordings, and police reports need to be quickly obtained and evaluated in order to prevent that from happening.
In addition to analyzing the evidence provided by black boxes and trucking company records, investigators will need to review the scene of the event in question. Interviewing eyewitnesses, checking local traffic signage, taking statements from the truck driver and trucking company, and examining skid marks on the road are some of the things our team will do to strengthen your case and any claim you may be entitled to. You need a good law firm on your side to help fight your Clearwater truck accident case.
We're Florida's top litigation team with over 75 years of combined experience
Who Is Liable for a Speeding Truck Accident in Clearwater?
Liability is determined by the court. In Florida, liability is calculated by measuring the relative culpability in an accident. For example, if the fault lies mostly with the trucking company but the small vehicle driver was also to blame, the court may find that the carrier is 70% responsible and the small motorist was 30% liable. Therefore, your compensation would be reduced by 30% to reflect this.
No-fault laws in Florida mean that insurance providers are the main source of coverage for any accident. Only when you file for damages are trucking companies and drivers held to account for their liability in your collision.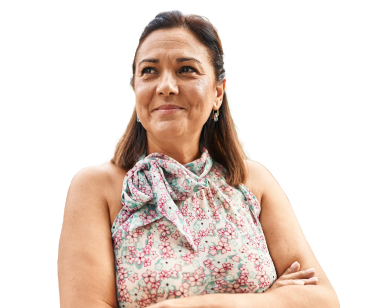 From the initial call to updates on your case status, we are here to get you answers.
What Damages Can You Claim in a Tampa Truck Accident?
In addition to economic damages, such as property destruction, lost wages, and medical bills, you can file for non-economic damages in your truck accident case. These are also known as pain and suffering damages. The types of non-economic damages you can claim will depend on the nature of your case, the extent of your injuries, and the specific mental anguish you may have endured as a result.
It is only possible to file for pain and suffering damages once a serious injury threshold has been met in the eyes of the court. According to Florida Statute 627.736, car accident victims can only pursue damages for pain and suffering if they have sustained:
Permanent or significant injuries.
Injuries that have caused the loss of mobility or function.
Injuries causing significant disfigurement or permanent scarring.
Injuries resulting in death.
Unless your injuries meet these criteria, you will not be able to claim damages for serious injury and will be directed to your insurance coverage under Florida no-fault laws.
If a loved one has died as a result of driver or trucking company negligence, you may be entitled to file for wrongful death. Wrongful death suits in Florida cover both non-economic and economic damages.
Why Is It Important to Act Quickly After a Clearwater Truck Accident?
Collecting evidence as well as contacting your lawyer and insurance company are important steps to complete quickly after your truck accident. This is because truck drivers, trucking companies, and opposing insurance providers will do everything in their power to hide evidence and delegitimize your claim. They have large teams of insurance adjusters, company executives, and investigators that will mobilize as soon as their truck is involved in an accident. It is important that you act as quickly as possible to avoid any interference with your case.
The Law Place always recommends contacting a qualified accident lawyer before your insurance provider where possible. We can get the ball rolling for you, especially during a time when you might need to recover from injuries and mental trauma. Schedule a free consultation with us today.
How Much Does It Cost to Hire a Truck Accident Lawyer?
The personal injury attorneys at The Law Place work on a contingency basis, meaning we don't get paid until you do. So you pay nothing until your final settlement. Our fee structure will be outlined to you in your free consultation, so there are no surprise costs or bills associated with our service.
All contingency fee structuring is monitored by the Florida State Bar Association.
Speak to a Truck Accident Attorney From The Law Place Today!
Have you been involved in an accident with a truck driver in Clearwater, FL., that wasn't your fault? Was the driver speeding illegally? Did it result in personal injury or an inability to work? Call for a free consultation with a truck accident attorney from The Law Place today.
Call The Law Place at (941) 444-4444 today to speak with a qualified personal injury lawyer and find out if you have an accident claim. Phone lines are open 24/7.