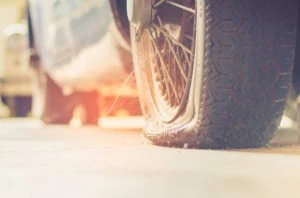 Tire blowouts can cause the driver to lose control of their vehicle, resulting in a car accident. This can lead to serious injuries and property damage. It is essential that you make sure you have good quality tires, however sometimes you may have unknowingly been provided with a defective tire, or the vehicle itself could be defective. Therefore, following a car accident because of a blown-out tire in Tampa, the fault could rest with the driver, a mechanic, or a tire manufacturer. Either way, if you have been in an accident that wasn't your fault, then you deserve compensation for your injuries.
At The Law Place, we have over 75 years of collective experience in Florida law. We will work with you to establish fault and fight for your right to proper compensation. Contact us today on 941-444-4444 for a free consultation in Tampa, FL. Our phone lines are open 24 hours a day, so that we can be there to provide legal advice when you need it most. The sooner you reach out, the better, as it will allow us to gather fresh evidence and support you on your journey to recovery.
What Causes a Tire Blowout?
Despite what manufacturers might want you to believe, one of the leading causes of tire blowouts is the defective design and poor manufacturing rather than the negligence of the driver. At The Law Place, we are not afraid to take on large manufacturing companies and will not allow you to be taken advantage of.
Although you do have some responsibility as the owner of a vehicle to replace worn tires, manufacturers are often at fault. A defective tire can lead to a range of safety hazards, such as tread separation, which is where the tread begins to separate from the main body of the tire.
There have been instances where recalls have been announced for tires which had a faulty design, Ford Firestone and Dunlop have both been guilty of this. Unfortunately, often recalls come only after accidents have occurred, and lawsuits have been brought against manufacturers. A recall can cost a huge sum of money, and it will be avoided if possible. By bringing those responsible for justice, you make it unprofitable for them to continue to produce or allow defective products, which can lead to serious injuries and even death.
When a driver experiences a tire blowout, tire shreds can become entangled with the wheel, and it makes it almost impossible to control your vehicle, making an accident almost inevitable. Often it results in a sharp turn of your vehicle, or if you are traveling at high-speed, your vehicle may even rollover. You should not suffer because manufacturing companies refuse to warn their customers about the inherent dangers in their designs. It is essential that you speak to injury lawyers who can help you to get justice and hopefully prevent similar accidents from happening in the future.
What to Do If You Have Experienced a Tire Blowout
If you have been in an accident as a result of a tire blowout in Tampa, FL, then you should contact us as soon as possible. Our injury lawyers will help you to establish fault and claim the compensation you deserve. However, there are a few things that you can initially do to make it easier for the fault to be established firmly.
Firstly, according to Florida statute 316.062, you are required by law to contact the police to the scene if anyone has been injured or there is severe property damage. If this happens, get the contact information of the police officer, they will file a report which you may need. Furthermore, if anyone requires medical assistance, then make sure an ambulance is called.
Take clear pictures of the accident to document the scene, including vehicles and road markings.
Try and identify witnesses to the accident and ask for their personal contact information.
Preserve the vehicle – avoid making repairs, selling, or destroying the vehicle, as this could be crucial evidence.
Contact your insurance company. Most insurance companies require you to inform them of an accident in Tampa. Your policy will tell you exactly how long you have to do this, but it could be within 24 hours. Avoid providing too many details as anything you say could be used to devalue your claim. Stick to the facts, do not speculate, and avoid talking about your injuries at this stage. You may not know the extent of the damage.
Get checked over by a medical professional. Even if you do not believe your injuries are severe, you should still seek medical advice following an accident. Adrenaline may be covering the extent of your injuries, and the sooner you are treated, the better.
How Do Florida Product Liability Cases Work?
An accident caused by a tire blowout in Tampa is often the result of defective tires. Therefore, you could be looking at a product liability lawsuit against the manufacturer of the tires.
If your lawsuit is successful, then you will receive compensation for your medical expenses, future medical costs, repair costs, loss of income, and any other losses you have dealt with as a result of the accident. You can also claim for non-economic damages such as pain and suffering damages, which compensates you for your mental suffering.
The lawsuit can be aimed at negligence, bad manufacturing, poor design, breaches of warranty, poor installation, formulation, or the assembly of a product. Your lawsuit may cover both product liability and negligence.
On the other hand, you may have been in an accident where another vehicle has suffered a tire blowout because they failed to maintain them. In this scenario, we can help you to obtain compensation from the other driver or their insurance company.
Even if you are partially responsible for the accident, you might still be able to claim. For example, if you lose control after a tire blowout while traveling over the speed limit, you may be found to be partially at fault.
So long as you are less than 50% at fault, you could still be entitled to compensation. However, it will be reduced by the amount that you were at fault, so if you are found to be 10% at fault, this will be taken from your eventual settlement. At The Law Place, we will help you to build a strong case so that your liability is reduced as much as possible.
Navigating the New Statute of Limitations for Negligence Claims in Florida
Florida's recent change in the statute of limitations for general negligence claims has important consequences for those looking to file such claims. The period to initiate legal action has been halved, from four years to just two years. This change necessitates a quicker response from individuals seeking justice and compensation in cases of negligence.
For those considering a property liability claim related to tires, it's crucial to understand how this alteration affects your case. Claims centered around issues like manufacturing defects or problems stemming from the design or distribution of tires still fall under the original four-year statute, as these are tied to personal property claims. So, if you're dealing with a tire failure due to these reasons, your timeframe to file remains unchanged.
However, if your situation involves general negligence, such as improper maintenance or service errors, the new two-year limit is applicable. This means if a service provider negligently inspected or replaced your tires, leading to an accident, you have a shorter window to bring your case forward. Acting swiftly becomes key to ensuring your claim is filed in time.
What a Truck Accident Lawyer Can Do For You
When you're involved in a truck accident, the aftermath can be overwhelming and complex, making the guidance of a truck accident lawyer invaluable. A lawyer with experience in truck accident cases understands the unique legal challenges these accidents present, including the intricate regulations governing the trucking industry and the often severe nature of injuries and damages involved.
One of the primary roles of a truck accident lawyer is to conduct a thorough investigation into the accident. This process involves gathering evidence such as driver logs, truck maintenance records, and eyewitness statements, which are crucial in building a strong case. These lawyers are adept at identifying the multiple parties that can be held liable in truck accidents, from the truck driver to the trucking company, and sometimes even third-party contractors and manufacturers.
Navigating the legal claims process is another area where a truck accident lawyer can be particularly helpful. They can handle all aspects of your claim, from calculating the full extent of your damages to negotiating with insurance companies. Insurance companies often attempt to minimize payouts, especially in truck accidents where the stakes are high. A lawyer will advocate on your behalf to ensure that you receive fair compensation for your injuries, damages, and any long-term effects of the accident.
A truck accident lawyer can also provide valuable advice on the legal options available to you, whether it's pursuing a settlement out of court or taking the case to trial. They can help you understand the pros and cons of each option and guide you in making decisions that are in your best interest.
Representing you in court is another critical service these lawyers offer. If your case goes to trial, a truck accident lawyer will present your case, argue on your behalf, and strive to demonstrate the other party's liability and your entitlement to damages. This legal representation is crucial, as truck accident cases can be complex and require a sophisticated understanding of both the law and the technicalities of trucking operations.
A truck accident lawyer plays a multifaceted role in supporting and representing individuals involved in truck accidents. From conducting thorough investigations to navigating the claims process, negotiating with insurance companies, and providing robust representation in court, their support is vital in helping you navigate the aftermath of a truck accident and in seeking the compensation and justice you deserve.
Tampa Tire Blowout Accident Lawyer, FAQ
What are the common causes of truck accidents involving tire blowouts?
Truck accidents involving tire blowouts often result from inadequate tire maintenance, overloading, or manufacturing defects. In Tampa, where truck drivers cover long distances, the condition of tires is crucial for safety. Poor road conditions and extreme weather can also contribute to tire blowouts, leading to accidents.
What should truck drivers do to prevent tractor trailer accidents due to tire blowouts?
Truck drivers should regularly inspect their tires for signs of wear and tear, ensure they are properly inflated, and adhere to weight limits to prevent tractor trailer accidents. Regular maintenance checks are essential for identifying potential issues before they result in a blowout.
Who can be held liable in a trucking accident caused by a tire blowout in Tampa?
In a trucking accident caused by a tire blowout, liability may fall on the truck driver, the trucking company, the tire manufacturer, or a combination of these. Determining liability requires a thorough investigation to ascertain if negligence, such as failure to maintain tires or manufacturing defects, played a role.
How can a truck driver be found at fault in a trucking accident due to tire blowout?
A truck driver can be found at fault in a trucking accident if they neglected proper tire maintenance or ignored visible tire damage. Truck drivers are responsible for ensuring their vehicle is safe to operate, and failure to do so can lead to liability in the event of an accident.
What role do trucking companies play in preventing trucking accidents caused by tire blowouts?
Trucking companies are responsible for maintaining their fleet, including regular tire inspections and replacements. They must ensure that all vehicles meet safety standards to prevent trucking accidents. Negligence on the part of trucking companies in maintaining their vehicles can lead to liability in accidents.
Are trucking companies liable for accidents caused by tire blowouts?
Yes, trucking companies can be liable for accidents caused by tire blowouts if it's found that they failed to maintain their vehicles properly or ignored known tire issues. Their responsibility includes ensuring that all trucks are roadworthy and safe.
How do trucking accidents involving tire blowouts differ from regular car accidents?
Trucking accidents involving tire blowouts often have more severe consequences than regular car accidents due to the size and weight of trucks. These accidents can cause more significant damage, injuries, and complexities in determining liability and pursuing compensation.
What should I do if I'm involved in a tractor-trailer accident in Tampa due to a tire blowout?
If you're involved in a trucking accident in Tampa due to a tire blowout, seek medical attention immediately, document the scene, and contact a Tampa tire blowout accident lawyer. An experienced attorney can help you navigate the legal complexities and pursue compensation for your injuries and damages.
Talk to Our Tampa Truck Accident Lawyers Today
If you have been in an accident because of defective tires, then you need a law firm on your side who is unafraid to take on large corporations. At The Law Place, we understand the intricacies of Florida law, and we will listen to your individual case and take over the investigations so that you can focus on your recovery. We will speak to witnesses, gather evidence, analyze the police report, and do whatever it takes to get you the compensation you deserve. Better still, we offer a free consultation, so you do not need to make a decision until after you feel confident that you understand how the whole process works.
We are available 24 hours a day, seven days a week, always here to listen to your call. Speak to a Tampa truck accident lawyer on 941-444-4444.