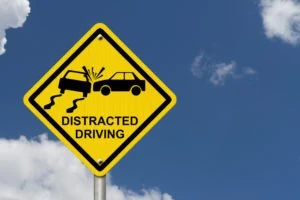 Driving has become such an integral part of most Americans' lives that they don't give a second thought to what they are doing. When driving becomes something we can do without thinking, it can be easy to get distracted. Unsurprisingly, this leads to a large number of car accidents in the Tampa area.
Distracted driving is simply defined as anything that makes driving a secondary thought. Things like texting and driving or changing the radio can both count as distracted driving and can both lead to serious accidents.
Modern cars are getting smarter and smarter and have a range of features installed to make every day driving easier. Unfortunately, this can lead to more accidents then they save. When drivers become reliant on things like auto braking and cruise control, it takes less concentration to drive. This leads to drivers being easily distracted. In just one year, The Florida Highway Safety and Motor Vehicles (FHSMV) found an 8.8% increase in distracted driving accidents in Tampa alone.
If you or a loved one has been involved in an accident caused by a distracted driver, you may be eligible to claim compensation. The Law Place law firm in Tampa, FL, has a personal injury lawyer to help you. Our team of attorneys has accumulated a wealth of knowledge in dealing with cases just like yours, so you know that you will be in the most capable hands in Florida. Phone or contact us today on 941-444-4444 to schedule a free consultation. We can help you win the compensation in which you deserve.
What Is Distracted Driving?
Let's look at distracted driving in more detail, and these are some of the most common reasons why people cause accidents while driving distracted:
Texting and driving.
Eating or drinking.
Using a cell phone.
Reading, such as a map.
Talking to fellow passengers in the vehicle.
Using a GPS or other navigation systems.
Worryingly, distracted driving accidents are on the rise. More people than ever use their mobile phones while driving. They are fast becoming one of the biggest causes of accidents, not just in Tampa or Florida, but the entire country.
You should not have to suffer because you have been involved in an accident due to a driver looking at their phone. In a shocking study by the NHTSA, when a driver looks at their phone, their risk of accident increases by nearly 2300%
Get in touch with The Law Place today if you or someone you love has been involved in a distracted driving car accident.
Our team of dedicated attorneys fight and win for Floridians.
Florida Introduces New Texting While Driving Law
To combat the incredibly high number of accident cases caused by drivers using cell phones, Florida made driving whilst using a cell phone a primary offense in 2020, as reported by Florida International University (FIU). Before this law was passed, drivers often got away with being on their phones when caught by the police due to a lack of powers granted to enforce punishment.
Thankfully, this is no longer the case. Now that it is a primary offense to text on your phone while driving, the police have the power to issue fines to drivers found on their phones while driving.
While this has led to a drop in the number of cases of drivers being caught on their phones, the large number of distracted driving accident cases has not dropped significantly.
How to Avoid a Distracted Driving Accident
The most annoying thing in any distracted driving accident is the fact that the entire incident could have been easily avoided. Most drivers over-estimate their ability to multi-task while driving. It is pretty plain to see from the stats that this is simply not correct. 16% of all car crashes were reported by police to be caused by a distracted driver, according to the NHTSA. These accidents can easily be preventable, some of the ways you can prevent being a victim in an accident include:
Eat and drink before you start driving. With drive-through restaurants on every corner, this can be hard to do, but is taking 5 minutes to sit and eat your meal really going to make you that late? We think not. If you are on a long journey, take a break, eat your food stationary, it's not worth the risk to other road users or you.
If you need to use a GPS system or put your music on, try and do it before you start driving. Being prepared will stop you from getting distracted by changing music or destination mid-journey.
The best thing to do with your phone is to put it in your glove box. Everyone will understand if you explain that you missed a call because you were driving. Studies have shown that by removing your phone from your vision, you are much less likely to be distracted by it or reach for it mid-journey.
In the simplest terms. If you feel tired, want to eat, make a phone call, or anything that may take your attention off the road, pull over and stop. You could ruin your life, somebody else's life, and the life of their families. Was it worth it for that donut or to check the match scores?
We're Florida's top litigation team with over 75 years of combined experience
Talk to a Tampa Lawyer
In Tampa, FL, we are trying to clamp down on distracted drivers. Here at The Law Firm, our Tampa personal injury law firm is ready to fight for the compensation and justice you deserve.
After an accident in Tampa caused by distracted driving, you could face injuries that might change your life. These losses include medical bills, loss of wages, future medical expenses, and loss of future employment. With over 75 years of combined experience, you can trust that a personal injury lawyer at The Law Place in Tampa will help you through the legal process and give you the best chance at seeking the compensation you need to help cancel these losses. Call us today on 941-444-4444 for a free consultation.