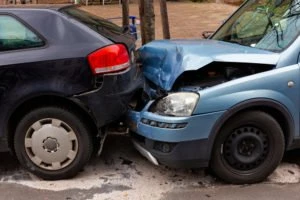 A rear-end collision is where a negligent driver drives and crashes into the back of a car. This type of accident often leaves victims suffering from serious physical injuries, as well as a range of other losses. At The Law Place, our St. Petersburg rear-end collision attorneys can help you assert your claim.
With over 75 years of combined legal counseling experience, our team of personal injury lawyers will be able to offer you excellent advice and guidance, so don't hesitate to contact us today to schedule your free case evaluation!
Call us today at (941) 444-4444, so we can get straight to work on building a strong, solid case on your behalf.
Common Causes of Rear-End Car Accidents in St. Petersburg, FL.
It may seem that rear-end car accidents could easily be avoided by watching speed limits and giving plenty of space between your car and the car in front. Despite this, rear-end collisions are a frequent occurrence in St. Petersburg, and there are many factors that contribute to these types of accidents. Some of the most common causes of St. Petersburg rear-end collisions include the following:
Tailgating.
Speeding.
Faulty brake lights.
Distracted driving, such as eating or using a cellphone while driving, and more.
Driving under the influence of alcohol or drugs.
Regardless of the reason, if you've been involved in a rear-end collision that wasn't your fault, then you could be entitled to compensation and should contact The Law Place today for a free consultation with one of our St. Petersburg car accident lawyers.
Common Injuries Sustained in Rear-End Collisions
Rear-end accidents can leave victims suffering from a number of serious injuries, which can leave victims requiring immediate and expensive medical attention. Particularly serious accidents can even cause fatalities.
Injuries are often caused when the victim of a rear-end accident is thrown forward from the impact and strikes the steering wheel, dashboard, windshield, or seat in front of them.
Injuries often caused in St. Petersburg rear-end accidents include the following:
Neck injuries, such as whiplash.
Back and spinal cord injuries.
Lacerations, bruises, burns, and soreness.
Fractured or broken bones.
Traumatic brain or head injuries.
Wrongful death.
The severity of your injuries will depend on a number of factors, such as whether you were wearing a seatbelt at the time of the crash, if your airbag deployed, and how fast the other driver was driving.
Understanding Liability in Florida Rear-End Car Accident Cases
Rear-end collisions usually occur because a motorist has been negligent and driven into the back of the car in front. In the State of Florida, every driver assumes a duty of care when they operate a vehicle, meaning they're expected to act in a way that doesn't put others at risk. When a person breaches their duty of care and acts in a way that could potentially harm others, they have been negligent.
Victims of St Petersburg rear-end car accidents who have been injured or suffered property damage as a result of the crash can bring a personal injury lawsuit against the negligent driver and their insurance company in order to pursue damages. This can only be done if the accident was not your fault.
For your personal injury claim to be successful, your personal injury lawyer will need to be able to prove the other driver's negligence and that the losses you sustained were caused because of the car accident. The help of a skilled car accident attorney will be crucial to your case, as they fully understand the Florida legal system and will have extensive experience in helping clients who found themselves in situations just like yours. So for the best chance at securing the compensation and justice that you deserve, contact The Law Place today and schedule a free consultation.
Proving Negligence
When driving around St Petersburg, Florida, you have a responsibility. Every driver is expected to act in a way that any reasonable person would.
In a personal injury claim, your attorney will have to show the other driver acted negligently by proving the following:
The at-fault driver had a duty of care.
The driver breached their duty of care.
The breach of their duty of care caused your injuries and damages.
In cases involving a rear-end collision, this may mean you need to show that the driver was negligent by tailgating, making dangerous lane changes, or failing to travel at or below the posted speed limit.
A St. Petersburg car accident attorney will closely analyze the details of the rear-end accident to successfully show that the at-fault driver acted in a negligent and careless way, which ultimately led to the accident and your injuries.
What to Do if Multiple Vehicles Were Involved
If multiple cars were involved in an accident, then establishing liability can become even more challenging. If you are struck from behind by a vehicle that was rear-ended by a different driver, then how can you determine who was at fault for your injuries?
In these types of cases, the Florida courts will consider all details and relevant accounts from every driver involved. In some cases, both drivers may be at fault. For example, if the car that struck the car behind you had been speeding, which caused the accident with the car behind you, then they will be somewhat at fault. However, if the car they hit had been tailgating you, which led to a rear-end collision involving your vehicle, then both drivers could be liable.
A Florida car accident lawyer from The Law Place will be able to explain more about what to expect regarding your specific case in a free consultation.
Damages That Could be Recovered After a St. Petersburg Rear-End Collision
If you were injured in a rear-end collision that wasn't your fault, then you may be struggling with substantial financial losses, as well as any injuries and trauma. Fortunately, The Law Place is here to help you win every cent you're owed and ensure that you get the justice you deserve.
Every case is different, but some of the damages that our law firm often recover compensation for in rear-end collision cases include the following:
Medical expenses – For the cost of medical treatment that you required for injuries caused by the accident and any related or projected costs.
Vehicle damage – For the cost of repairing or replacing your vehicle if it was damaged in the accident.
Lost wages – To cover any wages you lost because the accident and/or injuries caused prevented you from attending work for a period of time.
Pain and suffering – To help you if you are suffering from any physical pain or emotional distress following the collision.
Wrongful death – To cover the funeral costs or loss of consortium if a loved one dies from the accident.
While no amount of compensation can heal your injuries or trauma, it will help you manage the financial burdens you may now be struggling with and get you some closure, which can help you with your recovery. So to get started with filing your lawsuit, contact The Law Place today to schedule a free case evaluation with a highly qualified St. Petersburg lawyer.
Contact Our Florida Personal Injury Attorneys Today!
The St. Petersburg rear-end accident attorneys at The Law Place can provide you with the legal advice and support that you will need to successfully fight for compensation in your rear-end collision case.
Our attorneys have represented victims of car accidents for decades, and so you can trust that our seasoned lawyers will professionally and skillfully represent you in court and pursue a fair settlement for you. You deserve justice for what you have endured, and we will fight tirelessly to give you the best chance at securing compensation.
Our phone lines are open 24 hours a day, 7 days a week, so don't hesitate to contact us for a free consultation.
Call us now at (941) 444-4444.