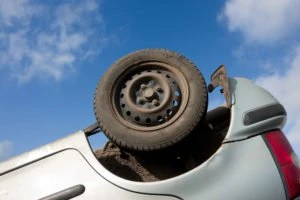 Regardless of how careful a driver you may be, car accidents can happen at any time and to anybody. Car accidents are unfortunately very common in Florida, and according to the Florida Department of Highway Safety and Motor Vehicles, there were 401,867 in Florida in 2019 alone. These crashes often left victims suffering from severe injuries, extensive emotional suffering, and economic damage.
Rollover collisions are crashes where the vehicle tips over onto its side or roof. They are especially dangerous and have an incredibly high fatality rate compared to other types of accidents.
Because of how devastating rollover car accidents can be, if you were involved in one in St. Petersburg, Florida, we highly advise you to seek legal representation from reputable personal injury lawyers. The attorneys at The Law Place have over 75 years of combined experience in dealing with the Florida legal system and helping clients get the justice that they deserve. In order to give yourself the best chance at getting the compensation that you're owed, contact our law firm to schedule a free, no-obligation consultation with one of our skilled injury attorneys.
Don't hesitate to call us today!
What Causes Rollover Accidents?
It's important to consider what frequently causes rollover accidents in St. Petersburg, as this can hopefully reduce the risk of them occurring. Some of the most common causes of rollover accidents in Florida include the following:
High speed – According to the National Highway Traffic Safety Administration, speeding is the most common cause of rollover accidents as it plays a part in approximately 40% of them.
Driver error -An example of this is if the driver takes a turn too sharply.
Vehicle design – Rollover accidents involve certain vehicles more often, such as SUVs and pickup trucks. This is because these vehicles are taller, meaning their weight is distributed higher above the road, and therefore they're more proven to tip over than lower riding vehicles.
Road type – Rollovers are more common on rural roads than urban roads. They're also more likely to occur on undivided two-way roads or divided roads without barriers.
Road conditions – Slipping is a common cause of rollover accidents. Slipping may be caused by an interfering object, such as a tree, uneven ground, or if the weather has been poor and left the road wet and slippery.
Pile-up situation – The impact of a multi-vehicle pile-up incident can cause cars involved to become airborne and to roll over.
Driving under the influence – Operating a vehicle while under the influence of drugs or alcohol is another cause of rollover accidents.
Distracted driving – Drivers are most often distracted by their cellphones, eating, or passengers in the vehicle.
Common Injuries Sustained in Rollover Car Accidents
All types of car accidents can leave the victims suffering from severe injuries, but this is especially true for people involved in rollover car accidents. Some of the most common injuries sustained in these types of accidents include the following:
Surface injuries, such as bruises, soreness, burns, lacerations, and sprains.
Broken and fractured bones.
Back and spinal cord injuries.
Neck injuries.
Traumatic brain or head injuries.
Internal organ injuries.
Internal bleeding.
Disfigurement or dismemberment.
Car accident victims also often suffer from long-term trauma and emotional distress.
If you have sustained any of the above injuries, or others, because of another driver's actions resulting in you being involved in a rollover car accident, then you should contact The Law Place. Our car accident lawyer in St. Petersburg has the experience and knowledge needed to fight for the compensation that you deserve, so schedule a free consultation with us today.
Determining Liability in a Rollover Car Accident in St. Petersburg, FL.
If you were involved in a rollover car accident in Florida, then we recommend that you consider hiring a reputable personal injury attorney to help you secure the compensation that you deserve.
When our clients decide to work with our team at The Law Place, we immediately start working on their case. The first thing we must do is investigate the circumstances and determine which of the parties involved behaved negligently and violated the duty of care that they owed our client, which then ultimately resulted in the accident.
Each case is different, but the parties that are most commonly deemed to be at fault for rollover car accidents include:
The driver (or drivers) also involved in the accident.
The driver's employer if they worked for a company as a driver at the time of the crash.
The manufacturer if the vehicle or a part of the vehicle was defective.
The vehicle's owner if the driver doesn't own the vehicle involved in the accident.
The mechanic and the auto shop they work for if the vehicle involved was serviced negligently.
Claiming Damages Following a Car Accident in St. Petersburg, FL.
At The Law Place, we understand that being involved in a car accident will likely leave victims not only suffering from the physical and emotional impacts but also from an unfair amount of financial losses. This is why we want to help you. Our St. Petersburg personal injury attorneys often recover compensation for the following damages:
Medical expenses – You could be entitled to this if you required medical attention after the car accident for the injuries that you sustained.
Lost wages – If you had to miss work because the injuries were so severe, then you could be owed compensation to cover the lost wages.
Property damage – You could deserve compensation to cover the costs of repairs of your vehicle if it was damaged in the accident.
Pain and suffering – If you have been left suffering from emotional distress and you're no longer able to enjoy the hobbies that you used to because of the consequences of the accident, then you could be entitled to compensation. However, as this can be difficult to prove in court, it's important that you have skilled legal representation on your side to fight for all you deserve.
Wrongful death – You could be owed compensation if you've lost a loved one in a rollover car accident to cover the funeral costs and the loss of consortium.
While we know that no amount of compensation will heal the injuries or the trauma that you've been suffering from, we do know that it would help you manage the financial losses you may have had to deal with since, and can serve as proof that some type of justice has been served. We also know that working with a skilled car accident attorney will help put your mind at ease and allow you to completely focus on healing and relaxing.
Our St. Petersburg car accident lawyers have an abundance of experience when it comes to dealing with the Florida legal system and helping clients who have experienced accidents similar to yours. Because of this, you can rest assured that we will be able to win you the maximum amount of compensation possible based on the specifics of your case.
So if you or a loved one have been injured in a rollover car accident, contact The Law Place today.
How a Personal Injury Lawyer Could Help You
When you start looking to hire a car accident lawyer, you should begin by looking for law firms that already have plenty of experience with cases similar to yours. This means that they'll already have the knowledge and skill necessary to build a solid and strong case.
Some of the few ways that a St. Petersburg car accident attorney from The Law Place could help you include the following:
Answer any questions or queries you may have and offer you valuable legal advice.
Fully investigate your case and gather any useful evidence.
Assess the value of your case and estimate how much compensation you may be entitled to.
Communicate on your behalf with the liable party and insurance companies.
Negotiate a fair and agreeable settlement.
If a suitable settlement can't be reached, then we'll professionally represent you in court.
If you've been injured in a rollover accident that wasn't your fault, then you should know that you have the right to hold the negligent driver responsible. Our team of determined lawyers wants to help you achieve compensation, so get in touch with The Law Place today to book a free case evaluation.
Contact The Law Place Today!
If you or a loved one have been involved in a rollover car accident in St. Petersburg, Florida, then you shouldn't delay in contacting The Law Place. Victims of car accidents are often left suffering from critical injuries and trauma, despite the accident being no fault of their own, and so we are determined to fight for the justice that you deserve.
We offer a free consultation to people who believe they could be entitled to compensation for an accident that wasn't their fault, so to speak to trustworthy and proficient attorneys about your specific case, contact us today. Our phone lines are open 24 hours a day, seven days a week, so don't hesitate!
Call The Law Place today!