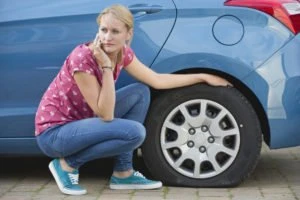 A tire blowout is typically only a minor issue, although rather annoying. However, sometimes tire blowouts can cause very serious car accidents and serious injuries. A tire blowout is more dangerous when a vehicle is moving quickly. A tire blowout on a truck can also be incredibly dangerous.
If you or a loved one has been injured in an accident in Florida caused by a tire blowout, you may be entitled to compensation if your file a claim. We highly recommend that you get in contact with one of our accident lawyers today to schedule a free consultation. An accident attorney will be able to briefly examine your case and offer you some honest and unbiased legal advice.
We have practice areas all over Florida. Our office is open 24 hours a day, 7 days a week. To schedule your free consultation, phone our law group today at (941) 444-4444.
What Are the Most Common Causes of Tire Blowout in St. Petersburg, FL?
A tire blowout is a fairly common cause of car accident injures in Florida. This is because Florida's heat can greatly impact the tires and can cause defective tires. A tire that speeds up in the heat will get worn down very quickly.
Unfortunately, many drivers are unaware of the dangers of tire blowouts and their likelihood in Florida. As a result, it is unlikely for a driver to regularly get their tires checked. When a trucking company fails to get its tires checked, it is far more likely that its trucks will cause accidents and cause serious injuries. These multi-million dollar trucking companies are responsible for ensuring that they are not using defective tires.
Further strain is inflicted on a tire because of wear and tear on the threading, high or low pressure, poor quality roads, and much more. It is fairly easy to experience a tire blowout, so it is important to constantly check your tires. Sometimes a tire manufacturer will issue defective tires, and this is why it is important to be aware of all possible defects.
Who Is to Blame in a Tire Blowout Car Accident?
Assigning liability following a car or truck crash caused by a tire blowout is not easy. Tire blowouts are often complex, and this is why it is important to have an accident attorney from our law firm working on your case to ensure that liability is fairly assigned. One of our lawyers will examine your case by gathering all of the necessary evidence to determine the cause of the tire blowout. Liability may lie with a negligent driver. It could fall under the product liability of a trucking company, it could be the fault of the tire manufacturer, or it could be a combination. No matter who is liable for your defective tire, we can help you win the compensation you deserve from your insurance company.
Florida Statute 768.81 outlines negligence. It states that you are owed a duty of care. Florida law and personal injury law are rather complex. We strongly recommend that you contact a lawyer at our firm for a free case evaluation. If you or a loved one has been injured in one of these accidents, a lawyer from our law group will be able to guide you through the complex Florida law.
How Is Liability Assigned in a Defective Tire Truck Accident in Florida?
The most serious accidents involving a defective tire blowout often involve a truck. A defective tire blowout on a truck is complex because of how many parties are involved and could be at fault. These include individuals and commercial and governmental entities. Such as:
The truck driver.

The government department/ entity is responsible for maintaining the condition of road surfaces and road signs.

The truck's maintenance team.

The trucking company itself.

The tire manufacturer.

The truck's mechanic.

A third-party driver.
What Damages Can Personal Injury Lawyers Help Me Win Following a Car Accident in Florida?
Our law group has helped countless clients file personal injury claims following their crash caused by a truck or car defective tire blowout. If you lose control of your vehicle because of a tire blowout and suffer injuries, an attorney at our law firm will be able to help you file a claim for your injuries. Some of the damages that an attorney at our law group can help you achieve from your insurance company following your accident include:
Medical bills – These can include past, present, and future medical bills. You can also recover the costs of additional medical expenses, such as travel to and from medical appointments.

Pain and suffering – You can be compensated for the emotional suffering you have had to endure. Pain and suffering are difficult to quantify, so it is important to have an experienced attorney working on your case so that you achieve the compensation that you deserve.

Property damage – This can include damage to your vehicle, your cell phone, and anything else that could have been damaged in the accident.

Lost wages – If your injury has resulted in you missing time off work, we can help you receive compensation for this. We can prove this through your payslips and from a letter from your manager.

Reduced earning capacity – If your injuries have left you unable to work to the same capacity as before your accident and have reduced your earning capacity, you can receive compensation to cover this.

Wrongful death – If you have tragically lost a loved one in a truck or vehicle accident caused by tires blowing out, you may be able to seek compensation, as outlined under

Florida Statute 768.21

.
What Can Personal Injury Attorneys Do for Me?
When you call our office at The Law Place, we will offer you some legal advice and guidance. If we believe that you may have a valid claim, we will schedule you a free consultation with an attorney from our firm. In this consultation, we will explain to you what the legal process entails and what we can do for you.
At this point, you are not obliged to hire one of our attorneys. The decision is yours whether you decide to take on Florida law and fight your case alone, or you decide to seek the legal representation of a reputable personal injury attorney.
If you accept our help, we will discuss your accident as a team so that you can benefit the all of our knowledge. We will then assign you an attorney who will begin work building your case and creating a strong claim. An attorney will be able to guide you through the whole process.
How Should I Deal With Insurance Companies?
When dealing with insurance companies, you need to remember that they are big businesses. Making a greater profit is the sole goal of these companies. It is therefore very important that you are mindful about how you approach these companies.
It is a necessity that you report your accidents to your insurance company, and this will be outlined in your policy. When doing so, you must stick to the facts and avoid admitting fault. We recommend that you contact a lawyer first so that they can help you with this.
Insurance companies will often be keen to settle a case quickly, so they will offer you a low offer in the hope that you will accept. They like to take advantage of victims whilst they are still in a state of shock. Be mindful that you don't accept a settlement offer worth way less than what you truly deserve. A lawyer at our firm will be able to examine how much you should receive based on your injuries. If you have any concerns about dealing with your insurance company, don't hesitate to call us today for some free advice.
How Much Do Lawyers Cost in St. Petersburg, FL?
Many people in Florida are hesitant to hire a lawyer because they believe that it is unaffordable. We understand that hiring professional help may seem daunting, but we promise that it is much easier than you may think. If you have suffered injuries in an accident, we would strongly recommend that you at least call a lawyer for some advice.
All of our lawyers work on a contingency basis. This simply means that you do not have to pay a cent upfront. All of our legal fees will be deducted from your final settlement. This is beneficial to you because it means that you don't have to pay us anything if we are unsuccessful in winning you a satisfactory claim.
The Florida State Bar Association monitors our contingency work and the contingency work of all other law firms in Florida. Therefore you can trust that your case will be dealt with in safe hands. We abide by and follow all of their rules tightly.
How Quickly Do I Have to Act?
If you or someone dear to you has been injured in an accident caused by a tire blowout, you have to act quickly. This is because Florida's statutes of limitations are very harsh when it comes to accident claims.
The law essentially states that accident victims only have four years to file a claim for their injuries following their accident. After these four years have passed, the case will be barred, and victims will be unable to file claims.
If you have tragically lost someone dear to you in a tire blowout accident, you have to act even quicker. The law states that families only have two years to file for wrongful death. This may feel like plenty of time, but you will be surprised at just how quickly time can pass. This is why we recommend that you contact an attorney as soon as possible following your accident.
Contact The Law Place Today!
If you have been involved in a truck or car accident caused by a tire blowout, you should call us today. At The Law Place, we have a team of lawyers with over 75 years of experience. We are a close-knit team and promise to do all that we can to ensure that justice prevails. If you phone our office today, we can offer you a free consultation with one of our attorneys.
Phone our office today to schedule your free consultation at (941) 444-4444.