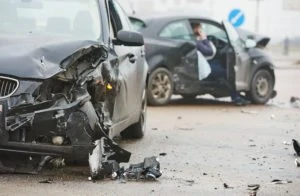 One of the most common causes of car accidents in Clearwater is aggressive or negligent driving, and improper lane changes are an example of this. According to the Florida Highway Safety and Motor Vehicles (FLHSMV), over 13,000 car accidents in Florida were caused by improper lane changes. These car accidents caused a variety of injuries, ranging in severity and sometimes even fatalities.
An improper lane change occurs when a motorist switches from one traffic lane to another but ends up colliding with a car that is already in that same lane, as they failed to check properly that they were safe to move. Improper lane changes can also be caused by changing lanes without signaling or only turning on the signal after they've already begun to change lanes.
Regardless of exactly what happened, all improper lane changes have the potential to cause dangerous accidents and leave victims with severe injuries. If a vehicle turns into your lane and causes a crash or for you to collide with other vehicles, then you have the right to hold them responsible for their negligence, and a Clearwater car accident lawyer may be able to help you.
The lawyers at The Law Place have over 75 years of combined experience in dealing with the Florida legal system and working on car accident cases, including those that were caused by improper lane changes. So, call us today on (941) 444-4444 for a free case evaluation with an auto accident lawyer to receive the advocacy and guidance you need to pursue a legal claim for your injuries.
Common Reasons Why a Driver May Make Improper Lane Changes in Clearwater, FL
While it is, of course, drivers changing lanes improperly that cause these types of accidents, there are many reasons as to why people may change lanes unsafely. The majority of the time, unsafe lane changes are caused by reckless and negligent driving. However, there are also many other reasons. The most common ones are as listed below, but not exclusive to:
Driving under the influence – While it is illegal in Florida, many drivers still operate their vehicles while under the influence of alcohol and/or drugs, which is incredibly dangerous. Driving while under the influence is highly dangerous as the substances slow reaction times and decision making can become much less rational.
Distracted driving – In this day and age, there are many things that can distract drivers. They may be distracted by an electronic device, such as by texting or adjusting the radio, or by eating and drinking, or by something as simple as talking to passengers. However, this could easily cause accidents as they don't notice the car in the other lane.
Low visibility – Low visibility can be caused by a driver failing to turn on their headlights at night or by poor weather conditions. This stops drivers from being able to see other vehicles in lanes, and so they move without realizing it's not safe.
Reckless or negligent driving – Reckless driving is often caused by overconfidence in one's driving ability or by frustration while driving. Sometimes, a driver may take dangerous maneuvers to prevent the other car from merging or dangerously overtake someone to get past.
Speeding, and speeding up suddenly or slowing down – Erratic driving makes it driving very dangerous for all on the road, as people cannot anticipate the driver's moves and may not be able to get out of a car's way quickly enough. It may also make it difficult for those attempting to change lanes if a driver in the adjacent lane is driving so erratically.
Fatigue – Driving while fatigued is always incredibly dangerous. When fatigued, drivers are slower to react and not concentrating enough on their surroundings, meaning they could easily miss something important. They may also not notice a car in the other lane or realize that they are pulling into a different lane.
Driver misjudgment – A driver attempting to change lanes may misjudge the speed of an approaching vehicle and believe it's safe to change when actually the driver is traveling much faster than realized.
Poor weather conditions – The frequent and heavy downpours that are infamous to Florida can often cause drivers to lose control and may lead to more accidents as a driver may merge quicker than anticipated or swerve into a lane by accident.
Regardless of the reason behind the improper lane change car accident, whether it was one of the causes listed above or another, the damage and injuries you sustained from it could be critical and extreme. The driver themself may not be at fault, but you still deserve financial compensation, especially if the injuries have reduced your quality of life, and it was an accident that was out of your control.
At The Law Place, we have a car accident lawyer prepared to fight for you and win you justice. Our Clearwater personal injury attorneys have the legal knowledge necessary to give you the best chance of receiving the compensation that you deserve. While we know that the money will not be able to take away the trauma, it will help you with any financial burdens you may now be facing as a result of the auto accident, and serve as some proof of justice. So don't face a big insurance company on your own; call The Law Place today for a free consultation with an experienced Clearwater personal injury lawyer.
Examples of Ways That Drivers Make Improper Lane Changes in Clearwater
Car accidents caused by improper lane changes can cause serious injuries and sometimes even fatalities to those involved, and so it is important to understand some of the most common ways that drivers make dangerous lane changes.
The driver fails to signal before they make the lane change or turn.
Two cars merge into a middle lane simultaneously without realizing what the other is planning.
The driver forgets or doesn't bother to check their blind spot.
One driver at a junction attempts to turn while another is attempting to pass at the time.
One driver moves out of a parking space and into a lane but fails to check that there is no oncoming traffic.
The driver merges into a highway dangerously and sideswipes another vehicle.
Regardless of how the driver who caused the car accident changed lanes improperly, you should call The Law Place today as you may deserve compensation. If you contact us now, you'll be able to schedule a free consultation with one of our personal injury lawyers to determine whether your claim is valid and, if so, where to go from there.
Common Types of Injuries Sustained in Car Accidents in Clearwater
Just like in any other car accident, one caused by improper lane changing can lead to severe injuries, although the types of injuries sustained can vary depending on the seriousness of the auto accident. However, some common types of injuries that occur in car accidents include:
Spinal cord injuries, such as paralysis.
Back injuries.
Neck injuries, such as whiplash.
Traumatic head injuries.
Internal organ injuries.
Internal bleeding.
Disfigurement and dismemberment.
Broken bones and fractures.
Sprains, lacerations, cuts, burns, and bruises.
Wrongful death of a loved one.
A car accident could also lead to emotional distress, mental trauma, and property damage.
If you have experienced any type of injury or impact from a car accident in Clearwater or elsewhere in Florida, then you need to get in touch with The Law Place for a free consultation. Regardless of how small or life-changing the injuries, you may still deserve compensation and should get in touch with a law firm. Our lawyers have a vast amount of experience, and we will help determine and fight for the amount of financial compensation that you deserve. So, call us now to schedule a free case review with an established auto accident lawyer.
Tips on How to Avoid Lane Change Accidents in Clearwater, FL
As changing lanes unsafely can cause dangerous car accidents, it is important to learn the many different ways that prevent lane change accidents from happening. Properly changing lanes greatly reduces the risk of lane change car accidents, which can cause severe injuries and even deaths.
Speed – It is important that you adjust your rate of speed to however fast the traffic flow around you is moving and change your speed accordingly. This means that you will have more time to react to any unexpected changes or movements.
Avoid stopping – You should never stop on a busy highway unless it is absolutely necessary.
Move into empty lanes – You should always try to make sure that you don't turn into a lane if there is already a solid line of traffic present. This is because a solid line indicates that lane changes are prohibited.
Pass on the left – If you need to pass a vehicle, then you should pass on the left and then return to your lane once more when the vehicle is visible in your rearview mirror. You will need to increase this distance when passing larger vehicles.
Check mirrors and blind spots – You should always check for vehicles around your car before attempting to turn into a lane. To make sure that there are no cars present, you should check your side mirrors and blind-spot.
While these tips can help prevent accidents caused by improper lane changes, they may not be able to stop them completely. If you have been involved in this type of car accident, then you should call The Law Place and book a free consultation to see if you have a valid claim and deserve financial compensation.
Damages Commonly Awarded After a Car Accident in Clearwater, FL
If you have been involved in a car accident, then you may deserve compensation. Car accidents can leave you with life-changing injuries and trauma, and this is why it is so important to us that you receive justice for all you have endured. Below are some of the damages that The Law Place recover compensation for in cases like yours:
Medical bills – If the injuries you sustained were so severe that you had to receive medical help, then the medical bills you now have should be covered by compensation. This includes past, present, and expected medical bills as well as related expenses, such as travel to and from appointments, surgeries, physiotherapy, and more.
Property damage – If your vehicle was damaged in the accident, then however much it cost to repair it in Clearwater should be covered by compensation.
Loss of wages – If the auto accident meant that you could not attend work, and you lost wages because of this, then you could deserve the money to cover those wages, as well as any future earnings that you may be projected to lose.
Pain and suffering – The aftermath of a car accident can often leave you suffering mentally and dealing with a lot of emotional distress. You may also be no longer able to enjoy the activities and hobbies that you used to before the accident. If this is the case for you, then you could be entitled to compensation. However, as this can be very hard to prove in court, it is crucial you have an experienced attorney on your side to help argue your case.
Loss of a loved one – If you sadly lost a loved one in the auto accident, then you should receive compensation to cover funeral costs, the loss of their wages, and loss of consortium.
If you have been a victim of a car accident in Clearwater, and are suffering from the impact of it, then you should call The Law Place for a free case evaluation. Your chances of winning the case against an insurance company will be higher if you enlist the help of an established accident lawyer, such as those at our law firm.
Florida's Comparative Fault Law
The state of Florida is a comparative fault law, as stated in Florida Statute 768.81. This means that any and all parties involved in an accident can be assigned a percentage of fault based on the fact pattern. That means that even if the other driver did improperly change lanes and was mainly at fault, the injured person could still be deemed partially at-fault for causing or exaggerating the crash, which caused the injuries.
This can be very difficult to understand and work with when filing a lawsuit, and this is one of the many reasons why we recommend that you choose to work with a lawyer. A personal injury lawyer would be able to offer you legal advice and guidance on your case and make sure you have the best chance at winning your case.
How a Clearwater Improper Lane Changes Lawyer Could Help You
It is important to enlist in the help of a lawyer who has worked on cases like yours as they will be able to build a strong case in the pursuit of compensation. Some specific ways that the lawyers at our Clearwater law firm can help are:
Offer legal advice and answer any and all questions you might have about your situation and the legal process.
Investigate and gather evidence, such as police reports and eyewitness statements, which will help strengthen your case.
Determine the full value of your case and how much compensation you may be owed by going through doctor's statements, medical bills, any receipts, and employment records that show the wages you may have lost because you were unable to attend work, and more.
Communicate with the defense on your behalf.
Negotiate for a fair settlement to ensure that no one is able to take advantage of you.
Fight for your rights in court if we cannot reach a fair and agreeable settlement.
You have the right to hold the negligent driver responsible for the impacts and financial burdens that you now have to endure as a result of the auto accident. Our team of experienced accident attorneys wants to help you achieve justice. Call The Law Place today to schedule a free case evaluation.
Contact The Law Place Today
If you have been involved in a car accident caused by someone improperly changing in Clearwater, or anywhere else in Florida, then it is important that you have a personal injury lawyer on your side to ensure that you get the maximum amount of financial compensation and the highest chance at receiving it. We know that you deserve justice for everything you have had to endure.
The attorneys at our law firm have over 75 years of combined experience in dealing with Florida law, and so you can be assured that we are well-prepared to help you with your case. So, don't fight a big insurance company all by yourself; let us fight by your side to ensure that you give yourself the best chance at receiving the compensation that you deserve. Contact The Law Place now on (941) 444-4444 to schedule a free case evaluation with a skillful Clearwater accident lawyer.