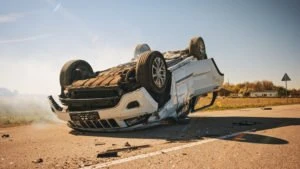 Our fast-paced modern lives are often dominated by commutes and routine car travel. Unfortunately, this means that car accidents an unavoidable part of life for many. Dealing with the sudden loss of a loved one in such an accident is often a source of great trauma, even before the practicalities are considered.
In reality, the pain of grief is only one aspect of dealing with an auto accident fatality. Often, things are further complicated by physical and emotional injuries, property damage, the search for justice, and increased financial hardships. If the victim was a relied-upon financial contributor, your household might be suffering from lost wages. You may have been saddled with additional costs, such as medical bills from injuries incurred or increased insurance premiums. The stress of seeking emotional closure at the same time as battling financial insecurity can leave you in a position of uncertainty that seems insurmountable, through no fault of your own.
Thankfully, here at The Law Place, our accident attorneys can provide the sensitivity and experience to support you as you move forward. If you have experienced the loss of a loved one in a Clearwater car accident, we are here to help. Our experienced Clearwater car accident lawyers understand your trauma and are committed to delivering the compassionate legal advice and compensation you deserve. Our law firm can assist in the recovery of compensation not only for wrongful deaths, but also for the medical expenses, familial interference, and many other complications.
If you are considering claiming for the loss of a loved one in an auto accident that took place in Clearwater, Florida, do not hesitate to contact us. The Law Pace, FL, provides free consultation and is available 24 hours a day, seven days a week. Call today on (941) 444-4444.
Car Accident Fatalities in Clearwater
Car accidents are a daily reality across America; getting behind the wheel of a vehicle is statistically the most dangerous thing that most people do every day.
A report by Florida Highway Safety and Motor Vehicles (FHSMV) revealed that in 2018 there were 17,875 car accident cases just in Pinellas County, where Clearwater is located. 130 of these accidents resulted in fatalities. The figures were similar in 2019, where a total of 17,074 recorded accidents across Pinellas County led to 102 fatalities.
Clearwater, FL, is one of the larger cities in Pinellas County, lying northwest of Tampa and St. Petersburg. Its combination of a bustling economic hub and tourist destination means there is often a large amount of traffic, and thus a greater possibility for an auto accident to occur.
Causes of Car Accidents in Clearwater
There are many things which can cause a car accident. These can be split into two distinct categories: those that are the fault of a driver and those where the accident is no ones fault. One of the most common causes of car accidents is distracted driving. The majority of distractions come from the use of mobile phones for talking, texting, or using social media whilst driving.
Driving Under the Influence (DUI) of alcohol and/or drugs is another common car accident cause. Inebriation slows a driver's reaction times and decision-making abilities, often with disastrous results. Some car accidents are the result of someone simply driving dangerously or ignoring traffic rules. A car accident as a result of dangerous driving, distracted driving, or drunk/drug driving can be especially painful to process. The avoidable nature of such events highlights their unfairness – even when a driver is doing everything right, they are powerless to ensure that others are doing the same.
There are also many ways a car accident can be relatively blameless. Accidents in Clearwater Florida can be caused by poor weather or road conditions. There is also the possibility of a technical malfunction with the car, an industrial accident, or a variety of other chance occurrences. While the fault of the accident may not be easily attributable to a single person, this should not prevent you from raising your case.
Whatever the cause of the Clearwater car accident, which led to the lost life of your loved one, an attorney from The Law Place will identify the correct way to seek compensation. Our wealth of experience with similar cases means that your case will be in safe hands. As a law firm, we understand that the death of a loved one is hard enough already. For this reason, we promise to ensure that all appropriate measures are taken to make the legal process as easy and straightforward as possible.
Often, insurance companies can be the last people you want to deal with when you're grieving. One of our personal injury lawyers will take responsibility for all the complicated paperwork and insurance company negotiation, so you are free to focus on the things that really matter to you. If you are considering filing a claim to seek compensation for the death of a loved one in a Clearwater accident, The Law Place offers a free consultation, so finding out where you stand could not be easier.
Insurance Responsibilities in a No-Fault State
Any car accident which takes place in Clearwater will be subject to Florida's no-fault insurance laws. Florida Statue 627.7407 is the legislation which states that both parties deal with their own insurance companies to make claims, no matter which driver was at fault. To cover this, all drivers in Florida must have Personal Injury Protection (PIP) insurance covered in their policy.
However, Personal Injury Protection insurance is limited. Florida Statute 627.736 states that the insurance company is only responsible for $10,000 in medical and disability benefits for injuries or $5,000 in death benefits in the event of an automobile accident. This is one reason an auto accident lawyer becomes so important, as claims for compensation exceeding this amount must be made through a lawsuit, such as a wrongful death case.
Is My Case a Wrongful Death?
As discussed earlier, a car accident may be the fault of another person or an entirely blameless accident. However, the term wrongful death is defined as a death caused by the wrongful act of another, either accidentally or intentionally. This means that when someone loses their life in a Clearwater car accident, compensation is available whether the other party was driving recklessly, suffering from a similarly blameless accident, or somewhere in between.
A wrongful death claim is filed by a car accident lawyer to seek compensation for the family member of the deceased. It is intended to cover the financial cost of the loved one's lost wages, as well as the emotional comfort and support they could have provided. A wrongful death claim can also be important in terms of emotional closure to ensure that the claimant is able to hold the other party accountable for any potential reckless actions on their part, which may have contributed to the accident. While holding the other party accountable may seem like an incredibly daunting process, wrongful death lawsuits are not criminal cases. They are, in fact, civil cases. This means that your accident attorney will not need to provide the burden of proof that the other party meant to intentionally cause injury to your loved one.
Hiring a car accident lawyer is incredibly beneficial when pursuing a claim of wrongful death. A car accident lawyer from The Law Place in Clearwater, Fl. will possess all of the relevant legal experience to manage your claim and win you the compensation you are entitled to from the insurance company. The money recovered in this way can be a huge benefit to recovering from something as life-changing as the death of a loved one. Compensation can be invaluable when dealing with unforeseen expenses. These expenses can take many different forms and often feel like a kick while you're down. From the cost of the funeral to the potential expenses of medical treatment for injuries, to simply helping to provide a financial cushion for a family's changing circumstances, you deserve that peace of mind.
If you have lost a loved one to wrongful death in a Clearwater car accident, you deserve the compensation you are entitled to. Please contact a personal injury lawyer at The Law Place in Clearwater, FL today. We can help you get the assistance you deserve.
Who Exactly Can File a Wrongful Death Lawsuit?
Following a Clearwater car accident, a wrongful death claim is only able to be filed by the deceased's personal representative. Florida Statute 768.21 is the law that assists the families of wrongful death victims. This legislation contains explicit details to help families navigate which types of compensation they may claim from an insurance company. The statute also identifies which family members are eligible for the role of the deceased's personal representative.
The legislation states that only the victim's spouse, children, and parents are automatically eligible to file the wrongful death case. However, if the deceased had a sibling or any other blood relative designated as their dependent, they would also be able to file the wrongful death lawsuit.
The personal representative of the victim is the only person who can file a claim for wrongful death. Typically, this will be the person named in the will of the deceased. In the situation where the deceased had not yet created a will, or if the will did not name a specific person, the court would usually designate the victim's spouse as their personal representative. However, in cases where the deceased was unmarried, the decision will usually be put to the other family members, who should make a mutual decision on who is best able to fulfill the role of a personal representative to communicate on the family's behalf.
The filing of a wrongful death lawsuit, like so many other parts of the process, can seem like a very daunting and complex process. Things can become especially bitter if the victim left no will or the appropriate personal representative is unclear, as a family's individual interests do not always align. This is where picking the correct car accident attorney can make a world of difference. The accident attorneys at The Law Place have the knowledge, sensitivity, and diplomatic acumen to guide your family through the whole process. Your lawyer will draw upon a wealth of experience to ensure that the wrongful death lawsuit is completed in a way that maximizes that essential compensation to cover medical bills, funeral costs, lost income, and any of the many other costs which may come your way.
What Compensations Are Available for a Clearwater Car Accident Resulting in Fatalities?
It is important to state that here at The Law Place, we understand that no sum of money could ever make up for the loss of a loved one. However, our experience has repeatedly proven that recovering an appropriate amount of compensation can help to ease the financial stresses, which can make your process of mourning even more difficult.
The following is a list of the damages that can be recovered from a car accident in Clearwater which results in a fatality:
Medical bills – It is often the case that serious medical expenses can be incurred as a result of the injuries your loved one suffered during the car accident. You could be entitled to compensation to allow you to cover the cost of these treatments.
Lost income – Losing a loved one often also means losing a financially contributing member of your household. This can have a major impact on your overall household income. A personal injury lawyer can help you recover compensation for these lost wages, which can provide a much-needed safety net while you adjust to your new circumstances.
Funeral costs – The financial injury of losing someone close to you can often come as quite a shock. The expenses involved in a full funeral and burial for your loved one can come to a large amount of money. Your personal injury lawyer may be able to seek additional compensation from the insurance company to cover these costs. For this reason, it is important to keep an itemized document of the specific, individual costs involved in your loved one's burial and funeral arrangements.
Pain and suffering – The phrase pain and suffering is the legal language used to describe the emotional distress resulting from your loved one's injury. The amount of compensation owed by the insurance company is calculated separately from other factors, such as medical expenses or lost income. Pain and suffering money seeks to recognize the trauma and emotional injury you have experienced losing a loved one.
Loss of companionship – If the victim of the accident leaves behind a spouse or children, it is possible for your personal injury lawyer to seek compensation for the loss of their companion, in terms of comfort and care.
Loss of parental guidance – In the case of children left behind following a car accident fatality, compensation can be sought by your personal injury lawyer to make up for the loss of parental guidance that the victim would have provided in the future, had they survived.
In order to maximize the amount of compensation you are eligible for, The Law Place will assign a car accident attorney to build a strong case that will hold up in court. The car accident lawyer will investigate the case fully and provide the evidence necessary to act as proof to the insurance company that the victim's injuries and subsequent loss of life was not their own fault.
Once you have contacted The Law Place in Clearwater for your free consultation, a car accident lawyer can begin to build your case today. The sooner you contact us, the less chance there is of evidence becoming lost over time. The personal injury lawyer we assign to you will work tirelessly to ensure that your family receives the compensation you deserve from the insurance company.
The Statute of Limitations in Clearwater Wrongful Death Cases
In Clearwater, like all of Florida, in line with Florida Statutes 95.11, wrongful death claims must be made within a two-year window of victim's loss of life. While two years may seem like a long time, especially when dealing with the recovery process of grief, The Law Place strongly recommends seeking the assistance of a car accident lawyer as soon after the accident as you feel able.
Starting the process of submitting a wrongful death case and seeking compensation immediately after losing a loved one can feel like a monumental task. This is why a personal injury lawyer from The Law Place will always seek to shoulder as much of your legal burden as possible. We recommend an immediate start to the process so strongly because it is the best way to ensure that no evidence is lost. Therefore, it is also the best way to ensure you receive the highest appropriate amount of compensation and justice. The additional time won by acting early will allow your personal injury lawyer to gather essentials such as witness statements, to ensure you have the strongest case possible.
Unfortunately, if you are submitting a case, your legal team will likely not be the only one working. The insurance company of the opposing party will most likely start investigating and building their defense as soon as possible. This is why it is important to brave the beginning of a painful process to avoid being denied the full compensation you deserve.
We appreciate that the initial stages of grief are among the worst times to be rushed into something. In recognition of this, we as a law firm promise to be at your family's side throughout the entire process and to ensure that everything runs as smoothly as possible, whilst also helping you to achieve the justice you deserve.
The Process of Filing for a Wrongful Death
If you were planning to file a case for wrongful death with The Law Place, as a result of a Clearwater car accident, the following is the process you should expect.
First, a member of our highly experienced and skilled injury lawyer team will be assigned to you. Your case will be discussed in a free consultation, which will provide you with a clear view of the best legal options available to you. It will also disclose our frees and a thorough explanation of what to expect going forward. The advice you receive at this stage will be based upon a rough guideline of how we can expect your case to unfold, given what we know about similar cases we have handled in the past.
Next, a dedicated personal injury lawyer will evaluate your case thoroughly and give their honest opinion on whether they think your case is eligible for compensation from the insurance company.
After this, your injury lawyer will perform a highly detailed investigation of the accident. The investigation will attempt to establish exactly what happened and whose fault it was. All of the possible necessary evidence to prove the innocence of your loved one will be gathered along the way. Our lawyers have even been known to employ accident reconstruction teams to help fortify compensation claims.
To recover compensation from the insurance company, your lawyer must be able to account for your losses. It is vital to document any and all injuries and expenses incurred following the loss of your loved one. We are also able to contact experts whose job it is to attempt to establish the number of future losses your family may face as a result of the wrongful death.
The insurance company of the opposing party may offer you a settlement. However, if you feel this settlement is unfair or fails to measure up to what you are entitled to, your attorney will file the appropriate lawsuit on your behalf.
Contact The Law Place in Clearwater Today
If you have lost a loved one in a Clearwater car accident which was not their fault, contact The Law Place as soon as possible. We will be able to review the facts, collect statements, gather evidence, and build a strong case to prove your loved one was lost due to another person's negligence.
Navigating the complicated laws of Florida and dealing with the cold realities of insurance companies can be a traumatic affair in itself. You don't have to face them alone; The Law Place is here to support your family.
Personal injury lawyers at The Law Place go above and beyond to secure the best possible results for our clients. They will devote their attention to the dogged pursuit of justice while remaining calm and compassionate with your family through this difficult time. When selecting a law firm, it is important to be safe in the knowledge that you will be treated ethically and respectfully. At The Law Place in Clearwater, we will ensure you are given honest and unbiased advice concerning which legal options are best for your situation.
We are available for free consultations for 24 hours a day, seven days a week. Unlike average law firms, we work on our cases as a team to give you the benefit of over 75 years of our combined legal experience. Call (941) 444-4444 today to find out how we can help you.