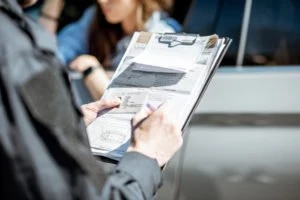 Although motor vehicle insurance is a legal requirement, it's estimated that nearly a quarter of all drivers in the State of Florida drive whilst uninsured. There are many reasons why this might be the case, but regardless of the circumstance, if you've been caught driving whilst uninsured or underinsured, you'll be facing legal consequences.
Depending on your situation, you could be facing a license suspension and expensive fines. If you've been in a car accident without insurance, you could also need to cover costs such as your own medical bills. You could also be facing lawsuits from other drivers. This can be a difficult situation to be in, especially if you are unsure how you'll be able to pay. However, you don't need to suffer alone.
At The Law Place, we're here to support you if you've been driving whilst uninsured, regardless of your situation. Our law firm of experienced uninsured accident attorneys works diligently around the clock to support our clients and achieve the best possible outcome for every case we take on.
So, contact us for a free consultation and case evaluation to see how we can help. Call today on (941) 444-4444. Phone lines are open 24/7.
Driving Insurance Requirements in Punta Gorda, FL.
According to the Florida Department of Highway Safety and Motor Vehicles (FHSMC), every driver in the State of Florida needs to possess a minimum of:
$10,000 of personal injury protection (PIP) insurance – This covers you if you receive a significant injury from a car accident. This type of insurance covers things like medical bills, current and future lost wages, pain and suffering, and other costs related to your injuries.
$10,000 of property damage liability (PDL) insurance – This is designed to cover your expenses if you damage any property through a car accident.
These are the minimum requirements for driving insurance in Punta Gorda. However, it is usually recommended that drivers ensure they are covered for more than $10,000 in PIP and PDL, as damages from a car accident can often vastly exceed these limits.
Why Might a Florida Driver Be Uninsured?
There are multiple reasons why a driver may not possess adequate motor vehicle insurance, including:
Not being able to afford the required monthly payments.
Failing or forgetting to renew insurance when it expires.
Incorrectly assuming that a vehicle that had not been driven for a long period of time did not need to be insured.
Purchasing insurance from a fake, scam, or unlicensed insurance company.
Being new residents to the State of Florida and failing to purchase insurance within 10 days of their employment start date.
Penalties for Driving Without Insurance in Punta Gorda, FL.
Whilst you won't face criminal charges for driving without motor vehicle insurance in Punta Gorda, you will incur penalties that increase in severity depending on whether or not you are a repeat offender:
First offense – License suspension of up to 3 years and a $150 reinstatement fee.
Second offense – License suspension of up to 3 years and a $250 reinstatement fee.
Third offense – License suspension of up to 3 years and a $500 reinstatement fee.
There are occasions in which drivers are pulled over, and even though they are insured, they may not be able to provide proof of this. In this case, drivers will have 5 days to provide proof of insurance or risk incurring penalties.
If you knowingly provide out-of-date or fake insurance details when pulled over by a law enforcement officer, you could face a first-degree misdemeanor charge in accordance with Florida Statute 316.646.
Even though you won't receive a criminal charge for driving whilst uninsured, it's still important to work with an experienced criminal defense or traffic crime lawyer in order to receive sound legal advice. Working with an attorney can help to reduce any penalties as well as making sure you have a strong legal defense to protect your rights.
Getting Into a Car Accident Whilst Uninsured
In a typical car or truck accident case, the accident victim will use their personal injury protection insurance to cover costs if they become seriously injured. However, it is likely that they could file a lawsuit against you in order to recover compensation if you were at fault for the crash. Usually, your insurance provider would pay for this, but this becomes much more complicated if you are uninsured. In this case, you could be required to pay for damages out of your own pocket.
In addition to this, you won't be covered for any injuries you have sustained from a car accident. Florida is a no-fault state. This means that drivers injured in a car accident in Punta Gorda will use their own personal injury protection (PIP) to pay for costs associated with their injuries. If you do not have PIP insurance, you'll also have to cover these costs yourself if you become injured.
If you've been in a car accident, whether or not you were at fault, it's essential that you get in contact with a Punta Gorda car accident lawyer as soon as possible. You will likely be facing high costs and may not be sure how you will be able to pay them. An experienced law firm will explain your rights and help to build a legal defense in order to achieve the best possible outcome for your situation.
Penalties for Causing an Accident With No Insurance in Punta Gorda
The penalties for driving without adequate driver's insurance in Punta Gorda, FL., increase if you get into or cause a car accident. In this case, in addition to facing fines and loss of driving privileges for being uninsured, you will also be facing penalties for the accident itself, including damages for injury or property damage as well as any associated crimes.
The penalties for causing a car accident in Punta Gorda could range from a low-level misdemeanor all the way up to a first-degree felony, depending on whether you caused the accident by:
Driving under the influence of alcohol or drugs.
Driving recklessly or dangerously.
Violating traffic laws.
Falling asleep at the wheel or driving whilst fatigued.
Acting negligently.
However, the case may be that you did get into an auto accident, but it was caused by someone else. Here, you would not automatically be liable for damages just because you were uninsured. However, you will likely still face the consequences of not possessing insurance.
A car accident lawyer at The Law Place will be able to help you regardless of the specifics of your case. Whether you've caused an accident whilst uninsured or if you're facing criminal charges, we're here to support you.
How Can an Uninsured Motorist and Car Accident Lawyer Help Me?
Regardless of your circumstance, you should hire an experienced criminal defense attorney, even if you think your case is straightforward. If you've also caused an auto accident or are facing criminal charges, it's even more important to acquire legal representation.
A Punta Gorda law firm that specializes in insurance, car accidents, and traffic cases can help to support you by:
Taking Care of Paperwork and Documentation
Uninsured drivers may be required to fill out extensive paperwork, especially if they've caused a car accident. Working with a lawyer ensures that all of this is taken care of on your behalf and that no mistakes are made, which could further complicate the legal process.
They'll also help you to collect and organize any documentation needed to support you in building a strong legal defense. This could be necessary, for example, if you've been in a serious accident that wasn't your fault while uninsured. In this case, your car accident lawyer will help you record evidence and keep it arranged so that it can be used to support you in court if necessary.
Dealing With Insurance Companies
If you're facing a lawsuit from another driver for causing a car accident whilst uninsured, your attorney will handle any insurance companies involved in the case. This can be very difficult to do on your own without the help of a trained legal professional.
Insurance companies in Punta Gorda can be notoriously difficult to handle without legal representation. So, working with a lawyer can help this process to run much more smoothly.
Helping You to Understand Your Legal Options
If you've been caught driving whilst uninsured, whether or not you're also facing criminal charges for associated traffic crimes, a lawyer will be able to help you understand your rights. They'll also be able to explain all of the legal options available to you and help you choose the best one in order to achieve a more favorable outcome.
Providing Diverse Legal Support
It's common for uninsured driver cases to include multiple offenses. In cases such as these, law firms with a wide variety of practice areas will be able to provide complete legal advice and support to defend you against multiple crimes and minimize any penalties.
Contact The Law Place – Punta Gorda Car Accident Lawyers
If you've been caught on the road without motor vehicle insurance, you could be up against more minor penalties, such as fines and license suspension, or you could be facing criminal charges and lawsuits. Whatever your situation, you'll need to work with a Punta Gorda uninsured driver and car accident lawyer to try to minimize any consequences.
The Law Place is an experienced law firm serving Punta Gorda and the wider State of Florida. We are also one of the most experienced firms in Florida when it comes to winning traffic cases for our clients. Our team of traffic accident lawyers and personal injury attorneys work with a team approach to share expertise and knowledge for every case we undertake. So, when you work with us, you can be sure that you'll receive the support and attention you deserve.
A positive attorney-client relationship is important to us here at The Law Place. So, we always offer a free consultation to make sure you're completely satisfied with our representation before you commit to us.
Contact us today for your free case evaluation. Someone will be waiting to take your call 24 hours a day, 7 days a week. So, phone us today at (941) 444-4444.