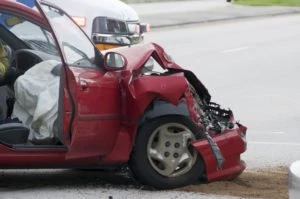 Truck accidents are a large reason the roads are so unsafe in Port Charlotte and throughout the State of Florida. When a truck accident happens, the likelihood of serious injuries occurring is much higher than when a car accident happens. This is due to the weight and size of trucks and because they are often carrying heavy loads. It is common for those involved in a truck accident to suffer serious personal injuries which affect the rest of their lives.
Truck accidents have become a frequent occurrence throughout Florida as there are so many delivery trucks on the roads nowadays. As UPS is such a large trucking company, they have been responsible for many serious accidents in Port Charlotte. Seeking compensation from these large companies can be difficult, so we recommend speaking with a truck accident lawyer if you have been involved in an accident involving a delivery truck driver in Port Charlotte, Florida.
At The Law Place, we have over 75 years of combined experience in multiple practice areas, including cases involving a truck driver. Our law firm offers a free consultation where you can receive legal advice from a truck accident attorney regarding your case with no strings attached.
Call today to schedule a free consultation at (941) 444-4444. Our lines are open 24 hours, 7 days a week, for your convenience.
UPS Vehicle Accident Statistics
UPS is responsible for a large number of truck accidents throughout America as they are the biggest trucking company in the world. Data provided by the Safety Measurement System indicates that the company has 121,929 delivery trucks on the roads of America in addition to 118,498 truck drivers. Given the number of trucks and delivery drivers that this trucking company has on the roads, it is easy to see how they are involved in so many accidents.
The Safety Measurement System provides us with further data on UPS. It indicates that there have been a total of 4,941 incidents where violations have been found upon inspection of the vehicles. Additionally, it reported 2,723 truck accidents, 2,153 unsafe driving violations, and 10 instances of truck drivers driving under the influence of alcohol or drugs.
This data clearly indicates that there is a huge problem with trucking companies throughout the country, particularly with large companies such as UPS. As truck accidents often cause severe property damage and personal injury, it is clear that something needs to be done about the safety measurements of these companies.
If you have been involved in a delivery truck accident, you should contact a truck accident lawyer from The Law Place. We can help you fight against these large companies for the compensation you deserve.
Unsafe Practices of Trucking Companies
In many situations, truck accidents are caused by the negligent practices of the trucking company. Large companies often create a difficult working environment for their truck drivers, which can result in serious accidents happening. Some of the known practices they engage in include:
A payment by mile scheme, which means that drivers have to work more hours in order to earn a living wage. This means that drivers often don't take breaks or rests, resulting in them being fatigued behind the wheel.
Because of this payment scheme, drivers often take shortcuts in order to increase their pay. This can include loading cargo incorrectly, not planning routes properly, and not carrying out necessary maintenance on the vehicles.
In many cases, drivers turn to substances in order to cope with the fatigue and stress they suffer from their job. This can lead to serious accidents happening from a truck driver driving under the influence.
It is often the case that a trucking company will fail to carry out the necessary maintenance on their vehicles which can cause accidents due to vehicle failure.
Companies also often fail to carry out the necessary safety checks during the hiring process. This can lead to individuals who have a history of reckless driving or DUI's being hired as truck drivers.
How Is Proving Negligence Different in a Truck Accident Case?
In a truck accident case involving a large trucking company, it is possible to file a claim against both the driver and their company. In order to receive compensation from either party, a truck accident lawyer will have to prove that the party owed you a duty of care, that this duty of care was breached, and that the damages you suffered were a direct result of the breach in that duty.
What makes truck accidents different from car accidents is the existence of the black box. Most trucks in Florida have a box installed inside which records and collects important data. Some of the data it contains includes the speed the vehicle was driving at the time of the accident, the driver's braking patterns, and how forceful the impact was.
When investigating your case, a truck accident lawyer will use the information on the black box in order to figure out what happened at the time of the collision. If this information shows that the driver was responsible for the accident, it will be extremely helpful in building a strong personal injury claim.
It is important to contact truck accident attorneys quickly, though, as drivers and trucking companies are known for trying to destroy these black boxes or trying to erase the information in order to reduce liability. The sooner you contact an accident lawyer, the better their chances will be of obtaining the black box.
Common Personal Injuries Resulting From a Truck Accident
As truck crashes are often severe in nature, those involved are more likely to suffer serious physical injuries, which can be life-altering. Some of the most frequent injuries seen by our truck accident lawyers include:
Broken, fractured, or sprained bones.
Injuries to the back and spine.
Injuries to the head and brain.
Internal injuries such as damage to organs or internal bleeding.
Cuts, lacerations, and burns.
Amputation of limbs, disfigurement, and scarring.
Emotional distress.
What Damages Can I Claim?
If you have been involved in a truck accident in Port Charlotte, Florida, there may be a number of damages that you can claim, depending on how serious the collision was. Some damages that a truck accidents lawyer can help you claim for include:
Medical bills – You can claim any medical expenses resulting from the truck accident, including hospital appointments, any future medical bills, and transport to and from these appointments.
Lost wages – If you have been left unable to work as a result of the collision, you can claim any lost wages, including any potential future earnings.
Property damage – If your property has been damaged in the crash, including any valuable items contained inside the vehicle at the time, you can claim compensation for this.
Pain and suffering – If you have suffered physical or emotional distress because of the accident, you can claim compensation in the form of pain and suffering damages. An example of this is if you have been left unable to participate in a hobby that you previously enjoyed because of your injuries.
Wrongful death – Losing a loved one in an auto accident is tragic, and no amount of compensation can make up for this. Here at The Law Place, an accident attorney from our firm can help relieve some financial stress by seeking funeral expenses and a loss of income to the family household.
Is There a Rush for Making a Personal Injury Claim?
The law in Florida allows you four years to make a personal injury claim for an accident. However, we recommend that you act fast in these types of cases, particularly when it involves large companies such as UPS. The longer you leave it, the less likely it will be for you to find reliable eye-witness accounts, as witnesses are often unable to be located or their memories have become clouded.
Additionally, large companies will often have experienced truck accident lawyers who will be collecting evidence from the get-go. Coming up against a team of skilled personal injury lawyers without having a strong case built can result in you not receiving the compensation you are owed. Similarly, an insurance company will do everything in their power to ensure that they don't have to pay you out.
Speaking with an experienced truck accident attorney as soon as possible allows them to build a strong case on your behalf. This way, they can be well-equipped to argue your case against your own insurance company, the insurance companies of the truck company and the driver, and the lawyers involved in the case.
How Much Will a Personal Injury Attorney Cost Me?
One of the main reasons people are hesitant to seek legal assistance is that they are often left out of pocket following their case. Having to pay for medical bills, damage to your property, and any extra costs that accumulate following a collision is stressful enough without the added costs of an attorney.
Here at The Law Place, we work on a contingency basis to ensure that you are never left out of pocket following a claim. This means that we will never ask for any money from you if your case is unsuccessful. If you do win your case, our fees will be subtracted from your settlement, which is always guaranteed to be at a fair rate.
The State Bar Association monitors all contingency work carried out by law firms in Florida which means that you have the added security of knowing that you won't be treated unfairly.
Contact The Law Place Today
If you have been injured in an accident involving a UPS truck driver in Port Charlotte, Florida, you should contact The Law Place today. We know that these types of accidents can be extremely stressful, particularly when it involves large companies who will do everything in their power to reduce the amount of compensation you receive. We want to eliminate any extra stress related to your claim by providing you with the highest standard of legal assistance.
Our law firm has over 75 years of combined experience in multiple practice areas, including accidents involving a truck driver. We offer a free case evaluation where you can speak to one of our injury lawyers about your case. If you decide to proceed with us as your legal representatives, we guarantee to fight tirelessly to ensure you receive the compensation you deserve.
We have build up a great attorney-client relationship over our many years of practice, and this is proven through our high success rate.
Call today to schedule a free consultation with one of our injury attorneys at (941) 444-4444. Our lines are always open.