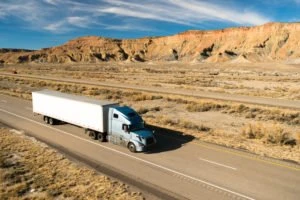 Driving has always come with an element of risk, but the increasing number of vehicles on the roads of Florida makes it one of the most dangerous states to drive in across The United States. Port Charlotte alone sees high volumes of passenger vehicles, commercial vehicles, and motorcycles traveling through the county on a daily basis. As we have seen over the years, this increase in traffic creates many more opportunities for people to make mistakes or for vehicles to malfunction. In fact, a statistic released by The Florida Department of Highway Safety and Motor Vehicles showed that roughly 400,000 car accidents occur annually in Florida. Of this number, a significant amount leads to fatalities, especially where a large commercial truck is involved.
Whilst businesses heavily rely on these trucks to export goods all across the country, making them a common sight on the road, they always have the potential to cause life-changing damage to anyone involved in a crash. The devastation of many truck accidents is caused by the difference in size between small cars and large trucks. 18-wheeler trucks are particularly tall, long, and heavy, which often makes the damage substantially more severe, especially when they are fully loaded.
If you or a loved one has been involved in a truck accident with an 18-wheeler truck, then you need the help of a seasoned truck accident attorney. You may be entitled to enough compensation to cover the costs of every repair and medical bill you have had to pay for yourself. At The Law Place, we are committed to ensuring that our clients get the justice they deserve. We have over 75 years of combined experience in representing people with cases just like yours. Plus, our free consultation service will give you a chance to voice all your concerns and queries before deciding to work with us. Our lines are open 24 hours a day, 7 days a week, so call us now at (941) 444-4444.
Uses of 18-Wheelers
Trucking companies use their 18-wheeler trucks to transport their goods all over the country. The benefit of an 18-wheeler truck is that its huge size allows them to carry large quantities of heavy cargo across long journeys. The design of these trucks allows for cargo to be safely transported when it is distributed across the axels of the truck bed. The more freight a truck can carry, the higher the profit margin will become for the trucking company.
Whilst 18-wheeler trucks are often seen traveling on the highways of Port Charlotte, Florida, they have also been designed to be able to handle uneven or steep terrain too. The immense power of 18-wheelers means that they can complete trips across all manner of climates both quickly and efficiently. It's no wonder that trucking companies so often use these vehicles.
Despite the benefits of these trucks, the nature of an 18-wheeler means that it will always be an extremely heavy vehicle. Whilst this weight will fluctuate with every job that it works on, an 18-wheeler truck will always have the potential to cause serious damage to the smaller vehicles traveling alongside them. The effects of an auto accident involving such a heavy truck can create significant damage, even in the most moderate truck accident.
If you have been involved in a truck accident that was caused by the actions of another, then you need to contact a truck accident lawyer as soon as possible. The costs of recovering from a traumatic accident can increase quickly and build over long periods of time. We understand how stressful it can be to face such an ordeal while recovering from physical injuries and trying to ensure that you are earning enough money. That is why our team of truck accident attorneys is here to help you. Call us today to arrange a free consultation and see just how much you may be entitled to.
Reasons for Truck Accidents
Truck accidents happen for many different reasons in Port Charlotte, FL., caused by both human and mechanical errors. The following is a list of common causes of truck accidents for which you can claim compensation:
Distracted driving – Of course, drivers must pay attention to the road at all times when driving. Even the slightest loss of concentration can cause a serious crash. However, truck drivers are expected to stay behind the wheel for excessive and, often, illegal amounts of time. This leads to drivers performing simple yet vital tasks, like eating and drinking, whilst driving. Another common cause of distracted driving is cell phones. Annually, there are a significant number of serious car accidents which are caused by people using their cell phones, taking their eyes off the road to answer messages and phone calls.
Bad weather – Driving during heavy periods of rain or foggy weather makes it very difficult to see the road ahead, increasing the potential for a truck accident to happen. This is why it is extremely important for all vehicle owners to make sure that their headlights and brake lights are working properly and being used when appropriate. Ultimately, it could save someone's life.
Driving whilst tired – As previously mentioned, drivers are expected to stay behind the wheel for long periods of time. Even though this is completely against safety regulations, trucking companies often offer incentives for drivers to complete jobs more quickly, thus forcing them to drive whilst fatigued. Of course, being in control of a vehicle as big as an 18-wheeler when you are in need of sleep is hugely dangerous.
Trucking company negligence – Regulations were put in place in order to ensure the safety of both truck drivers and others traveling on the roads. However, trucking companies often ignore these restrictions in order to increase their profits. Incentivising drivers to drive for longer, failing to train drivers to regulation standards, overfilling cargo, and making sub-standard mechanical repairs are all examples of this.
Mechanical errors – Many truck accidents occur when a truck's mechanics malfunction. Maybe this is a tire blowout, a broken brake light, or a problem with the brakes. In a case where the truck accident was due to a mechanical error, there may be a number of responsible parties. The truck driver, trucking company, or mechanic can all be held liable for such an error. Your truck accident attorney will be able to assess the evidence and determine who was a fault.
Driving under the influence – The punishments are extremely harsh for anyone caught operating a vehicle whilst under the influence of drugs or alcohol. Reaction times slow, judgment becomes impaired, and caution reduces when a person is intoxicated. Even the smallest car can cause a terrible accident if it is being operated by an inebriated driver. However, the devastation that an 18-wheeler truck can cause is unparalleled by other vehicles, easily causing fatalities and life-long disabilities.
In contacting one of our truck accident attorneys, you will have someone who will begin collecting the evidence you will need to prove the negligence of the at-fault party. Florida Statute 768.81 states that anyone found to have broken their duty of care may be held partly responsible for causing your accident. Contact The Law Place today and schedule a free case evaluation with a member of our team.
Common Injuries from 18-Wheeler Truck Accidents
Every truck accident has the potential to cause numerous injuries to those involved. Some common injuries range from minor abrasions to permanent disabilities. No matter the extent of your suffering, your truck accident attorney will be able to help you recover compensation for the medical bills you have had to face. Some common injuries include:
Soft tissue damage.
Internal organ damage.
Fractured and broken bones.
Head injuries.
If you have been physically hurt in a truck accident but are unsure of how to begin the process of getting compensation, then call The Law Place today. Our accident lawyers know exactly what steps to take next and will help you navigate the complexities of Florida state law. Call us today to speak to an experienced car accident attorney.
Types of Compensation You May Be Entitled To
The aftermath of a truck accident can leave you facing huge, unexpected expenses that you are unable to cover. This is why it is imperative to contact one of our car accident lawyers as soon as possible. The quicker you act, the better chances you have of collecting enough evidence to ensure that you are fairly compensated. The following is a list of possible damages for which you can be reimbursed:
Lost wages.
Property damage.
Medical bills.
Loss of enjoyment.
Alterations made to your property.
Contact a truck accident lawyer today if you are unsure of exactly what you are entitled to. They will review all the evidence and give you a monetary value for the suffering you have experienced. We understand that money will not be able to heal all the damages you have faced at the hands of someone else, but at the very least, you will be able to give up the financial burden you have been left with. Call us today and schedule a free consultation with one of our accident lawyers.
Call The Law Place Today
At The Law Place, we take every truck accident claim very seriously. Our Port Charlotte truck accident lawyers make sure that no stone is left unturned when it comes to looking for evidence. This way, they can strengthen your case and ensure that greedy insurance companies do not take the upper hand. Our client testimonies are proof of our previous successes in working on truck accident cases, just like yours.
We are confident that we can help you get the compensation you deserve, with no hidden costs or legal fees. If your case is unsuccessful, you will never have to pay a cent. Contact The Law Place today and schedule a free case evaluation with one of our experienced injury attorneys. Our lines are always open so that we are here when you need us most. Call now at (941) 444-4444.