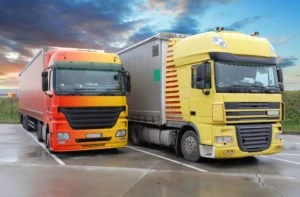 Truck accidents can be the worst types of accidents on the roads of Port Charlotte, FL. Although no one wants to plan for a truck accident, unfortunately, it can happen to anyone at any time. On average, there are over 400,000 motoring accidents across the states in a year, and truck accidents specifically count for 1 in every 10 motorist fatalities, according to Florida Highway Safety and Motor Vehicles (FHSMV).
If you have experienced a truck accident in Port Charlotte, it's important to hire a capable truck accident lawyer who has plenty of experience with regard to traffic laws and accidents in Florida. The difference between having and not having a capable personal injury lawyer when it comes to claiming compensation can be huge.
If you or a loved one have been in a truck accident, we highly advise you to seek out skilled and experienced lawyers. At The Law Place, we deal with truck accident cases all the time, and with over 75-years of combined experience, our lawyers know exactly how to get you the appropriate amount of compensation you deserve for your case. We also offer a free consultation with every case, so what are you waiting for?
Contact us at (941) 444-4444. Our phone lines are open 24/7.
Why Truck Accidents Cause So Much Damage
The most common types of truck accidents in Port Charlotte involve large delivery trucks. These are becoming more and more popular around Florida, with companies like DHL and Amazon offering next-day delivery. Unfortunately, this boom in the delivery industry means more drivers on the road, and therefore more truck accidents. The most common causes of these drivers having accidents are:
The weight and size of DHL delivery trucks mean that the stop time is much longer than that of passenger vehicles. This means if the truck drivers have to brake suddenly due to other drivers or something in the road, they may not stop in time and could cause an accident.
Truck driver fatigue is one of the main reasons given for truck accidents across Florida.
Due to the size of these trucks, the driver has a lot more blind spots than usual drivers in passenger cars. Truck drivers may not see what cars are near them when making a turn or changing lanes and can therefore cause an accident very easily.
The importance of driver training in these large companies sometimes goes unchecked. When driving a large truck, the driver has to alert. When drivers haven't been trained properly, it can lead to reckless driving and therefore create an accident.
If you believe that you or a loved one has been involved in a DHL truck accident where the truck driver was at fault, then contact us today to schedule your free consultation.
Legal Aid for Port Charlotte Truck Accident Victims
At The Law Place, we have a long history of providing legal services to the victims of truck accidents in Port Charlotte. We have a combined 75-years of experience, and many of these years have been spent working on traffic-related incidents. We understand the stress of being involved in a truck accident, and our team of truck accident lawyers will help to take away this stress.
Our phone lines are always open 24/7 so that we can advise you on what may be best for your case. We believe that the victims shouldn't have to worry about paying expensive court fees, and that's why we not only offer a free consultation before deciding if you want to work with our experienced team but also – if you do choose to work with us – our personal injury and truck accident lawyers all work on a no-win-no-fee basis.
So contact us today and schedule your free consultation with a qualified truck accident lawyer.
What Should I Do After a Port Charlotte Truck Accident?
Following a truck accident, we understand that there's a lot of stress and potential injuries. A truck accident can bring catastrophic changes to your or your family's life. That's why it's important to know what you should do following the accident. Our recommendation is as follows:
Firstly, your priority must be the health and well-being of either yourself or the family member involved. If you are not injured and able to move, you must get yourself to a safe place. If others are un-injured and it is safe to do so, then attempt to help them to safety as well. However, always leave the injured to the emergency services as trying to help them could hurt them further. Once you and other uninjured people are safe in a side lane, call the emergency services.
Florida Statute 316.062 also requires that the police are called to the scene of the accident if there is severe property damage or personal injury.
It's important to stay patient whilst you wait for the emergency services. First responders will come and look after the injured. Once the police arrive, they will focus on creating a safe place so that other drivers don't hit any debris on the road or create more danger for the injured pedestrians and first responders.
When the area has been made safe, it's important to collect any evidence you can while you are at the scene. Taking pictures of the event, vehicles and damages can be used later by your accident lawyer as evidence. Try to get any names of witnesses, police and first responders and ID numbers. Any information that you can collect could be helpful later on.
After all of this, it's important to get yourself safely to a hospital. Even if you don't have any visible injuries, it's very common to experience whiplash, head injuries, or internal bleeding without noticing right away. Having a health professional have a look at you is the only way to ensure you haven't sustained any serious injuries. On top of this, according to Florida Statute 627.736, you have 14 days to seek medical assistance for the accident if you are planning on claiming compensation for injuries.
You are also required to inform your insurance company about what occurred, you usually have 24 hours to do this.
Finally, once you feel that you are of a stable mindset and have been checked over by a professional at the hospital, we recommend seeking legal counsel. The sooner you do this, the sooner your case can get looked at and the quicker claiming compensation can be.
Hiring a capable truck accident lawyer sooner rather than later will take away the stress of the accident. In addition, our lawyers at The Law Place would be able to take over the specifics for you as we understand that you want to be focusing on your healthy recovery.
Call Your Insurance Company and File a Claim
Florida is a no-fault insurance state, in line with Florida Statute 627.7407. This means that drivers are required to buy PIP (personal injury protection) insurance with the insurance policy.
You will have to file a claim with your insurance when any damages have taken place, even if you were not at fault for the accident. If you decide to hire a Port Charlotte truck accident lawyer, they will file the claim for you with your insurance.
Insurance companies usually pay for minor injuries, including a certain amount of compensation, the amount of which depends on your insurance policy. In addition, they will pay for the following expenses:
Medical bills.
Hospitalization fees.
Lost wages due to the inability to work and future wages if you have to stay hospitalized for a long period of time.
In most cases, you can claim for more than your insurance policy will allow you. This is why it's important to hire a capable personal injury lawyer. Don't fall prey to insurance companies' tricks, as they will try to pay out the minimum amount of compensation possible. An experienced lawyer will be able to counteract their efforts and will push for what you deserve, providing the details of the case to allow for compensation.
What Will a Port Charlotte Truck Accident Lawyer Do for Me?
When involved in an accident with a DHL truck driver, their company will send an investigator who will look for ways to minimize the company's liability in the accident. The Law Place will send out an experienced lawyer to investigate on your behalf. This will give you more of a fighting chance. The difference between entering a courtroom for an insurance claim with an experienced lawyer rather than without can make a huge difference in what you might expect to get from compensation.
The steps our law firm will take when we send our investigator are as follows:
Quick response – As soon as physically possible, once hired, we will send out our investigator on your behalf to inspect the scene before any evidence has been tainted or removed. It is, however, unlikely that we will get there before the police intervene. But we will still be able to take essential photographs and gather evidence to help you with your case.
Inspect the vehicles – If contacted quickly enough, we may be able to see the vehicles before they have been repaired. The accident may have been caused by the negligence of maintenance of the truck by the trucking company, which is a very common cause of most truck accidents on the roads of Port Charlotte.
Reconstruction – Accounts of people who were involved always vary and figuring out who may be lying and telling the truth is tough. But our lawyers at The Law Place won't leave any stone unturned; we will make sure that we have the full picture of what happened so that we can ensure you get the maximum compensation. We will also consult crash reconstruction experts so that we can confirm our theories and help get the full picture of the details before representing the victims in court.
To give yourself the best chance of winning in court, contact The Law Place today. Our experienced personal injury lawyers will work day and night to help you win your case.
What Compensation Can I Claim Following a Truck Accident?
With truck accidents, there are many different types of damages that you can claim for. Some examples include:
Property damage – If your belongings inside your vehicle or the car itself has been damaged, or written off due to the truck accident, you may be able to claim compensation back to pay for these damages.
Medical bills – Medical bills are usually a major factor when it comes to truck accidents and can be the worst financial burden you face after being involved in a DHL delivery truck accident. Unexpected bills are the worst, especially when it involves injuries that weren't your fault. With an experienced accident lawyer, you may be able to claim compensation for these medical bills.
Lost wages – If due to the DHL delivery truck accident, you cannot work for a period of time, you may be able to claim compensation for these lost wages. This includes not only wages that you may have lost prior to the day in court, but if you have long-lasting injuries, you can claim compensation for the projected amount of lost wages.
Wrongful death – No one likes to think of the worst-case scenario, but sometimes in these DHL truck accidents, people wrongfully lose their lives. We know that no amount of compensation will make this better, but you may be able to claim for funeral costs, lost wages of the lost loved one, (loss of consortium). For more information, look at Florida Statute 768.21.
Where Does the Fault Lie?
Sometimes, lesser experienced personal injury lawyers may try to pin all the blame on the other driver. However, this is not always the case. Truck accidents can make for very complicated cases, even when you have an experienced lawyer who knows all the ins and outs of Florida law. This is because many things could be to blame, such as corporate negligence, the inability of the truck driver, and more. Below are some of the most common people at fault for trucking accidents in Port Charlotte:
The trucking company – With companies such as DHL, Amazon, and FedEx who offer next-day services across all of America, cutting corners is becoming a common occurance. Inadequate training of drivers, hiring reckless drivers, and not keeping up with vehicle maintenance are all forms of corporate negligence. All of these reasons can be used to pin the blame on the trucking company in court.
Mechanics – Mechanical faults of trucks can cause severe accidents and so are not to be taken lightly. If it can be proven that the vehicle maintenance was done wrongly by a mechanic, then they can face liability for the accident.
Cargo loaders – Some DHL trucks can carry up to 40 tonnes of cargo. All of this cargo must be tied down properly and securely. If not, then the stability of the vehicle can be thrown off, and it becomes possible for the vehicle to be too hard to control for the truck driver, causing not only a truck accident but all that cargo will be dangerous debris on the road for other drivers. These cargo loaders can be held liable if proven guilty.
If you or a loved one believe you have been in a DHL truck accident that wasn't your fault, then having a capable personal injury lawyer may be able to help you claim compensation.
Contact The Law Place for a Free Consultation
If you want the best possible chance at claiming the largest amount of compensation for an accident that wasn't your fault, then hiring an accident lawyer is the best option for you.
At The Law Place, we take pride in our 75-years of combined experience in Florida cases just like yours. We offer second to none customer-attorney relationships and work on a no-win-no-fee basis so that you don't have to worry about court fees through this stressful time. Calling us today will get you in contact with a qualified accident attorney who will offer a free consultation on your case, giving you a better idea of what to do moving forward.
Contact us at (941) 444-4444. Our phone lines are open 24/7.