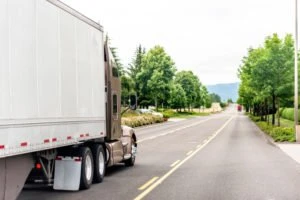 Being involved in a moving van accident can be extremely physically and mentally exhausting, and sadly Florida remains one of the most dangerous states for drivers and pedestrians. Across Florida, there are roughly 400,000 auto accidents a year, and truck accidents make up for, on average, 1 in 10 highway deaths.
A truck can weigh upwards of 77,000 pounds more than the average car, so it is easy to understand why a truck accident can be so dangerous to those involved. Because of this severity, it is important you contact an experienced accident attorney to see if you may be entitled to compensation following a collision of this degree.
If you or a loved one have been involved in a Port Charlotte truck accident that was not your fault, do not hesitate to contact a personal injury lawyer at The Law Place. The accident lawyers at our law firm boast 75 years of combined experience, and many are AVVO 10.0 rated, so you can be confident your case is in the best of hands.
We understand how traumatic trucking accidents can be, so it is essential you get the justice you deserve afterward. Our accident attorneys will be able to offer you a free consultation to learn more about what we can do for you.
Call any of our law offices today at (941) 444-4444. Phone lines are open 24/7.
Common Causes of Moving Van Accidents in Florida
A range of reasons can cause truck accidents in Port Charlotte. Some of the most common causes include:
Distracted driving – According to

Florida Highway Safety and Motor Vehicles

, over 50,000 motor vehicle accidents were caused by distracted driving in 2016. Examples of distracted driving include being on your phone, talking to passengers, eating/drinking, etc.
Poor maintenance of truck/cargo – Any inadequate maintenance of a truck could cause an accident, especially the safety systems, e.g., axles, headlights, tires, brakes, etc. In relation to onboard cargo, if a commercial truck is overloaded or the cargo isn't secure, this could also cause a severe truck accident.
Affected performance – Driving under the influence, driver fatigue, and driving with a severe medical condition can affect how well a truck driver drives and responds to hazards. This increases the likelihood of an accident.
Weather conditions – Florida is prone to periodic and very heavy rainfall or high winds. This can lead to drivers struggling to control their vehicles.
Trucking companies – If a trucking company demonstrates negligent hiring or forces workers to drive unreasonable hours, this could lead to a truck accident. They are held to specific regulations to prevent this.
Road conditions – This includes missing road signs, debris in the road, potholes, sharp turns, etc.
Common Types of Moving Van Accidents in Florida.
There are five commonly recorded types of a truck accident in Florida, these are:
Override – When a tractor-trailer rear-ends a smaller vehicle.
Underride – Opposite of an override is when a smaller vehicle rear-ends a moving van.
Cargo spill – When cargo falls from a commercial truck. This can cause a crash either by falling directly onto another vehicle or driving a domino-effect collision whereby a vehicle suddenly brakes to avoid the debris.
Rollover – If truck drivers travel too quickly around a corner, then they can roll over because of the truck's unbalanced height.
Head-on collision – Occurs when the front-end crashes into the front of another vehicle when traveling in opposite directions. This occurs most commonly because of a breach of the right of way.
No matter what type of specific truck accident you have been involved in, it is always best to contact a moving van accident lawyer after such a collision. They will be able to tell you whether or not your accident could result in you being owed compensation.
Common Injuries Caused by Truck Accidents.
Due to their sheer size, moving vans can be extremely dangerous, and if you are involved in an accident then injuries are usually unavoidable. Examples of common injuries reported in truck accident cases include:
Fractured, crushed, or broken bones.
Head/brain injury.
Organ damage.
Internal bleeding.
Burns.
Paralysis.
Cuts, scrapes, and bruises.
Whiplash or other types of neck injury.
Possible Damages Following a Truck Accident.
Accident cases can result in a range of different types of compensation you may claim for. Common examples of damages owed after truck accidents include:
Medical bills – Car accidents can cause multiple injuries which will require medical attention. For any medical bills you receive, these costs can be accounted for in your final settlement. Similarly, if you are suffering from long-lasting injuries, then any ongoing fees could also be included.
Lost wages -If you have had to have time off from work because of your truck accident, you will include any lost wages in your settlement value. Similarly, if your injuries prevent you from returning to work or you have to change your job, you could claim a loss of earning potential.
Property damage – Your vehicle may have sustained some damage after a Port Charlotte truck accident. Any repair or replacement costs can be included in your settlement but remember to keep evidence of these expenses.
Pain and suffering –

Pain and suffering

are types of damages that cover all mental and physical suffering, as well as any loss of enjoyment you endured because of your truck accident. An example of loss of enjoyment would be unable to participate in a soccer team you once did weekly. This is a complex form of damages as it's challenging to provide evidence for and accurately translate into a settlement value. Therefore, it is best to have experienced personal injury lawyers on your side to do this for you.
Wrongful death –

Florida Statute 768.21

states that if you have lost a loved one in a Port Charlotte truck accident, you can file a wrongful death lawsuit. A settlement from this type of lawsuit generally covers any necessary funeral expenses,

loss of consortium

, and any existing medical bills.
Contact the accident lawyers at our law firm to schedule a free consultation if you wish to learn more about the damages we believe you could be owed.
Determining Liability Following a Moving Van Accident.
Several different parties can cause a Port Charlotte truck accident. Examples of who could be found liable for your moving van accident include:
Truck driver – Every driver in Port Charlotte owes a

duty of care

to drive safely and as any reasonable person would protect those around them. If a driver breaches this duty (e.g., speeding, driving under the influence, being on their phone, etc.) and this breach then causes a truck accident, the truck driver can be found liable.
Trucking companies – If the trucking company has been negligent, e.g.,

negligent

hiring or forcing their drivers to complete illegal hours, they could be found liable if this act contributed to the crash.
Government entity – If the accident was caused by something under government jurisdiction (e.g., a dangerous pothole or missing vital road sign), they could be held liable.
Truck manufacturer – If a manufacturer makes and distributes a defective part that leads to an accident, they can be held liable under product liability laws.
Maintenance crew – The maintenance team will have a duty of care to ensure the truck is safe to be on the road. If they fail to notice and fix an apparent defect that leads to a crash, they can be held liable.
What About Comparative Negligence Laws?
Florida Statute 768.81 outlines the laws surrounding comparative negligence. It means that multiple parties can be found liable for an accident if applicable. The Judge will assign liability to the guilty party/parties and then award you a settlement reflective of these laws. In other words, if you are found to be partially liable, then your settlement will be reduced by a percentage that suitably punishes this liability.
For example, if your truck accident was mainly caused by the truck driver being intoxicated, you were also proven to travel ten mph over the speed limit. Your settlement may be reduced by 10%. But, again, this reflects your fault. If you are found to be over 50% at fault, then you will not be able to claim against the other party.
The Clock is Ticking!
If you have recently been involved in a Port Charlotte tractor-trailer collision, you must act quickly and hire an accident lawyer as soon as possible. Florida Statute 95.11 sets out Florida's strict statute of limitations on all personal injury cases. If four years pass from the date of your accident, then under this statute, you will be unable to file any lawsuits regarding this incident. This means that you will be unable to receive any of the compensation you could otherwise be owed if you filed a lawsuit in time. If you have lost a loved one and wish to file a wrongful death lawsuit, then the statute of limitations is two years.
In addition, Florida Statute 627.736 explains that you are required to seek medical attention within two weeks of your accident. This is for insurance companies as well as your health and safety. If you haven't sought medical attention, it could be argued that your injuries were not severe enough to require compensation, or were not in fact caused by the accident in question.
Call The Law Place today to organize a free legal consultation with a truck accident lawyer at our law firm to learn more about the time limits surrounding your case. We will be able to help ensure you meet every necessary deadline.
Call a Moving Van Accident Lawyer at The Law Place Today!
If you have been involved in a Port Charlotte truck accident that was not your fault, contact The Law Place today. Our accident lawyers can empathize with how life-changing the impacts of a truck accident can be and will so do everything in our power to get you the justice you deserve and protect your legal rights.
The accident lawyers on our legal team boast over 75 years of combined experience in dealing with cases such as your own, so you can be confident we will be doing our very best to secure your compensation.
If you are looking to hire a Port Charlotte truck accident lawyer, call one of our law offices today. We can offer a free case evaluation to tell us more about your case and let us know whether we believe you have a strong claim and answer any questions you may have.
Schedule a consultation with a moving van accident lawyer from our firm at (941) 444-4444. Phone lines are open 24/7!