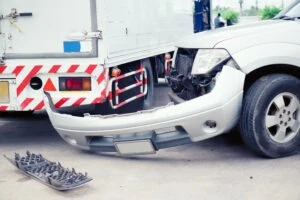 In the event of a truck accident in the city of Orlando, the consequences can be devastating. The aftermath of a crash involving a DHL truck can be particularly traumatic, as some of these tractor-trailer vehicles can weigh up to 80,000 pounds and can cause significant damage to smaller motor vehicles and severe injuries to occupants, including traumatic brain injuries, spinal cord injuries and can even lead to a wrongful death lawsuit.
In this article, we'll look at some of the most important things to consider regarding Orlando DHL truck accidents as well as cover some of the most frequently asked questions regarding Orlando truck accidents.
If you or a loved one has been involved in a DHL truck collision in Orlando, it's crucial to seek the help of an experienced truck accident lawyer.
The Law Place is a team of skilled attorneys with years of experience dealing with truck crash cases, and we are dedicated to helping victims pursue the compensation they deserve.
Contact us today at (941)-444-4444 for a free consultation with one of our experienced truck accident lawyers and let us fight for your rights!
Why The Law Place Is Essential in Dealing With Orlando DHL Truck Accident Cases
Being involved in a truck collision is a traumatic experience that can leave victims with life-altering injuries and significant financial losses. When the accident involves a DHL truck, the complexity of the case increases, and it becomes more challenging to navigate. This is why having experienced legal representation is essential, and The Law Place in Orlando, FL is here to help.
The Law Place is a reputable law firm with experience in dealing with truck collision cases, including those involving DHL trucks. We have a team of skilled attorneys with years of experience handling these types of cases.
Our legal team understands that victims of truck accidents face a range of challenges, from severe injuries to property damage and lost income. Our primary goal is to help victims receive compensation for their losses and hold negligent parties accountable for their actions.
The Law Place offers a range of services to help DHL truck collision victims navigate the complexities of their cases. From conducting investigations to negotiating with insurance companies and representing clients in court, we are dedicated to providing comprehensive legal support at every stage of the case.
What sets The Law Place apart from other law firms is our commitment to our clients. We provide one-on-one attention to every client, taking the time to listen to your concerns and understand their unique circumstances.
Our legal team uses this information to create a personalized legal strategy that seeks to achieve the best possible outcome for each client.
In addition to their expertise and commitment, we offer a no-win, no-fee guarantee. This means that victims do not pay any upfront fees or legal costs unless the law firm successfully secures compensation on their behalf. This gives you peace of mind and ensures that you are not further burdened by significant legal costs.
The Do's and Don'ts After a DHL Truck Accident in Orlando
A DHL truck accident in Orlando can be a traumatic experience that leaves you feeling overwhelmed and unsure of what to do next. It is crucial to keep in mind some key do's and don'ts to protect your health and legal rights in the aftermath of the accident. Here are some essential do's and don'ts to keep in mind:
Do's:
Seek Medical Attention – Your health is a top priority. Even if you feel that you have not been severely injured in the accident, it is crucial to get a medical evaluation. Often, injuries from truck accidents can be latent and show up later.
Call law enforcement – Notify law enforcement about the accident and wait for them to arrive at the scene. Obtain a copy of the police report.
Gather evidence – Collect information related to the accident, including the contact information of the other driver, witness statements, and photographs of the accident scene.
Document the Damage – Take pictures of the damage to the vehicles involved in the accident, making sure to focus on the damaged parts.
Contact the Law Place – An experienced Orlando truck accident lawyer can help you navigate the legal process and fight for compensation.
Don'ts:
Admit fault – Do not admit fault or apologize for the accident, as this could be used against you later on.
Speak to Insurance Adjusters – Do not speak to insurance adjusters without first consulting with an Orlando truck accident lawyer at The Law Place. Insurance companies are known to use tactics to deny or minimize settlements and can take your words out of context.
Sign a Settlement Agreement – Do not sign any settlement agreements without first consulting with an attorney. Once you sign a settlement agreement, you may be permanently waiving your right to seek additional compensation.
Discuss the Accident on Social Media – Do not post about the accident on social media or discuss the details with anyone other than your attorney or medical professionals. Social media posts could be used as evidence against you in court.
Delay Seeking Medical Attention – Do not delay seeking medical attention, as this could hurt your health and legal case.
It is crucial to keep these do's and don'ts in mind after a DHL truck accident in Orlando. If you have been involved in a DHL truck accident and need legal assistance, reach out to our team of dedicated truck accident attorneys at The Law Place.
Obstacles Faced By Victims in Orlando DHL Truck Accident Claims
Victims of DHL truck accidents in Orlando may face several obstacles when trying to pursue a claim for damages. Some common obstacles that victims may encounter include:
Difficulty Obtaining Evidence – It may be challenging for victims to obtain evidence supporting their claims, such as surveillance footage or eyewitness accounts. This can make it difficult to prove their case and hold the responsible parties accountable.
Complex Legal Procedures – Pursuing a claim for damages after a truck accident can involve complex legal procedures, including navigating insurance claims and negotiating with insurance companies. Victims may be unfamiliar with these procedures and may need assistance from an experienced attorney.
Statute Of Limitations – Victims have a limited amount of time in which to file a lawsuit after a truck accident, known as the statute of limitations. Failing to file within this time limit can result in the case being dismissed, leaving the victim without any legal recourse.
Shared Liability – In some cases, a victim may share responsibility for the accident. This can result in them receiving less compensation or even being barred from recovering compensation altogether.
Insurance Company Tactics – Insurance companies may use a variety of tactics to try to limit their liability, such as offering low settlement amounts or denying claims altogether. This can make it difficult for victims to receive compensation.
Overall, pursuing a claim for damages after a DHL truck accident in Orlando can be a complex and challenging process.
Victims may benefit from working with an experienced Orlando truck lawyer who can help them navigate these obstacles and fight for the compensation they deserve. The Law Place, with over 75 years of combined experience, is well-placed to handle this process.
What to Expect from the Legal Process of Pursuing an Orlando Truck Accident Claim
If you're involved in a DHL truck accident in Orlando, Florida, you may be wondering what to expect from the legal process for your personal injury claim. Here's an overview of what you can anticipate.
Your experienced Orlando truck accident lawyer will investigate the accident to determine who was liable for the crash. This may involve reviewing police reports, speaking to witnesses, and gathering evidence and records to build your case.
Once your Orlando truck accident lawyer has established liability, they will draft a demand letter to DHL's insurance provider. This letter will outline the damages you're seeking, along with evidence to support your claim.
The insurance company will likely respond to the demand letter with a settlement offer. Your truck accident lawyer will negotiate on your behalf to ensure you receive fair compensation for your injuries.
If negotiations fail to result in a fair settlement, your attorney may recommend filing a lawsuit against DHL. The court process can be lengthy, and it may take months or even years to reach a resolution. However, your attorney will be with you every step of the way to advocate for your rights.
Throughout the legal process, your attorney will keep you informed and answer any questions you may have. It's important to remember that every case is unique, and the legal process may vary depending on the specifics of your situation.
Types of Compensation for DHL Truck Accident Victims
If you're a victim of a truck accident in Orlando, Florida, you may be entitled to different types of compensation. Here are some of the most common types of compensation available:
Medical Expenses – You may be able to recover compensation for medical costs related to the accident. This can include things like ambulance rides, hospitalization, surgery, doctor visits, medical equipment, and medication. Your attorney will gather documentation and receipts to support your claim.
Lost wages – If your injuries have caused you to miss work, you may be able to recover compensation for lost wages. This can include salary, hourly wages, bonuses, and other types of compensation.
Pain and Suffering – You may be able to recover non-economic damages for pain and suffering caused by the accident. This can include physical pain, emotional distress, loss of enjoyment of life, and other intangible losses.
Property damage – If your vehicle or personal property was damaged in the accident, you may be able to recover compensation for repairs or replacement.
Punitive Damages – In some cases, you may be able to recover punitive damages in addition to other types of compensation. Punitive damages are intended to punish the defendant for particularly reckless or egregious behavior.
Your attorney will work with you to determine which types of compensation apply to your situation and to help you pursue a fair settlement or verdict. Every case is unique, and it should be understood that there is no one-size-fits-all answer to how much compensation you can recover.
The Orlando FL, truck accident attorneys at The Law Place will analyze the specifics of your situation and develop a strategy to maximize your recovery.
To ensure you give yourself the best chance to maximize compensation, it's important to evaluate the lawyer's standing by examining feedback, client testimonials, and ratings. Research legal rating agencies, like Martindale-Hubbell, AVVO, and Super Lawyers, for additional reputation information. Many of our lawyers at The Law Place possess a perfect AVVO rating of 10.0.
Resolving Your Truck Accident Claim Out Of Court vs. Pursuing Litigation
Truck accidents can be devastating, and pursuing compensation for damages and injuries sustained can be a complex, time-consuming process. One of the first decisions you will face after a truck accident is whether to settle your claim outside of court or pursue a lawsuit.
Resolving your truck accident claim out of court typically involves negotiating with the trucking company's insurance provider or legal representative. This process can take several weeks or even months, and it's essential to work with an experienced truck accident attorney who can help you negotiate a fair settlement.
One benefit of settling out of court is that it can be a faster and less expensive process than going to trial. Additionally, settling out of court can allow you to maintain more privacy, as court proceedings are typically public records.
On the other hand, pursuing litigation involves filing a lawsuit against the trucking company or other responsible parties. This process can be lengthy and expensive, and the outcome of a trial is never guaranteed. However, filing a lawsuit can be a necessary step in pursuing fair compensation for serious injuries or wrongful deaths resulting from a truck accident.
Through litigation, your attorney can gather additional evidence and expert testimony to support your case and ultimately secure a favorable outcome.
In deciding whether to resolve your truck accident claim out of court or pursue litigation, it's crucial to consider your individual circumstances carefully.
Working with our team of skilled Orlando truck accident lawyers at The Law Place can help you evaluate the strengths and weaknesses of your case and determine the best approach to protect your rights and secure the compensation you deserve.
The Role of Expert Witnesses in Truck Accident Litigation
An expert witness is a professional who is qualified by education, training, experience, or skill to provide specialized knowledge and opinion in a particular field relevant to the case. In truck accident cases, expert witnesses can provide invaluable insights into the technical aspects of the accident, as well as the standard of care expected of trucking companies and their truck drivers.
Expert witnesses can be used to support both the victim and defendant's arguments in a truck accident case.
For example, an expert witness retained by the plaintiff (injured party or their family) can provide testimony related to the cause of the accident, factors leading to the accident, the severity of the injuries or damages, the cost of medical treatment, and future medical needs, and a calculation of lost income or earning capacity.
For the defense, an expert witness can provide testimony to refute the plaintiff's claims, challenge the credibility of the plaintiff's expert witness, or explain how the accident occurred in a different way. They may also provide testimony about the required standard of care in the trucking or transportation industry.
The expert witness will provide information critical to the judge and jury in understanding the technical aspects of the case that may be beyond their understanding or training.
The expert witness will use their knowledge, experience, and qualification in providing an opinion through a report, deposition or testimony at trial. The expert witness will also assist in mediation and other non-trial settlement conferences.
It is essential to work with experienced truck attorneys who know when and how to use expert witnesses in your truck accident litigation. A qualified truck accident attorney will retain expert witnesses who can review the evidence, analyze the facts, and provide testimony that supports your case.
By leveraging the expertise of an expert witness, injured parties can help secure a favorable outcome in truck accident litigation. At The Law Place, our lawyers are highly skilled at managing such cases and possess extensive knowledge of when it's appropriate to call on expert witnesses.
Frequently Asked Questions About Orlando DHL Truck Accidents
What Should I Do If I Am Involved in a Dhl Truck Accident in Orlando?
The first step is to seek medical attention for any injuries sustained. Call the police to report the accident and make sure to exchange contact and insurance information with the DHL truck driver. Contact an experienced Orlando truck accident attorney to protect your legal rights.
What Are the Common Causes of DHL Truck Accidents in Orlando?
Some common causes of DHL Orlando truck accidents are truck driver fatigue, speeding, truck driver distracted driving, improper maintenance or inspection of the truck, and failure to follow traffic laws and regulations.
Who Can Be Held Liable for a DHL Truck Accident in Orlando?
Liability for a DHL truck crash can vary, but potentially liable parties may include the DHL company, the truck driver, the truck manufacturer, the loading company, or a third-party driver.
What Damages Can I Recover in a DHL Truck Accident Case?
You may be able to recover damages for medical co, lost wages, property damage, pain and suffering, disability, and other damages resulting from the accident. At The Law Place, a reputable truck accident attorney can evaluate your case and give you a clearer idea of damages potentially recoverable during a free consultation.
How Long do I Have to File a DHL Truck Accident Lawsuit in Orlando?
The statute of limitations for filing a vehicle accident lawsuit in Florida is generally four years from the date of the accident. However, it is advisable to consult with an attorney as soon as possible to safeguard your interests and ensure compliance with all legal deadlines.
Don't Hesitate to Call The Law Place Immediately
The Law Place is a reputable firm with over 75 years of combined experience in handling complex truck crash cases. Their team of dedicated attorneys understands the complexities involved in truck accident cases, including the various regulations and laws that govern the trucking industry.
Extensive Experience
With their extensive experience, The Law Place and their team of Orlando truck accident lawyers are equipped to fight aggressively for their clients' rights and secure the maximum compensation they deserve.
At The Law Place, the Orlando truck accident attorneys offer compassionate and personalized legal representation to every client. They understand the physical, emotional, and financial toll an accident can take on a victim and their family.
The Law Place has a proven track record of success in achieving favorable outcomes for it's clients. Their attorneys have recovered millions of dollars in compensation for their clients over the years, including medical expenses, lost wages, and pain and suffering. They are committed to ensuring that their clients receive the justice they deserve.
Dont Delay, Call Today!
If you've been injured in a truck collision, don't wait to seek legal representation.
Contact The Law Place today to schedule a free consultation with a trusted Orlando DHL truck accident lawyer and let their team of experienced attorneys help you get the compensation you rightfully deserve. With their expertise and dedication to their clients, you can rest assured that your case is in good hands.
Call now at (941)-444-4444 and take the first step towards getting the justice you deserve!